June 9, 2016
6/9/16
Alison Saar (b. 1956, Los Angeles) is an American artist known for her sculptures, installations, and prints. Alison Saar In Print, on view through October 2, features 13 prints and three sculptures by the artist, focusing on Saar's printmaking in relation to her sculptural work.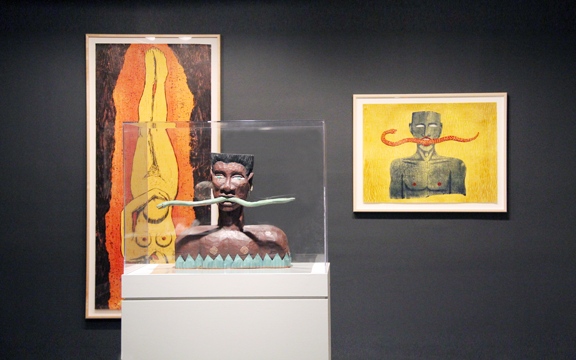 As the daughter of renowned assemblage artist Betye Saar, Alison Saar grew up surrounded by art and became familiar with the process of printmaking through her mother's work. Saar often creates prints based off of her completed sculptural works. Referring to herself as "a woodcarver primarily," she began creating woodcut prints because she was already familiar with the process of woodcarving through sculpture. "I could do it at home . . . and so I liked the immediacy of it.  I think I like the way the wood in woodcuts translates my 'mark,'" says Saar.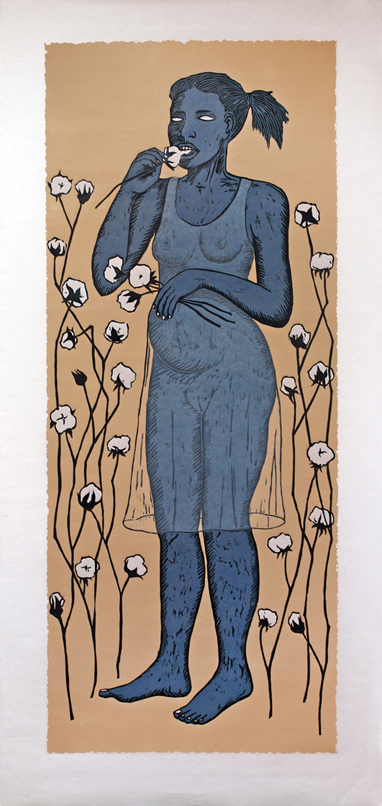 The accessibility of prints is appealing to Saar, as well as the opportunity to visually rethink her more labor-intensive sculptural works. She says, "Sculptures are always bounded by gravity. . . Whereas prints and drawings allow me to expand into space and create."
The works on view explore themes of gender, race, culture, and history. Because her work comes from "a very autobiographical place," Saar often examines her personal experience as a black woman. Bold colors and textural details as well as elements of myth and legend reveal Saar's interest in a range of cultures—particularly of the African diaspora.
Many of her prints also focus on the female body. Instead of portraying women as objects of desire, Saar depicts female figures that "spoof the odalisques painted by males, making them powerful women who stare down those scrutinizing them."
"It's a way to bring inequities and injustices to the forefront and to express things that are not often expressed or are ignored. . . . Exploring these ideas through art sometimes makes it more accessible for people because they don't have their defenses up," says Saar.
Like the sculptures that inspire them, Alison Saar's prints are visually compelling and thematically complex. Her works combine powerful color, texture, and symbolism to draw attention to issues and identities that are often ignored.
Alison Saar In Print is on view in the Teresa Lozano Long Gallery of the National Museum of Women in the Arts, June 10–October 2, 2016. Visit the museum for lunchtime gallery talks about the exhibition Wednesdays July 13 and August 10 at noon.