December 14, 2015
12/14/15
Dynamic women designers and artists from the mid-20th century and today create innovative designs, maintain craft traditions, and incorporate new aesthetics into fine art in Pathmakers: Women in Art, Craft, and Design, Midcentury and Today, now on view at the National Museum of Women in the Arts. Each week, compare and draw parallels between works on view in Pathmakers and NMWA collection favorites.
On view in Pathmakers
Margaret Tafoya, Jar, ca. 1965
The jar in Pathmakers is representative of Tafoya's oeuvre of decorative and utilitarian pots. Tafoya's ceramics often have flawless, highly polished surfaces. This work also incorporates traditional symbols in the deep relief carving around the vessel's shoulder.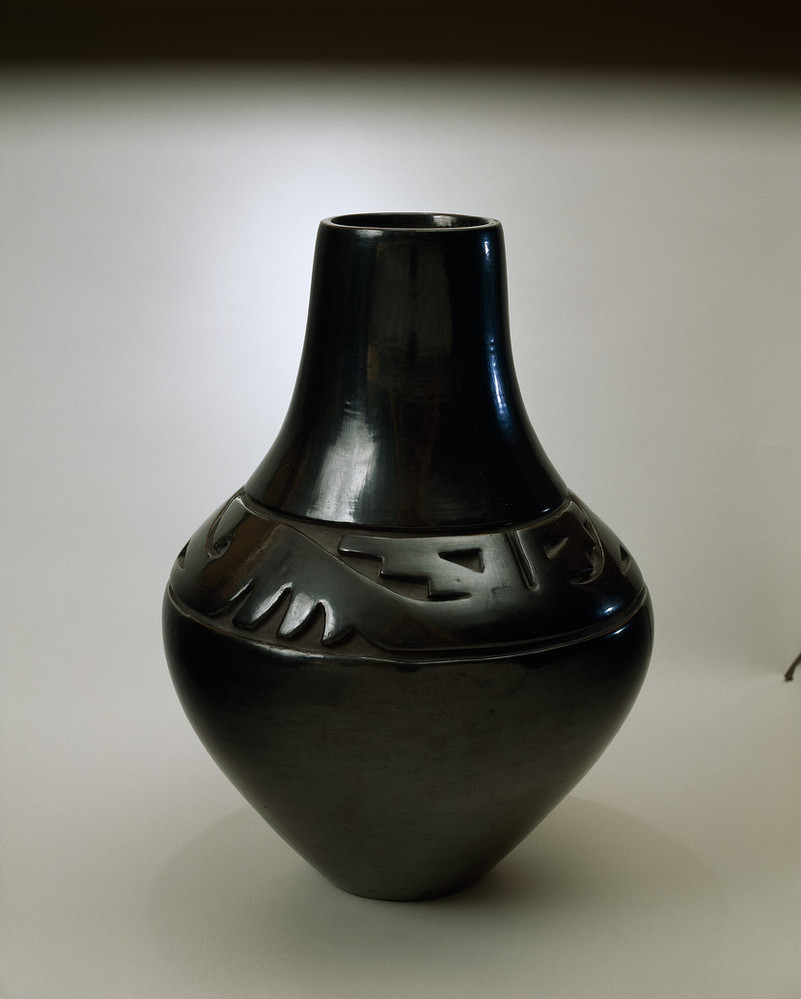 Who made it?
Tewa artist Margaret Tafoya (1904–2001) spent her entire life in the Santa Clara Pueblo near Santa Fe, New Mexico. Her name in the Tewa language means "Corn Blossom." Tafoya was the last of the matriarchs of the early 20th-century pueblo potters. The Santa Clara Pueblo pottery tradition dates back to 500 CE, when the community developed agriculture and adopted a more settled lifestyle. In this culture, pottery was traditionally made by women. Tafoya was heir to this longstanding cultural tradition. She followed in her mother's footsteps and passed down the knowledge of pueblo pottery to her children and grandchildren. Her work reflects the shift of the Santa Clara Pueblo pottery tradition from solely utilitarian to artistic. Tafoya also continued in her mother's style of creating exceptionally large vessels.
How was it made?
Tafoya was interested in conserving native traditions while charting new directions with her pottery, melding traditional techniques and contemporary forms. Using only clay dug from deposits on Santa Clara land, Tafoya built her pots using the traditional coiling method. The jar's polished, black surface is the result of firing in a manure-smothered fire. Historically, Santa Clara Pueblo potters imprinted the image of a bear claw—symbolic of the bear's healing power—into the surface of their pots. Tafoya experimented with other symbols, including Avanyu (the Tewa water serpent deity) and kiva steps, seen in her jar in Pathmakers.
Collection connection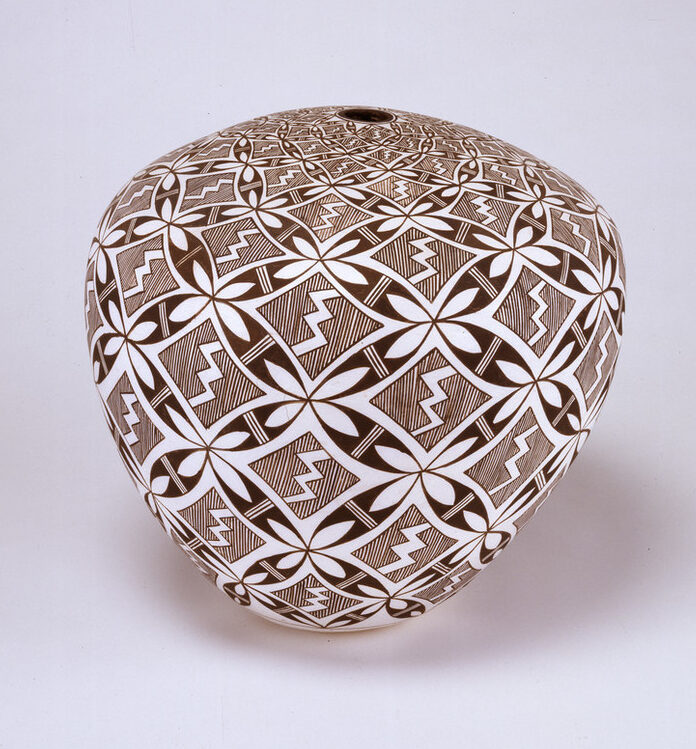 Also in NMWA's collection, Seed Jar (1982) by Marie Zieu Chino (1907–1982) also draws from Native American traditions. Chino was a member of the Acoma Pueblo community and, like Tafoya, was the matriarch of a pottery family interested in preserving traditions. Chino was one of the leaders in the revival of ancestral potters' forms and designs. She often used fine black lines on white surfaces, integrated complex geometric designs, and combined abstract symbols in her pottery. Characteristic of Chino's ceramics, Seed Jar contains abstracted flower shapes with a traditional lightning bolt design.
Visit the museum and explore Pathmakers, on view through February 28, 2016.