January 19, 2016
1/19/16
Dynamic women designers and artists from the mid-20th century and today create innovative designs, maintain craft traditions, and incorporate new aesthetics into fine art in Pathmakers: Women in Art, Craft, and Design, Midcentury and Today, now on view at the National Museum of Women in the Arts. Each week, compare and draw parallels between works on view in Pathmakers and NMWA collection favorites.
On view in Pathmakers
Anni Albers, Orange Meander, 1970
Orange Meander's dense and repetitive patterning calls to mind Albers's textile works. Her abstract prints focus on geometric formal qualities—thick, straight lines and bold, flat colors. Their meanings are intentionally obscure. The electric orange of the print catches the eye, inviting the viewer to meander within a maze of lines.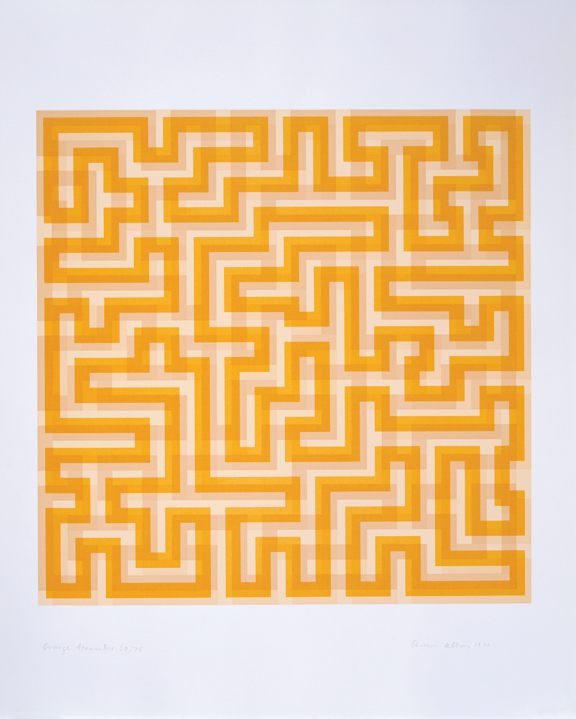 Who made it?
German artist Anni Albers (1899–1994) is primarily known for her work in the textile arts—particularly weaving. She studied textiles at the Bauhaus, a German art and design school, after being turned away from other departments due to her gender. After the Bauhaus closed in 1933, Albers and her husband Josef Albers took teaching positions at Black Mountain College in North Carolina. In 1949 she exhibited at the first textile show in the Museum of Modern Art's history. In addition to her fine art, she created fabric patterns that could be mass produced and wrote two influential books in her field, On Weaving (1965) and On Designing (1959).
How was it made?
In 1963, Albers began experimenting with printmaking at the Tamarind Lithography Workshop in Los Angeles. By 1970, she moved away from textiles and focused on lithography and screen printing—the technique used to create Orange Meander. Color was an integral element in her weavings as well as her prints. Albers noted, "Color . . . involves you in an emotional sense far beyond line." One of a series of similar prints in different colors, Orange Meander's bold rectilinear pattern is layered over a second, lighter arrangement, creating an optical dynamism. Lacking a focal point, the asymmetrical design presents several visual points of entry.
Collection Connection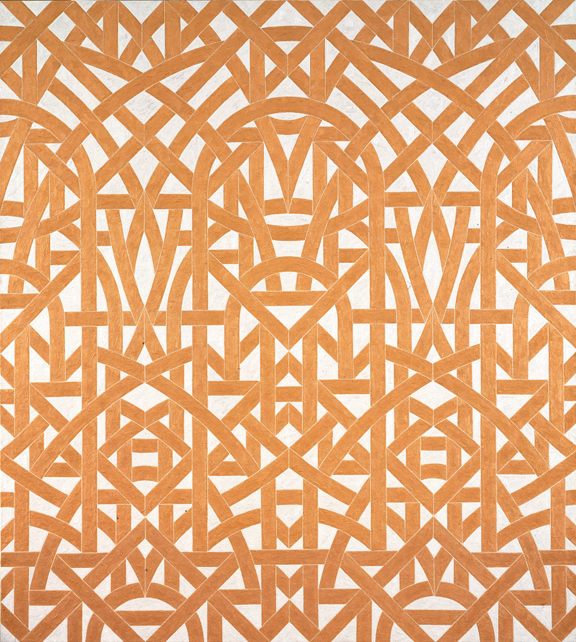 In NMWA's collection, Valerie Jaudon's Ingomar (1979) likewise takes its inspiration from decorative patterns. Jaudon was associated with the Pattern and Decoration movement of the 1970s, which sought to challenge the long-held belief that the fine arts were superior to the decorative or "feminine" arts.
Jaudon engages with abstraction through decorative motifs. In an effort to discourage the perception of narrative in her works, Jaudon titled her paintings during the 1970s after towns in her home state of Mississippi. Drawing ornamentation from diverse periods and cultures, Ingomar resembles Celtic or Islamic designs. The metallic paint and vigorous brushstrokes in the painting contrast with the exacting and controlled feeling of the precise pattern. This visual puzzle welcomes viewers in, inviting a closer examination of its shimmering surface.
Visit the museum and explore Pathmakers, on view through February 28, 2016.