August 24, 2017
8/24/17
One of the oldest works in NMWA's collection, Portrait of a Noblewoman (ca. 1580), was painted by late Renaissance artist Lavinia Fontana (1552–1614, Bologna, Italy). NMWA's collection holds three of Fontana's paintings. Considered the first professional woman artist, Fontana worked within the same sphere as her male counterparts, outside a court or convent. She earned a living through her art, broke barriers, and earned a list of superlatives and appellations.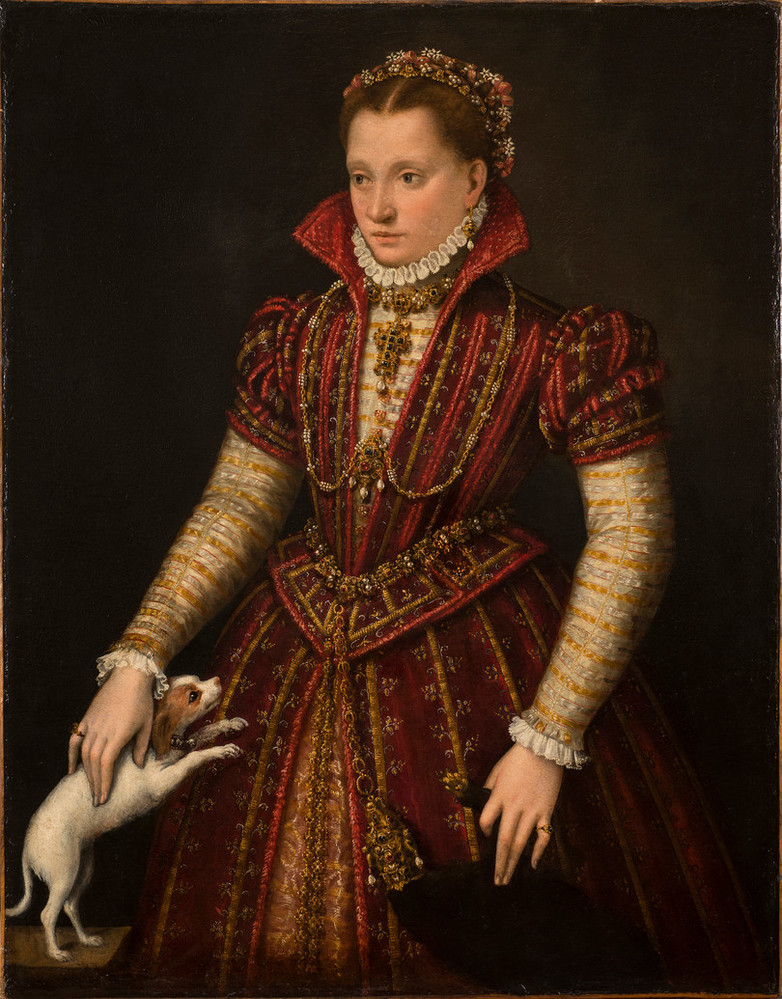 Fontana trained in her father's studio. Her family, though not noble, moved among a well-educated circle which valued the education of women. Bologna's university accepted women, and Fontana earned the degree of dottoressa.
In 1577 Fontana married Gian Paolo Zappi—a marriage which proved unique. Fontana was married without a dowry on the assumption that she would earn her income through painting. Her marriage contract required that she and her husband remain in her father's household, and that Fontana would continue to contribute to the family's workshop. Though a painter himself, Zappi recognized his wife's talent and acted as her agent and assistant, prioritizing her career as an artist.
Fontana could not join the Carracci School because the institution emphasized the drawing of nudes—and women were not allowed access to nude models. Fontana did not let that discourage her. She proceeded to paint nude figures anyway, like in the case of Minerva Dressing (1613). Some scholars claim that Fontana was the first woman to paint female nudes, though this is difficult to prove. Later in life she was elected to the Roman Academy, increasing the value of her paintings and allowing her to collect art and antiques herself.
Best known for her portraits, Fontana also painted historical and religious subjects. Portraiture was deemed an appropriate subject for a woman, but history and religious painting were not. Undeterred, Fontana made more than a dozen altarpieces. More than 100 of her paintings survive, more than any other woman artist from her time. The quality and breadth of her oeuvre becomes all the more impressive when one considers that she gave birth to eleven children, however, only three survived her. Pregnant for nearly a decade of her life, Fontana worked through the physical and emotional strain of motherhood.
A savvy businesswoman, Fontana maintained friendships with many of her sitters. Often naming them as godparents of her numerous children, Fontana guaranteed herself upper-class patronage. By 1604 Fontana and her family relocated to Rome to paint for the papal office. Her youngest son's godfather was Cardinal Camillo Borghese, who later became Pope Paul V.
Reportedly charming, Fontana was a sought after portraitist among nobility—particularly noblewomen. Biographer Malvasia stated, "All the ladies of the city would compete in wishing to have her close." Sitters for Fontana knew to expect a flattering portrayal that highlighted both their beauty and their intelligence, with particular attention to jewelry and fabric.
Visit the museum to see paintings by this Renaissance rebel!