August 23, 2017
8/23/17
In celebration of NMWA's 30th anniversary, and inspired by the museum's focus on contemporary women artists as catalysts for change, Revival illuminates how women working in sculpture, photography, and video use spectacle and scale for expressive effect.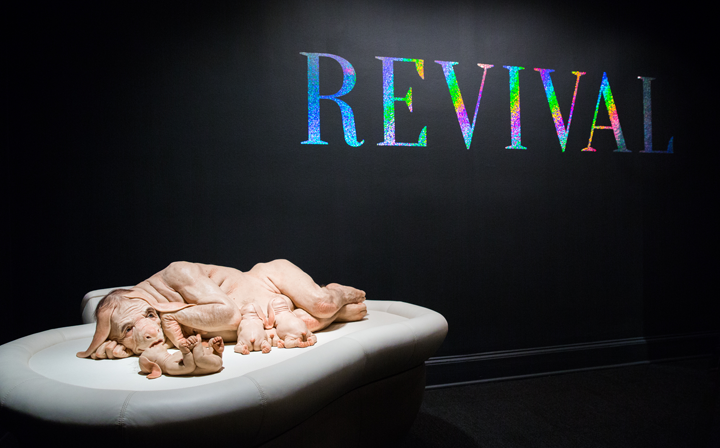 Patricia Piccinini (b. 1965, Freetown, Sierra Leone)
Patricia Piccinini lives and works in Melbourne, Australia. She earned a degree in Economic History before studying painting at the Victorian College of the Arts. In 2016, she received a doctorate in Visual and Performing Arts from the University of Melbourne, where she currently teaches. Piccinini's work primarily explores the relationships between the natural and constructed worlds, creating hybrid creatures and machines that are simultaneously beautiful and grotesque. Focusing on ideas rather than methods, Piccinini translates her thoughts through a variety of media, including drawing, painting, sculpture, video, sound, installation, and digital prints.
The Artist's Voice:
"My work aims to shift the way that people look at the world around them, and question their assumptions about the relationships they have with the world. I am especially interested in things that fall outside of our traditional ideas of normal or beautiful, or that step across the boundaries that we erect between things. How does contemporary technology and culture change our understanding of what it means to be human? What is our relationship with—and responsibilities towards—that which we create?"—Patricia Piccinini, in an interview with The Condition Report
"My work is all imagined. It's all imagined in a place that is not far ahead of the space we live in now. I often think it's about the world we live in actually. . . . But sometimes people think that I've got the solutions to what's going to happen in the future and that in fact my work is a sort of precautionary tale or something of that nature, when in fact I really don't have the answers."—Patricia Piccinini, in a video interview with Centenary of Canberra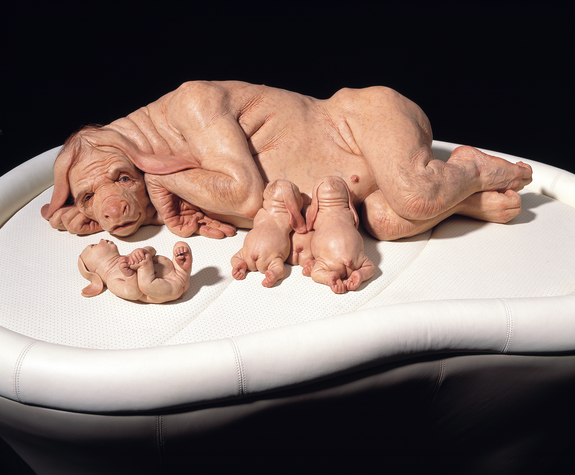 Revival Highlight:
Piccinini's The Young Family (2002) depicts transgenic beings—organisms into which genetic material from an unrelated organism has been artificially introduced. The artist collaborates with specialists from various fields of contemporary industrial manufacture to make her ideas a reality. Constructed using silicone, acrylic, human hair, leather, and wood, the sculpture shares human and animal features, eliciting both disgust and empathy from the viewer. Piccinini's imagining of these hybrid creatures takes the form of a mother figure nursing her young. The central creature seems to have a familiar, maternal gaze, but also appears to have much more alien physiognomy. This unsettling juxtaposition sparks conversation about society's preparedness for the ethical and emotional results of genetic manipulations.
Visit the museum and explore Revival, on view through September 10, 2017.