June 15, 2016
6/15/16
In Arabic, the word rawiya means "she who tells a story." Each artist in NMWA's summer exhibition She Who Tells a Story: Women Photographers from Iran and the Arab World offers a vision of the world she has witnessed.
Rania Matar (b. 1964, Beirut, Lebanon; lives Brookline, Massachusetts)
Photographer Rania Matar says, "I was born and raised in Lebanon. I moved to the U.S. to go to architecture school in 1984. . . . I am very much part of both cultures, and both places have shaped my identity." Matar's documentary photographs depict women and girls in the U.S. and the Middle East, highlighting universal themes of developing identity. "A Girl and Her Room," her largest series, features images of young women surrounded by their possessions and creations.
In Her Own Words
"In 2002 I was in Lebanon and went with a cousin of mine to a Palestinian refugee camp. I was shocked to see how people were living so close to where I had grown up and more shocked by the fact that I had no idea. I just started photographing people in the camps, and fell in love with the ability to tell a story through photography."—Rania Matar, in an interview with Lenscratch
"After my first book, Ordinary Lives, about women and girls in refugee camps and in the aftermath of war in Lebanon, was published, I started the project about teenage girls. . . . inspired by my older daughter, then 15. I was watching her passage from girlhood into adulthood, fascinated with the transformation taking place, the adult personality taking shape." Matar photographed her daughter with her friends and realized how the girls' interactions shaped the identities they portrayed: "From this recognition, the idea of photographing each girl alone by herself in her personal space emerged. The room was a metaphor, an extension of the girl, but also the girl seems to be part of the room, to fit in, just like everything else in that material and emotional space."—Rania Matar, audio recording for She Who Tells a Story
What's On View?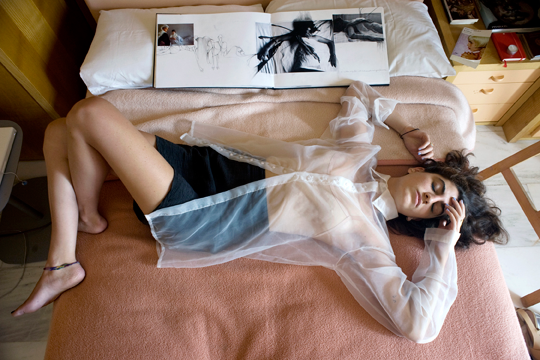 Several works from the series "A Girl and Her Room" are on view. Matar says, "The images here are part of that series in the Middle East—Lebanon, Syria, the West Bank, and the Palestinian refugee camps in Lebanon. They include six young women from all backgrounds and religions, and it is honestly not obvious at all to guess which one is Muslim, Druze, or Christian. The focus is on being a girl, on growing up, and on identity. . . . Being with those young women in the privacy of their world gave me a unique peek into their private lives and their inner selves."
Visit the museum and explore She Who Tells a Story, on view through July 31, 2016.