July 24, 2019
7/24/19
Ursula von Rydingsvard: The Contour of Feeling presents the artist's monumental cedar wood sculptures alongside newer works for the first time. The poetic and expressive works, which also use leather, linen, and other organic materials, reveal the process by which von Rydingsvard gives outward visual form to her innermost ideas and emotions.
There is a reason Ursula von Rydingsvard gravitated to sculpture more than any other means of expression. "I can dig into things that are tender, that are hard to look at, that are hard to communicate, more in my studio than I can with any other thing, like words," the artist has said. Over the past 30 years, von Rydingsvard has developed her own powerful visual language to communicate that which is tender, hard, and so often uncommunicable. Her evocative cedar sculptures speak for themselves. But despite acknowledging the limitations of words, von Rydingsvard does love language—and her meditation on the joys and limits of words play out in her work in a number of ways.
Poetic Sensibilities
The subtitle of the exhibition, The Contour of Feeling, comes from the artist's favorite poet, Rainer Maria Rilke, and his epic poem, The Duino Elegies. Poetry is, perhaps, the closest form in language—strange, specific, ethereal, and powerful—to what von Rydingsvard achieves in her artistic practice.
(Not) Lost in Translation
The titles of von Rydingsvard's works are in the vernacular Polish spoken by peasants, and she leaves them untranslated to preserve their ambiguous, personal meanings. The artist has expressed regret over not learning the Polish language properly, but finds connection to her kin through this naming. "Polish titles enable me to have a kind of secretive communication with the Poles."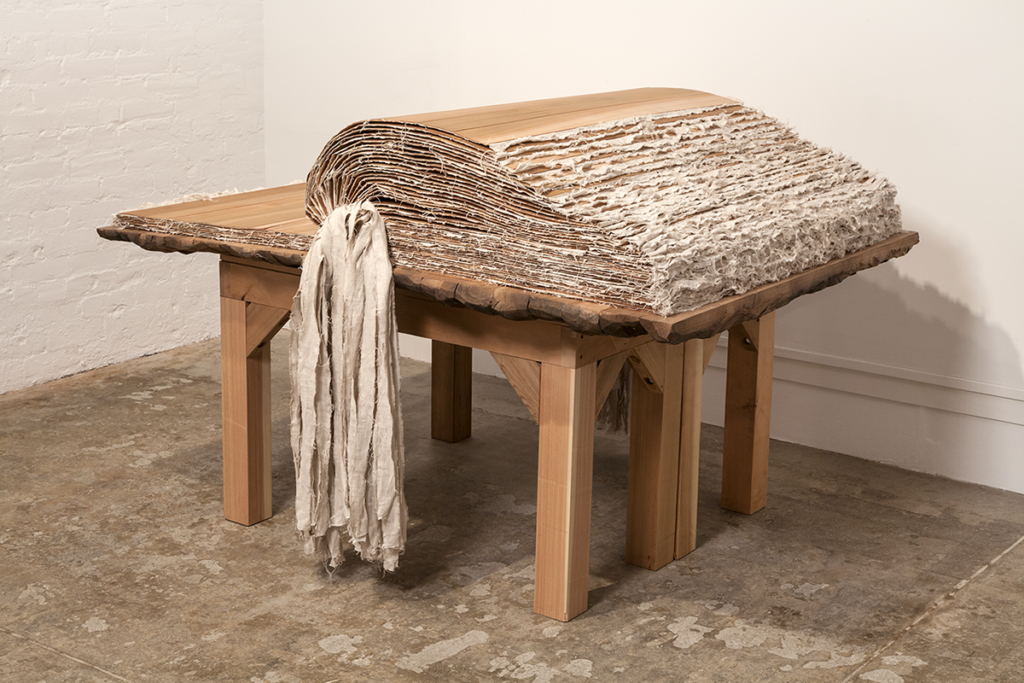 A Book with No Words
Von Rydingsvard departs from her towering forms with the delicate sculpture Book with no words II (2017–18). The empty, oversized tome comprises thin cedar pages bound with leather and linen. Here the artist may be representing the limits of language and all that is unnamable, encouraging the viewer's imagination to take flight. When asked for explanations of her work, von Rydingsvard has said, "Let it float and tell you what the piece needs to tell you, not what the curators are saying and not what the teachers are saying."
Words Sing, Words Fail
Von Rydingsvard is expressive, poetic, and specific with her words. She has described cedar as "fleshy," "sexy," "voluptuous," and "hemorrhaging." She refers to her sculptures in the feminine "she" or, occasionally, as "princess." But as alive as her descriptions can be, the artist still comes back to the difficulty of language-based expression: "I have made so many bowls, but my bowl is never a bowl…Even when I say that word, it's a huge lie."
---
Unless otherwise noted, all quotes are from In Ursula's Own Voice: An Interview with Mark Rosenthal in Ursula Von Rydingsvard: The Contour of Feeling (The Fabric Workshop and Museum and Hirmer Publishers, 2018).