December 14, 2020
12/14/20
The sixth installment of NMWA's Women to Watch exhibition series, Paper Routes, is presented by the museum with the integral partnership of our national and international outreach committees. The exhibition showcases contemporary artists working in paper, celebrating their wide-ranging approaches and the transformation of this ubiquitous material into complex works of art.
Artist: Elizabeth Alexander
Nominating committee: Massachusetts State Committee / Consulting curator: Lisa Tung, MassArt Art Museum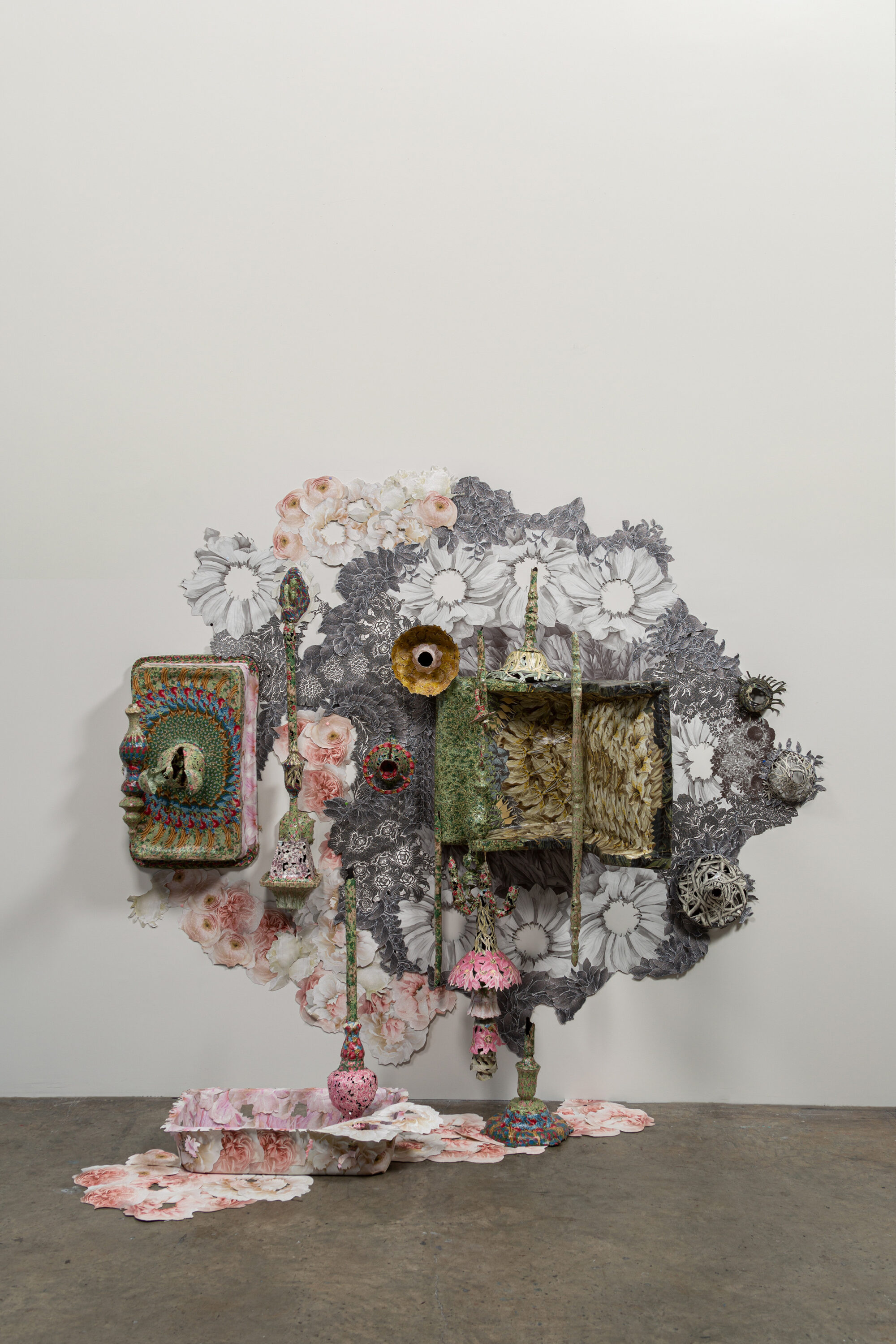 1. What was your inspiration for your work selected for Paper Routes?
All Things Bright and Beautiful (2019) was devised in the wake of Trump's inauguration, when many Americans were questioning the identity and values of their country. The part of the South where I live was either on fire or under water from various extreme weather events. The existential corrosion I was processing about the state of our country was literally at my doorstep in the form of environmental carnage.
I started collecting fallen branches and other storm debris from around my home and places I visited. From these I made hollow replicas in cast paper to be combined with casts of domestic objects. Some items have a black coating of lockta paper that looked to me like a charred sheen or rot after a flood, and others are encrusted with a porous veneer of wallpaper florals that expose glimpses of the black interior upon close inspection. I felt as if I was bedazzling this debris to hide its true identity.
2. Is this piece representative of your oeuvre? How does it fit into your larger body of work?
Yes. All of my pieces inform one another; however, this piece embodies a lot of technical growth with casting paper and sculptural collage. Cast paper sculpture, sculptural collage, and altered objects are often my methods for deconstructing domestic vignettes of traditional success, power, and beauty. I think a lot about presentation and posturing, especially within the home, a delicate a space that serves both a projection of our ideal self and one that houses our darkest and brightest moments. Especially right now.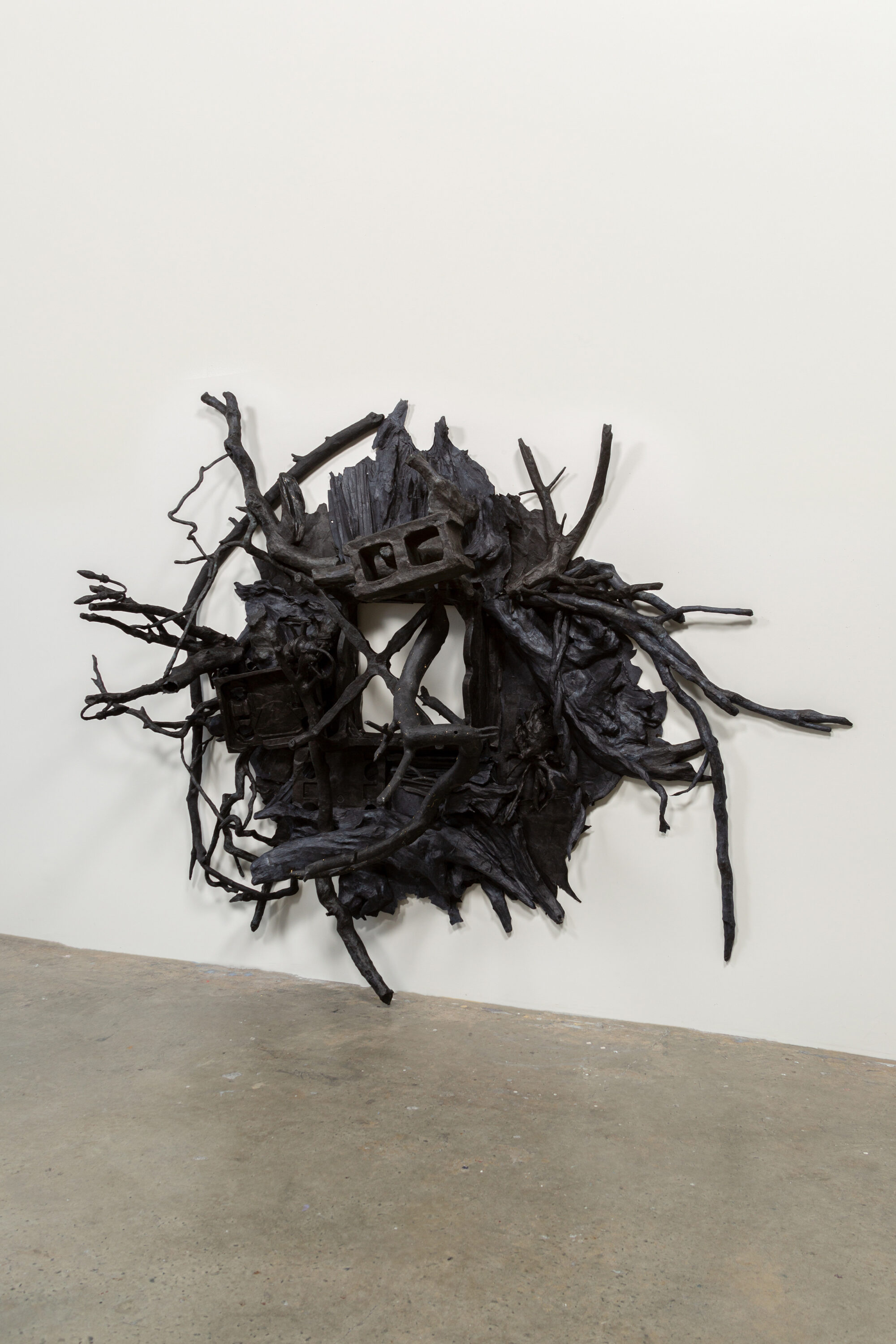 3. As an artist, what is your most essential tool (besides your hands!)? Why?
It would certainly be fresh and sharp cutting materials. Most of my work requires hundreds of blades.
4. Where do you obtain your materials?
For large-scale projects I work with Susanne Baker, a papermaker in Greensboro, North Carolina, with whom I have devised a formula for pulp that can generate the strongest sheets to cast with. All of my other materials are found, either scavenged from the park near my house or from secondhand or surplus stores. I usually build the work while hunting for materials around a color scheme or pattern.
5. What is the last exhibition you saw that you had a strong reaction to?
Vanessa German's show sometimes.we.cannot.be.with.our.bodies. at the University of Virginia's Fralin Museum of Art. My husband I drove four hours to see it, and it moved us to tears. The exhibition's main installation contained a procession of figures adorned in all sorts of objects and material to serve as an armor. Some were rusted and sharp, some were colorful and sparkling. The whole scene was narrated with a sound collage of encouragement and tragedy.
---
Learn more from the artist in this exclusive studio tour:
---
Visit the museum and explore Paper Routes: Women to Watch through January 18, 2021. Hear from more of the featured artists through the Paper Routes Audio Guide and purchase the fully illustrated catalogue.