April 2, 2020
4/2/20
As NMWA remains temporarily closed due to COVID-19, along with other museums and cultural institutions around the world, we've been diligently working to bring the museum to you at home. In this series, we'll check in with NMWA staff in their own homes for a personal look at the creative ways they're staying connected, inspired, and grounded.
Do you have extra suggestions or recommendations for us? Let us know in the comments below or share on social media @WomenInTheArts!
Adrienne Poon, digital content coordinator
Grounding: On my last day before our temporary closure, I spent time with Spiritualist (1973) by Helen Frankenthaler. I stood for about 15 minutes, just looking and feeling an overwhelming sense of calm and awe. I don't normally favor abstract expressionist works, so this experience was a complete surprise and delight! That memory—of how art can make you feel, how art can soothe, and how beautiful art can be—has been grounding for me even now that I'm not able to see it in person.
Reading: I love reading books written by former Fresh Talk speakers or featured in our library. They make me feel connected to a greater community of women artists and creators around the world. My favorites include The Poet X by Fresh Talk speaker Elizabeth Acevedo, and I Was Their American Dream by Malaka Gharib and Cook Korean! by Robin Ha, which were featured in our Library and Research Center's recent exhibition DMV Color.
Connecting: I've also been turning to my friends and family for inspiration. This situation has spurred many of us to chat more regularly, which has been great. Additionally, I've always admired my friends who create things, and I've been even more intently following their creations—illustrated comic diaries, genre-bending music, textile weaving, watercolor painting, cardigan knitting, video producing, bread baking, and more. It has been so rewarding. I love cheering on my friends from afar.
Lynora Williams, director, Betty Boyd Dettre Library and Research Center
Reading: Susan Orlean's The Library Book, about the destruction of the Los Angeles Public Library by fire. It's not exactly cheerful reading, but I've been trying to get to it for a while. I'm also enjoying Melanie Falick's Making a Life: Working by Hand and Discovering the Life You are Meant to Live—for inspiration, but mostly for the pictures! On my current reading list are also Kamila Shamsie's Home Fire and poet Dunya Mikhail's In Her Feminine Sign. Can you tell I have a short attention span?
Making: I am hand-stitching a small quilt with hand-dyed fabrics—very meditative.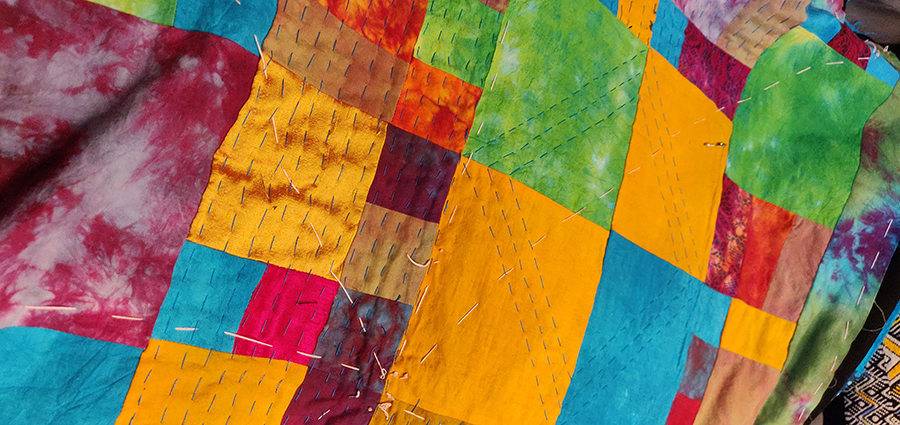 Watching: I'm occasionally watching Curb Your Enthusiasm, The Crown, and old sports events, like the 2006 Women's NCAA Basketball Championship, a thriller won by (spoiler alert) the Maryland Terps.
Extra Inspiration: I am finding inspiration in other strong women. Right now I have what my colleague Emily Shaw calls a "social justice crush" on Ugandan feminist activist Stella Nyanzi, who was released from prison last month. She is mind-blowingly fierce.