February 8, 2016
2/8/16
Braving post-blizzard traffic conditions in D.C., nearly 100 guests attended the museum's third FRESH TALK—part of the new public programs initiative Women, Arts, and Social Change. On Wednesday, January 27, FRESH TALK: Can design be genderless? featured Netherlands-based designer Gabriel Ann Maher, whose work is on view in Pathmakers, and International New York Times design critic Alice Rawsthorn.
Design historian and critic Rawsthorn kicked off the evening with an overview of design, highlighting the ways design informs everyday life and how it is often gender-biased. She discussed the increasingly eclectic and fluid concept of gender identity and how it impacts design culture through digital technology.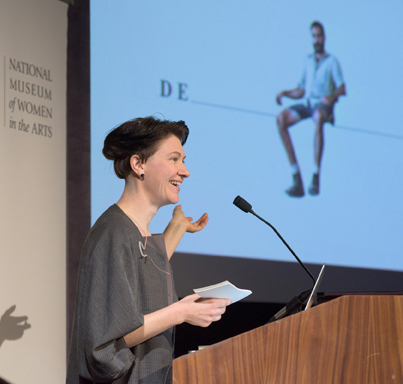 Maher, a designer who identifies as gender fluid, investigates gender through design media. Maher dissected issues of the Dutch magazine FRAME to reveal perpetuated stereotypes of "male" and "female"—from article titles to depictions of men and women designers.
Maher explained how designers direct people's self-presentation—through clothing that accentuates body shape, or through the act of sitting, in which people claim or relinquish space.
In one of the night's most repeated and tweeted statements, Maher declared, "Design is inherently genderless but it is designers who create gendered objects."
The presentations wrapped with a moderated conversation led by NMWA Director of Public Programs Lorie Mertes. Rawsthorn and Maher explored ways that design could become more inclusive—from genderless bathroom signage to TSA body scanners (which are based on an algorithm for male or female forms). The speakers reflected on cultures that embrace and revere multiple concepts of gender. Both pondered how the internet can be a tool for change.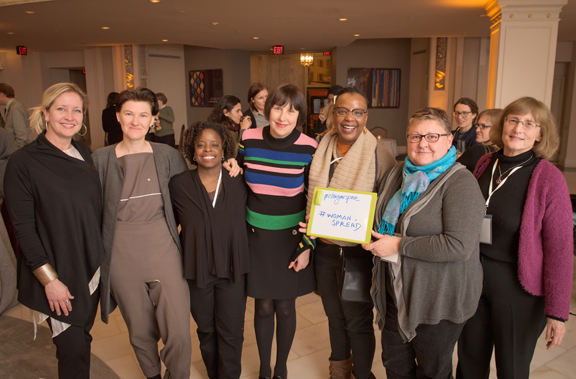 At Catalyst, a cocktail hour with a topic and a twist, guests became impassioned participants in a conversation sparked by the presentations. They became friends with fellow attendees, discussed perspectives, and focused on actionable steps for change. Here are a few highlights:
1. Seeing the world with new eyes.
Guests felt more aware of their built environments. They began to consider how the world is constructed and how design can create obstacles for gender-fluid people.
2. Empathy is the name of the game.
Attendees introduced themselves and shared details of their identities—which many had never considered aloud. Guests gained a greater understanding of the LGBTQ community, discussed how gender stereotypes are ingrained, and considered the impact of gender labels.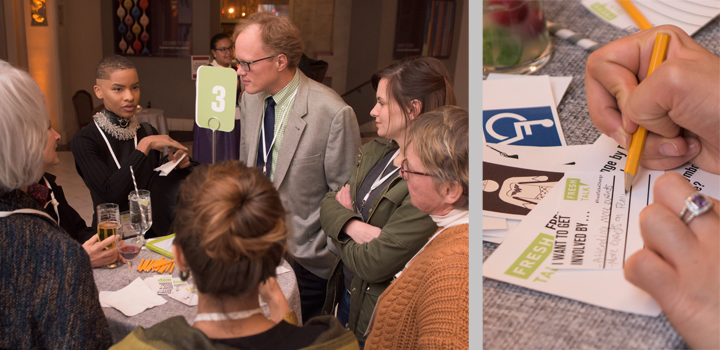 3. Your ideas for social change matter.
Guests were surprised to have such meaningful conversations about the world from inside a museum. Instead of a traditional Q&A, guests provided their own strategies for change. Via comment cards, they completed the phrase "My idea of social change is…"
"discuss, discuss, discuss."
"acceptance. Great event!"
"to be inclusive."
"looking for new spaces and forums for conversation and questioning."
The conversation continues online with #FreshTalk4Change. Visit the museum's website to watch event videos. The recordings of FRESH TALK: Can design be genderless? will be available soon.
Don't miss the next program, FRESH TALK: Natalie Jeremijenko, Wednesday, March 2. Artist and engineer Natalie Jeremijenko teams up with Jean Case and Megan Smith to discuss "Can an artist use science and technology to heal the environment?"