July 28, 2020
7/28/20
The disruption to our daily lives due to COVID-19 has forced many of us—those who are able to do our work from home—to fit our "day jobs" in between myriad other responsibilities related to life and home. The work of managing a household and caring for children or other family members has fallen disproportionately on women. I've been thinking about how women artists have readjusted their practices to this new reality and how some have juggled these responsibilities for years.
Artist Rania Matar has performed quite the balancing act as a teacher and mother of four. "I've been juggling my whole life," she says. "It's been a production during the pandemic, but it has also freed us to all slow down." Her time at home led her to notice a neighbor reclining in a window seat. Inspired by the idea of viewing people inside their homes, Matar put out a call on Instagram for participants for a physically distanced photography project. The resulting images are tender and emotive.
The pandemic's impact on employment and finances is devastating. And yet sometimes artists describe their difficulties as catalysts for new artistic visions. Sculptor Ursula von Rydingsvard recalls living in New York City in the early 1970s on just a few thousand dollars a year while raising her toddler daughter. When a friend helped her build a living space into a loft using 4-x-4 cedar beams, von Rydingsvard discovered the fragrant wood that became her primary sculpting material, now for over 40 years.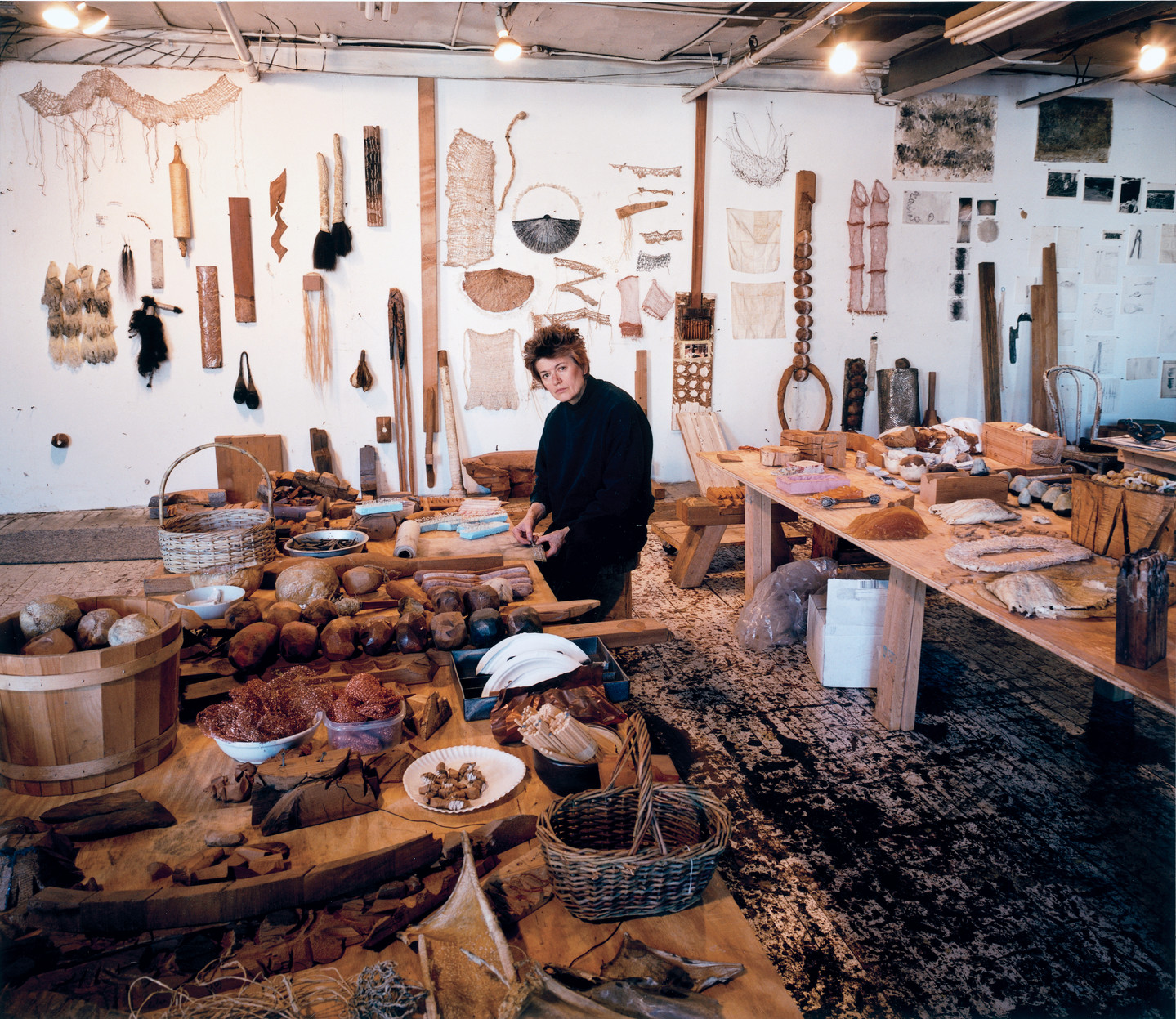 Women artists also address work and care tasks directly in their art. After becoming a mother in 1968, artist Mierle Laderman Ukeles began to create "maintenance art," fusing her responsibilities as an artist and mother. She performed and documented domestic work, childcare, and the maintenance of buildings and institutions. She has collaborated directly with maintenance workers, presenting their undervalued work as art. Since 1977, Ukeles has been artist-in-residence at the New York City Department of Sanitation—an unpaid role—where she works to "dignify labor that most people see as undignified—if they see it at all."
Work also soothes the souls of artists like Faith Ringgold, for whom making art is a central means of making sense—and making right. "I'm always thinking about what can be better. And if you don't get it out there, the situation will never change," she observes. The isolation brought on by the pandemic and the recent death of her husband of nearly 60 years left Ringgold feeling distracted and unsettled. The vibrant social and racial justice protests that emerged after the killing of George Floyd rekindled her creativity and activism.
As the pandemic continues, it is exacerbating existing inequalities in race, gender, and class. Women and women artists have always faced a balancing act between career and personal pursuits, and many have persisted and excelled even with daunting odds. Despite these examples, it is clearer than ever that institutions and individuals must advocate for change, opening avenues for even more talented women to find their creative paths.