June 21, 2016
6/21/16
Like many museums, NMWA is only able to show a small portion—perhaps 3%—of its collection at any given time. Many objects stay safely tucked away in storage until curators select them for display. In an effort to place more of NMWA's collection on view to the public, the staff recently reinstalled the Eulabee Dix Gallery, located on the museum's fourth floor, "salon style." Open to the public during weekday hours, this gallery now showcases an array of landscapes, interior scenes, portraits, and still lifes.
The new salon-style installation—a selection of artworks of varying sizes, with mismatched frames, arranged in a crowded manner—allows the museum to exhibit more of its smaller paintings. For years there were fewer than a dozen paintings in the gallery. The recent reinstallation enables NMWA to exhibit more than 30 works, some of which have not been seen by the public in over a decade. Visitors can rediscover treasures from the museum's collection and encounter new favorites.
Landscape paintings in the gallery depict scenes as varied as Jessey Dorr's Lone Cypress (1906), which shows a tree overlooking a waterside cliff, Grandma Moses's Calhoun (1955), a farm scene awash in yellows, and Gabriele Münter's view of a mountain lake, Staffelsee in Autumn (1923).
Two paintings by Jane Peterson (1876–1965) are on view, a sunny Beach Scene (ca. 1935) and a watery, shadowed Tower Bridge (ca. 1907). In Tower Bridge, Peterson evokes misty London, with a nearby dock and distant bridge rising above the water.
Two works are on view by French painter Suzanne Valadon (1865–1938). Nude Arranging Her Hair (ca. 1916) exemplifies Valadon's style: rich colors, dark outlines, textiles, and simplified forms, with an awkwardly posed subject.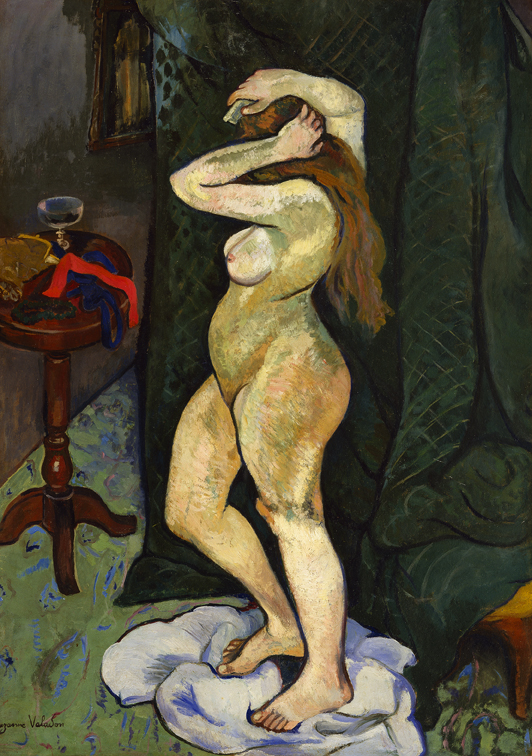 Valadon had no formal training—instead, she grew up in Montmartre and modeled for painters. She learned from the artists around her, including friend and mentor Edgar Degas, and successfully transitioned from model into artist. Valadon also painted floral still lifes. Her Bouquet of Flowers in an Empire Vase (1920), also on view, features her vibrant color palette, strong outlines, and palpable brushwork.
There are more still lifes to discover in the gallery, including two by Dutch painter and botanical illustrator Alida Withoos (ca. 1661–1730). She emphasized flowers' growth and gave them a naturalistic appearance. Arrangements of cultivated flowers appear to grow from the earth, accentuated by blades of grass and a frog near the bottom.
With the new installation of the Eulabee Dix Gallery, visitors have the opportunity to encounter more work by women artists at NMWA, exploring the abundant details of these paintings and their salon-style neighbors.
The Eulabee Dix Gallery is located on the fourth floor of the National Museum of Women in the Arts, open to visitors Monday through Friday, 10 a.m.–5 p.m.