January 27, 2015
1/27/15
Museum visitors may remember the recent exhibition in NMWA's Betty Boyd Dettre Library and Research Center featuring wordless novels by the first woman graphic novelist, Czech artist Helena Bochořáková-Dittrichová. Her bold black-and-white woodcuts visually narrate her life experiences, religion, and history.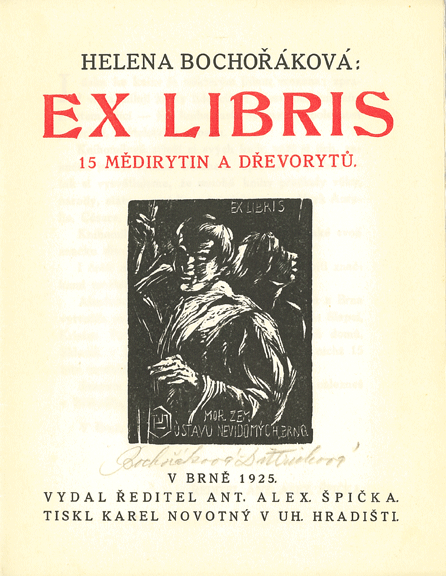 Shortly after the show closed, the library obtained a 1925 limited-edition portfolio of copperplate and woodcut bookplates that the artist personally designed for others. Although not complete—the library's copy is missing two bookplates—the 13 prints nonetheless represent a likely commercial activity for the artist, a means of making a living. Additionally, the copperplate prints reveal her talent and skill with drawing, a very different medium from woodcuts. These works contrast nicely with the accomplished graphic work evident in her woodcuts. Much like her wordless novels and illustrated stories, her bookplates focus on quiet domestic scenes. Many feature a person reading in a library or in a pastoral setting.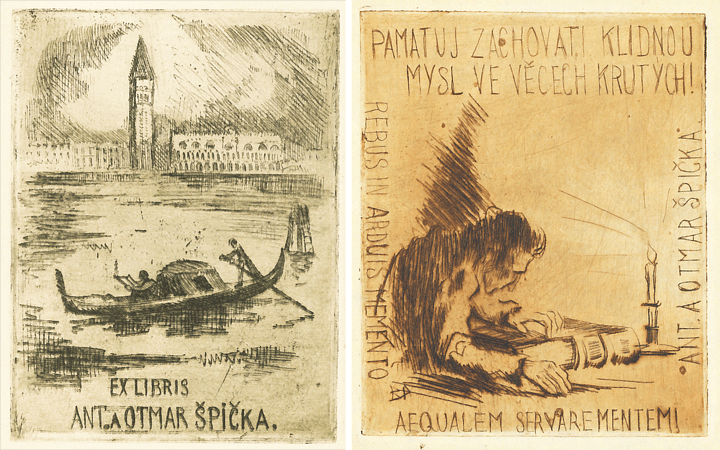 Bookplates commonly contained the Latin words ex libris, which translates from Latin as "from the books of" or "from the library of." These consist of labels that bear the name of a book owner and are pasted inside the front covers (endpapers) of books as an expression of ownership. This tradition became popular after printed books in the mid-15th century created a need for owners to distinguish between multiple copies of the same book. In the late 19th and early 20th century, collecting reached its peak as people began to view bookplates as miniature works of art. They were valued as much for the artwork as for what the plates portrayed about the book owners.
In Europe, wood and copper engravings, etchings, and serigraphs were popular among designers.  Eastern European artists produced especially distinctive book plate designs due to the region's rich tradition of graphic arts, artistic experimentation, and dramatic social upheaval. The independence of Bochořáková-Dittrichová's homeland, Czechoslovakia, after nearly 400 years of Austro-Hungarian rule, inspired artists and writers to create a national image influenced by Expressionist, Surrealist, Constructivist, Art Nouveau, Futurist, and Art Deco movements popular throughout Europe during that time.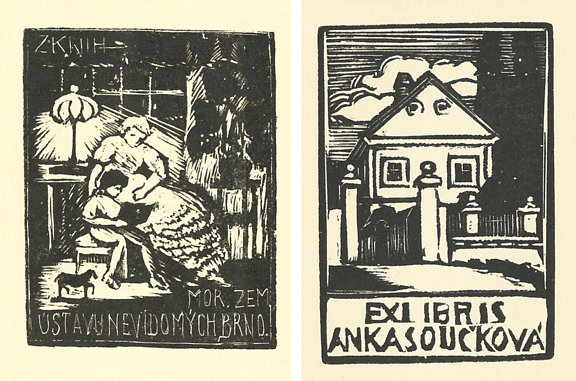 Despite these trends, Bochořáková-Dittrichová's work, at least in the material that the library currently owns, seems to focus on domestic scenes, life stories, religion, and history from abroad. Did she deliberately avoid creating darker works that expressed oppression and nationalistic ambitions? As the library continues to collect material on and by this important graphic artist, it will be interesting to find out.
All are welcome to look at these beautiful bookplates and the other materials by Bochořáková-Dittrichová. If you're touring the museum, the library makes a great starting point on the 4th floor. Interesting exhibitions feature archival manuscripts, personal papers by women artists, rare books, and artist's books. Reference Desk staff are always happy to answer questions and offer assistance. Open to the public weekdays 10 a.m.–12 p.m. and 1 p.m.–5 p.m.