June 6, 2017
6/6/17
In the installation From the Desk of Simone de Beauvoir, visitors can consider the influence and intellect of writer Simone de Beauvoir in an interpretation of her Paris studio alcove. Museum visitors can sit at a desk and read publications that Beauvoir either read, wrote, or inspired. Beauvoir spent an extraordinary amount of her life writing. Her output included the groundbreaking feminist treatise The Second Sex, for which she is most well remembered. She also wrote novels, essays and articles, a play, daily letters to friends and lovers, and four memoirs. These selected titles provide a glimpse into her remarkable body of writing.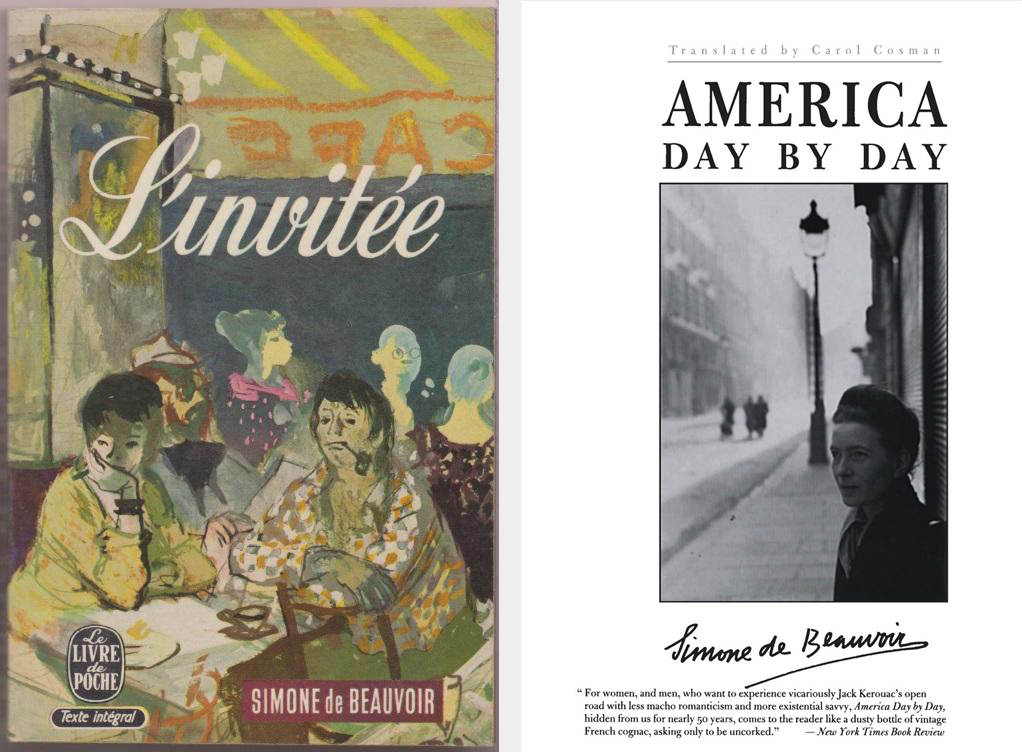 L'Invitée, 1943
Beauvoir labored over this first novel, known in English as She Came to Stay, for three years. She studied the techniques of authors such as John Dos Passos, D. H. Lawrence, and William Faulkner to help her construct her characters. The story was inspired by the love triangle between herself, Jean-Paul Sartre, and Olga Kosakiewicz—an important woman in both of their lives for many years. Tenets of Existentialism run throughout the novel.
America Day by Day, 1948
After feeling jealousy at Sartre's first trip to the U.S., Beauvoir soon arranged her own: a five-month lecture tour that began in New York in January 1947. This book is her travelogue (though comprising recollections from several trips), with characteristically self-centered, but highly detailed and obviously dazzled, accounts of New York City, Chicago, New Orleans, Las Vegas, and Hollywood. Always up for an adventure, Beauvoir visited jazz clubs, smoked marijuana, gambled in casinos, and met and fell in love with Nelson Algren.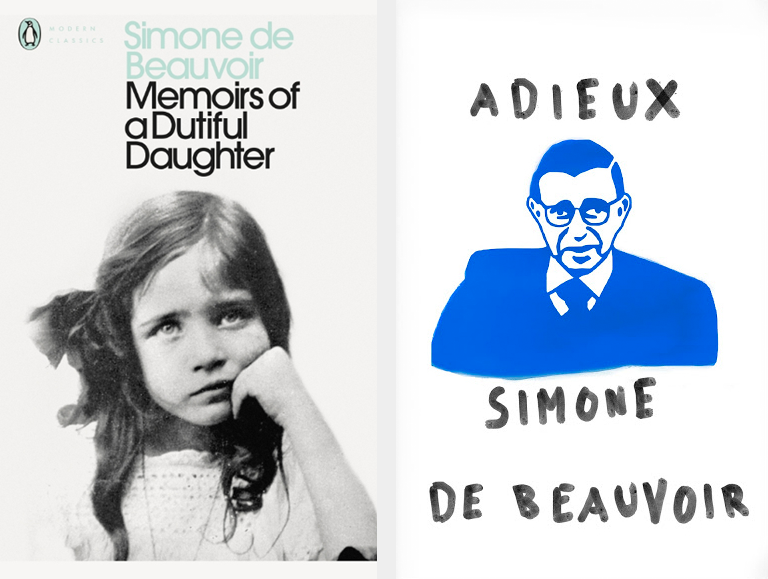 Memoirs of a Dutiful Daughter, 1958
The first of Beauvoir's four memoirs, Memoirs of a Dutiful Daughter covers the years of her birth up to age 21. It details her family dynamics and education, her first powerful friendship with Zaza Mabille, her first romantic attempts with her cousin Jacques, and the beginning of her decades-long relationship with fellow philosophy student Sartre.
Adieux: a Farewell to Sartre, 1981
This book chronicles the last ten years of the of Sartre, Beauvoir's life partner, as well as conversations between the two (which they recorded during their last summer visits to Rome) about Sartre's work and legacy. Upon publication, Beauvoir was surprised when it was met with outrage from Sartre's legions of admirers at the unsparing details of his physical decline. Some accused her of taking advantage of having the last word.
Visit the installation and peruse these selections of Beauvoir's writings along with books she read and works she inspired. From the Desk of Simone de Beauvoir is on view on the museum's fourth floor through August 12, 2017.