December 12, 2014
12/12/14
The catalogue for Picturing Mary: Woman, Mother, Idea explores depictions of the Virgin Mary in art from a unique combination of religious, cross-cultural, and contemporary art-historical perspectives.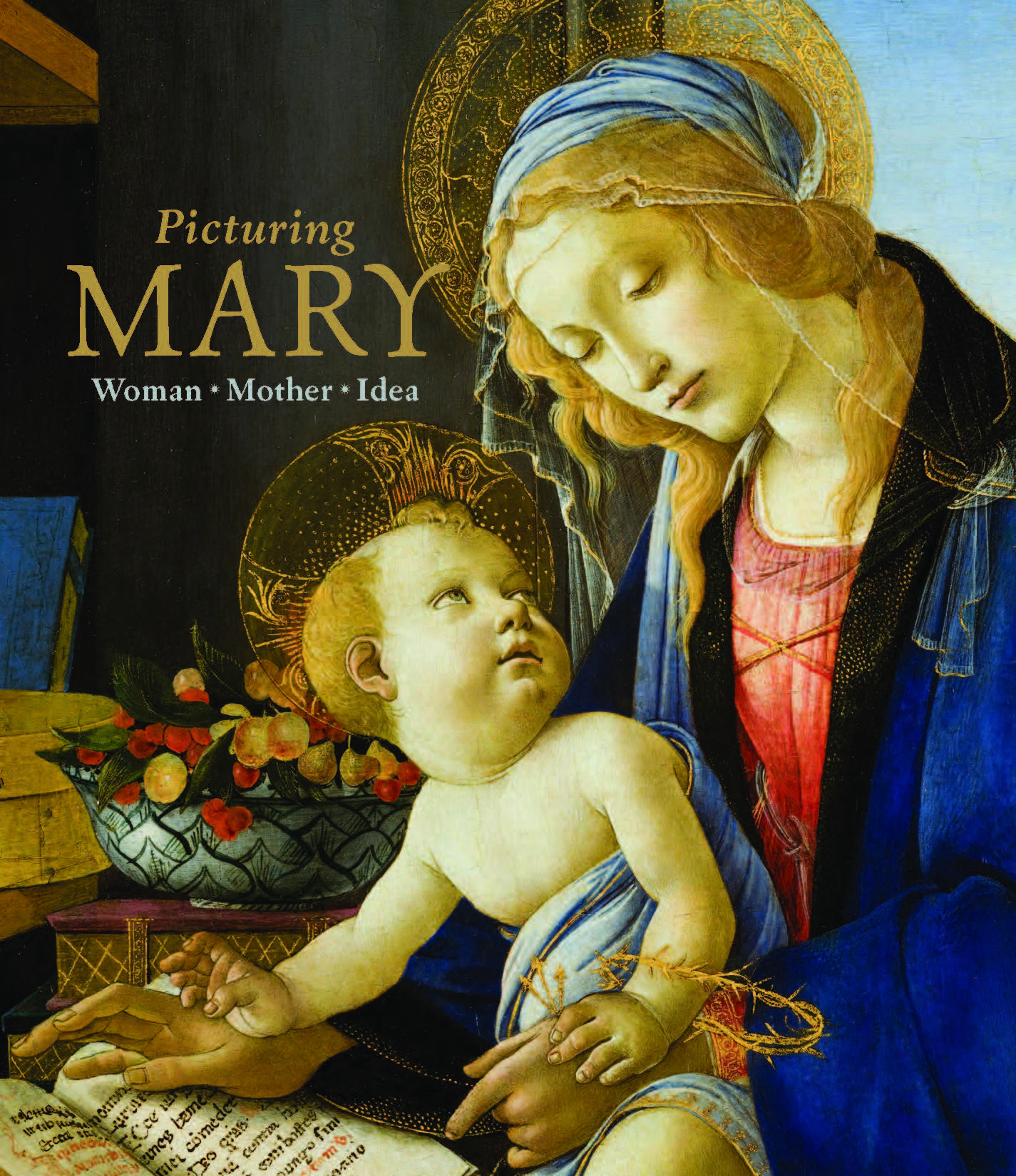 In addition to showcasing full-color images of the art on view and many comparative works, the catalogue for Picturing Mary, co-published by NMWA and Scala Arts Publishers, examines Mary's image as an enthroned queen, a tender young mother, and a pious woman. Thought-provoking texts demonstrate how her personification of womanhood has resonated throughout history.
In the opening essay, exhibition curator Timothy Verdon, director of the Museo dell'Opera del Duomo and canon of the Florence Cathedral, describes a fascinating work, Orsola Maddalena Caccia's Saint Luke the Evangelist in the Studio: "This painting perfectly suits our theme, for it shows one of the authors of the Christian scriptures, the evangelist Luke, literally picturing—creating images of—Mary and her son. Since Luke dedicates considerable space to Mary in his Gospel, it is fair to say that his "images" were in the first place literary. . . . Among other noteworthy features, this work includes a soulful bull, a traditional symbol of Saint Luke, and, below the table, a dog, a traditional allusion to fidelity."
Miri Rubin, professor of medieval and early modern history, Queen Mary University of London, wrote about Christian traditions of depicting Mary. She examines changes in these images throughout history, as well as the ways in which communities such as monastic groups interpreted Mary's image. "Monks and nuns re-created the Virgin Mary as a European mother. They turned the mother of God into a member of their communities, a vibrant, loving figure, pure and human, demanding yet forgiving."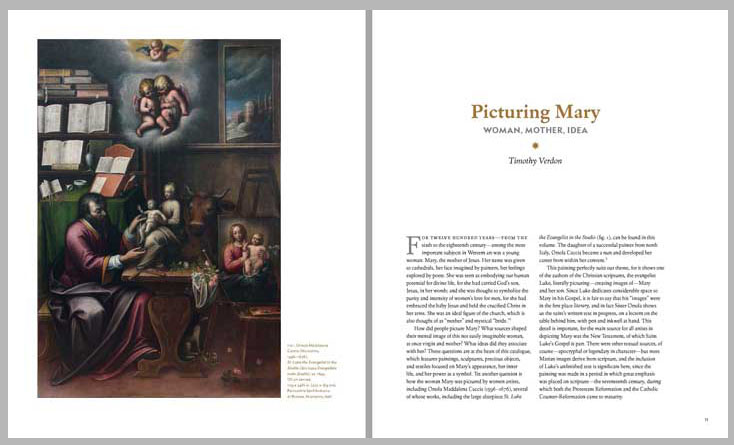 Essayist Amy Remensnyder, professor of history at Brown University, focuses on images of Mary used as a "Warrior and Diplomat." She describes certain works of art showing Mary in warlike settings: "Straddling the boundary between manliness and womanliness, female virgins in many cultures have access to realms normally reserved for men, including warfare and hunting. Virginity, medieval Christian authors declared, armed female saints with the masculine virtues of strength and courage. It is perhaps significant that the Madonna delle Milizie does not hold her son in any of the extant images; this epitome of Mary as warrior rides alone—virginal, not maternal."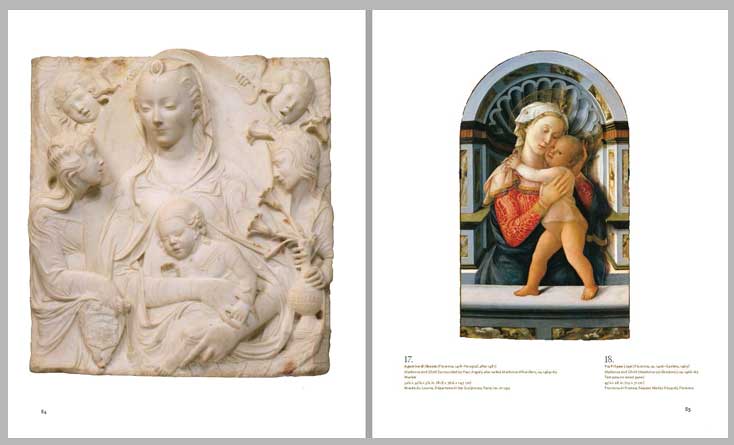 Within her essay, Melissa R. Katz, Luther Gregg Sullivan Fellow in Art History, Wesleyan University, describes the "porous and personal nature of Marian imagery." She explores a statuary type called the Vierge Ouvrant, or Triptych Virgin, in which the Virgin's moveable body serves as a set of doors to reveal imagery inside, and the "viewer is invited—indeed required—to touch the body of the Virgin with her hands in order to open and close the doors . . . inviting a true sense of intimacy with the saintly statue." Katz brings her analysis to the present day: "More surprising than her persistence in the religious imagination is her presence in the contemporary art world. Where other sacred personages have faded to footnotes, the Virgin Mary has found renewed relevance as a feminist icon, spiritual touchstone, and banner of political identity."
Click here to learn more about the exhibition and programming for Picturing Mary, on view at NMWA through April 12, 2015. Click here to purchase the catalogue!