March 26, 2015
3/26/15
The art of Picturing Mary: Woman, Mother, Idea overflows with religious symbolism and iconography. Images of Mary hold a prominent place in Christian iconography and operate on two distinct levels: the literal and the metaphorical. Representationally, many of these images depict Marian Biblical scenes or quiet moments between mother and child. Yet many of the pieces in Picturing Mary are also full of subtle allusions to central religious teachings.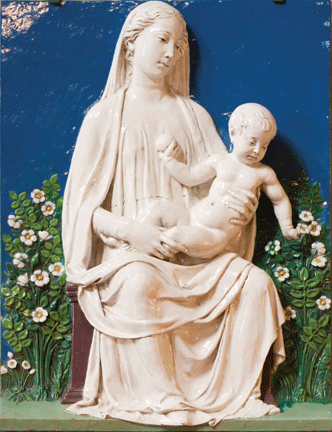 Flowers, fruits, and other everyday objects symbolize the purity of Mary. In Luca della Robbia's Madonna of the Rose Garden (ca. 1450–60), white flowers surround the Virgin, signifying her purity and chastity.
Besides symbolizing purity, vegetation in other works, such as the fruit bowl in Sandro Botticelli's Madonna of the Book (1480–81), carries diverse Christian allegorical meanings.
Botticelli's cherries may represent either the Blood of Christ or allude to Paradise while the figs suggest the Resurrection and the plums show the love between mother and child.
Allusions to Christ's fate reveal Mary's early knowledge of his destiny. Mary's distant gaze and solemn expression, seen in works such as Luca della Robbia's sculpture Madonna and Child (ca. 1430) and Botticelli's Madonna of the Book, conveys a deep sense of foreboding.
In Botticelli's painting, the Virgin's downcast eyes and pensive expression suggest her premonition of Jesus's Crucifixion, furthered symbolized by the golden crown of thorns around Christ's wrist and the three nails held in his right hand. Mary's open mouth and wide-eyed look, as well as her tight grasp on baby Jesus in the sculpture by della Robbia, indicates knowledge of her son's future. Other symbols, such as scenes of the Christ sleeping and the infant Saint John the Baptist holding a cross, are often interpreted as alluding to the Pieta and the Crucifixion.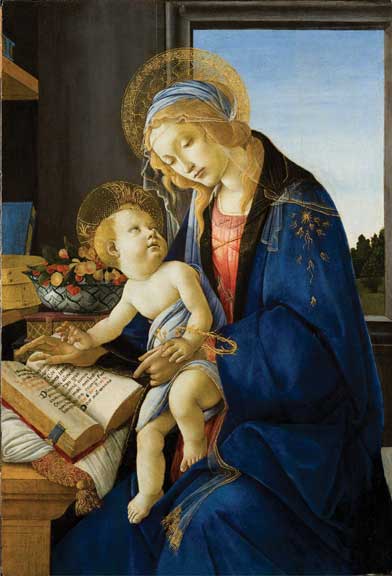 Jesus's position on the canvas also allegorically reveals his dual nature and casts him as the way to eternal salvation. Christ divides Orsola Maddalena Caccia's Nativity (ca. 1621–25) and Madonna with the Sleeping Christ Child (1620–25) into two realms: earth and heaven. In both works, the area to the left of Christ represents earth.
Here, Mary and a distant city are depicted in clear, vivid detail. To Christ's right is heaven, symbolized by winged angels and a swirling, dreamlike cloudscape. Christ belongs to both of these worlds and, read left to right, the works demonstrate that he is the way to salvation.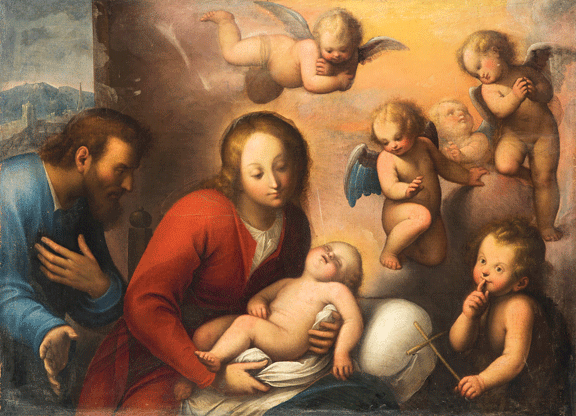 In the Botticelli, Jesus's location between Mary and the open prayer book symbolizes the Christian belief that Christ is the "word made flesh," meaning that he embodies God's grace and truth. By placing Jesus on his mother's lap, Botticelli alludes to his humanity while simultaneously reinforcing Christ's holiness through his proximity to the holy text.
Visit soon to find more symbols and allusions in person—Picturing Mary is on view at NMWA through April 13.