April 2, 2015
4/2/15
The gender gap in the arts is narrowing, yet women continue to only make up around 25% of solo gallery shows, and in 30 years of prizes, a woman has only won the Turner Prize six times.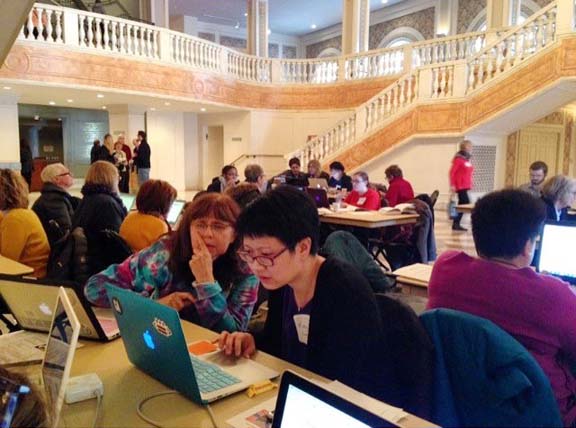 Consider Wikipedia: It is often the first resource for any high-school or college research paper, any quibble about who starred in what movie, or, for that matter, any question asked of the internet. With almost 5 million English-language articles and growing (there is even a Wikipedia article that attempts to calculate the size and growing rate of Wikipedia), Wikipedia is a dominant digital source for human knowledge.
Then, consider the fact that Wikipedia reports that only 8.5% of its editors identify as female. With that lack of female voices contributing to the seventh most visited website on the entire internet, there's going to be a worrying lack of representation. Couple the online gender disparity with the one found in the arts, and we've got a problem.
It's possible that with the historic underrepresentation of women in STEM fields, some women feel that they lack the skills or confidence to contribute online. Recent events and longstanding dynamics—from Gamergate to any YouTube comment thread—may mean that women don't feel safe creating content. But it doesn't take a woman to write about a woman, so what explains the lack of female artists on Wikipedia? And if people aren't writing about women artists, what's the likelihood they're learning about women artists? What are the consequences?
On March 8, International Women's Day, the National Museum of Women in the Arts held a Wikipedia Edit-a-thon to combat the gender disparities on the internet and in Wikipedia arts representation. The aim was to create, edit, and expand Wikipedia entries about female artists, as well as give women the skills to continue to contribute. With my friend Kim, my laptop, a cup of coffee, and a book about women in the arts (thanks, Library and Research Center!) I was more than ready to participate.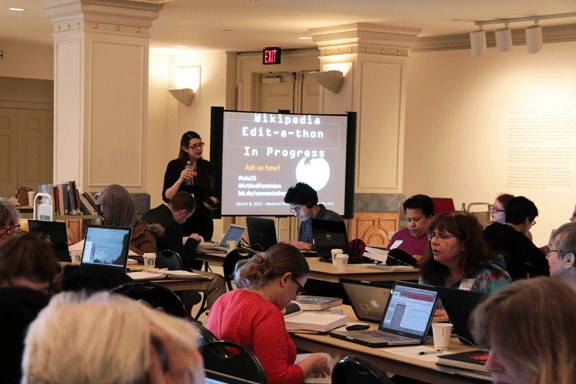 First, Wikipedia's editing system is a little tricky to learn. I had worked with HTML in the past, but Wikipedia is its own beast. Thankfully, we were given a quick tutorial and a cheat sheet, so once I started with smaller editing commands for an hour or so, I felt confident diving into articles.
Here's something I hadn't anticipated: Wikipedia was always my go-to for reading about people (Millennial alert), which meant I couldn't use it as a reference tool for quick facts. I hadn't even realized my own dependency on Wikipedia until this moment, and it made it all the more important for me to add some content. So, I opened a book and started editing.
When I resurfaced hours later, I had contributed bits and pieces to articles about Cady Noland, A. L. Steiner, and Sophie Calle. These edits were small—largely adding citations, moving content, or adding to help with flow or cohesiveness—but I was surprisingly gratified to know that I had contributed to someone else's knowledge of these artists. As a whole, Art+Feminism's 2015 Wikipedia Edit-a-thon added 334 new articles to Wikipedia about female artists and, more importantly, gave me the confidence to continue contributing to Wikipedia in the future.