September 9, 2014
9/9/14
The art of Kimsooja (b. 1957, South Korea) is anchored in physical and metaphorical explorations of fabrics, textiles, and sewing. She has used a needle and thread to stitch together much of her work, manipulating everything from traditional South Korean fabrics, discarded clothing, travel bundles called bottari, and even her own name (rather than Soo-ja Kim or Kim Sooja, she prefers Kimsooja: "A one-word name is an anarchist's name," she says).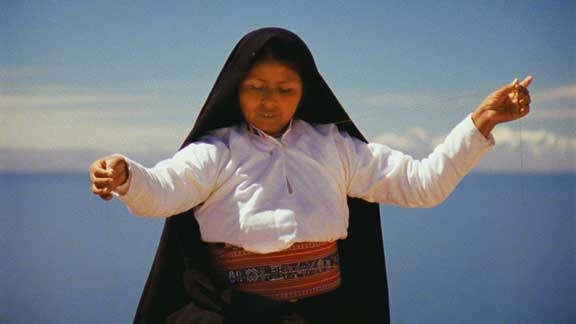 When the artist was a young girl, a life-changing moment occurred while she was helping her mother mend a bed cover. With needle in hand, Kimsooja says the moment the instrument entered the fabric she felt a jolt of energy that inspired a feeling of deep connection to the rest of the world. While this might seem like an extreme response to the seemingly insignificant act of mending sheets, this transformative sense of connection resonates through the artist's oeuvre. For Kimsooja, the needle and thread symbolize the artist's discerning eye and hand (another series of her work is called "A Needle Woman"), while images, videos, installations, and performances become swatches of fabric joined to create sensory works of art.
Thread Routes—Chapter 1 (2010), currently featured in Total Art: Contemporary Video, is a visual poem dedicated to the bright, color- and pattern-saturated aesthetic of the culture and landscape of Peruvian weavers. Shot by a film crew on location near Machu Picchu, the 26-minute video features images of women chatting while hand-spinning fibers into threads and using looms and other weaving techniques to create fabric designs. These scenes are juxtaposed with silent imagery of knotted mountainous landscapes, creating a patchwork-style video of a sensory experience of the region.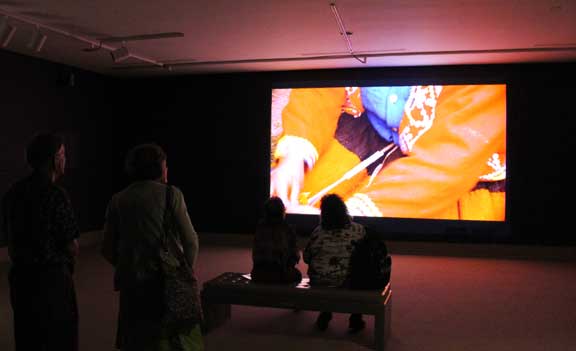 The video can be viewed as a meditation on the textures of experience, specifically the everyday, tactile experience of southern Peru. Kimsooja brings the viewer's attention to the rich textural similarities between patterns created in the weavers' fabrics and clothing, and the natural and agriculturally-manipulated patterns of the earth. Close-up details of braided threads and bright buttons are mirrored by video sequences framing harvested plots of land punctuated by the uniform roof tiles of small houses, as intricately interwoven as the textiles.
By creating these visual parallels, Kimsooja offers nuanced perspectives on the relationships between nature and culture, as well as between the artist and the larger world. This relates to a greater theme of Total Art—video as an art form that encourages the individual artist to collaborate with others. In this video, Kimsooja nods to the earth and entire societies as creators in their own rights. The Thread Routes series is an ongoing project that will eventually include six chapters, featuring images of other textile-centric cultures in their social and physical environments.
To learn more about the artist and Thread Routes—Chapter 1, visit the museum for a short conversation with Associate Educator Addie L. Gayoso on Wednesday, September 10, at noon.