June 11, 2016
6/11/16
NMWA's summer exhibition She Who Tells a Story: Women Photographers from Iran and the Arab World is organized around three themes: Constructing Identities, Deconstructing Orientalism, and New Documentary.
Artists in She Who Tells a Story explore questions of identity from the perspectives of religion, politics, gender, and history. Highlighting difference, connection, individuality, and universality, these works offer alternate views of Arab and Iranian female identity.
Breaking Silences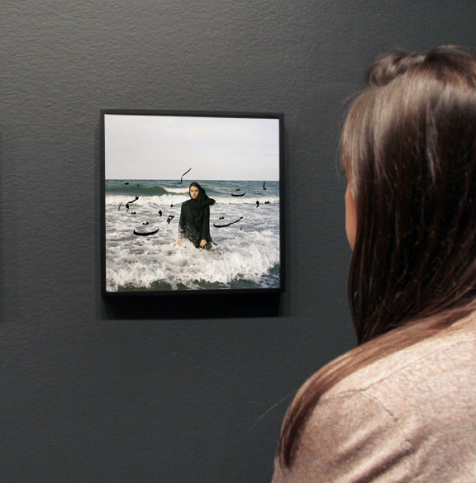 Many works on view examine identity in the context of political restrictions on women. In her efforts to explore the social and political circumstances of Iranian women, Newsha Tavakolian photographed and filmed professional female musicians forbidden to record or publicly perform in her series "Listen" (2010).
One part of "Listen" is a series of mock CD covers, combining photographs with imaginary titles for albums that cannot be recorded. The album title for Don't Forget This Is Not You (for Sahar Lotfi) is written over the image of a woman standing in the ocean "like a modern Venus."
With a multi-faceted meaning, this work mourns "limitations on her freedom" while maintaining a tone of defiance. "Listen" reminds viewers that Iranian women are more than the ideals endorsed by the powerful, with identities and desires of their own. Simultaneously, the work dissuades men and Westerners from projecting their own biases and identities onto the image. "Listen" insists that Iranian women are not symbols or mirrors to reflect Western beliefs about the Islamic world, but individuals who can tell their own stories.
Women as Storytellers
Tanya Habjouqa's "Women of Gaza" series offers an alternative view of Arab female identity that focuses on female empowerment. One photograph from the series shows a young woman snapping a picture with her cell phone camera. Depicting the girl in the process of looking and creating subverts viewers' expectations and challenges stereotypes. The girl is an active subject whose gaze is indirectly fixed on viewers through the screen of her phone, appearing to watch them watching her. Habjouqa shows this young woman as a creator in her own right, upending the stereotypical objectified role of Arab women.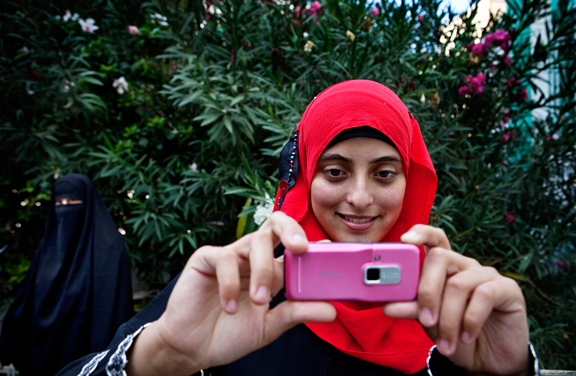 The work also explores the identity of the photographer. Habjouqa involves her subjects as active participants in creating their portraitsrejects the role of photographers as objective or removed from the circumstances they document. Habjouqa describes her collaborative relationship with the women in these photographs as an essential part of "telling the human story."
New Possibilities
Artists like Tavakolian and Habjouqa are not simply investigating their own identities. They also share new possibilities for Arab and Iranian female identity and argue that women must be participants in—rather than objects of—representations that seek to tell meaningful stories. By portraying their subjects as active creators and storytellers, these artists reject stereotypes and offer images of women empowered to forge their own paths.