July 12, 2022
7/12/22
Washington, D.C.-based muralist, designer, and illustrator MISS CHELOVE (a.k.a. Cita Sadeli) creates vibrant, larger-than-life works that cover the walls of businesses, alleyways, and public façades around the District and beyond. Now on view through July 31, her monumental artwork Reseeded: A Forest Floor Flow (2022) envelops NMWA's west-facing exterior in the first installation of Lookout, a series of public artworks on the building's exterior during our renovation.
The work features a woman with traditional Javanese adornments and surrounded by botanicals native to the islands of Indonesia. Through her imagery, the artist reflects on recovery and resurgence in the natural world and the centering of women in this regrowth.
In the final segment of a three-part interview, NMWA exhibition coordinator Hannah Shambroom spoke with MISS CHELOVE about her style, process, and the role of community in her practice.
Hannah Shambroom: How did you develop your style and technique?
MISS CHELOVE: Throughout my career I've chosen to learn on my own to gain new skills. I attended the Corcoran School of the Arts & Design but dropped out before my second year so that I could begin working. Initially I became a freelance artist, completing commissions and a few interior murals. Soon afterward I made the transition from working with traditional materials to creating digitally as a web designer and developer at a small local web development firm.
In 2011 I received my first public art commission through the MuralsDC program—Every Day I See Something New, in D.C.'s Adams Morgan neighborhood (this project remains a personal favorite). I used trial and error to understand the principles of creating larger-scale works and understanding other key factors, like pigment lightfastness, material adhesion, and long-term wear.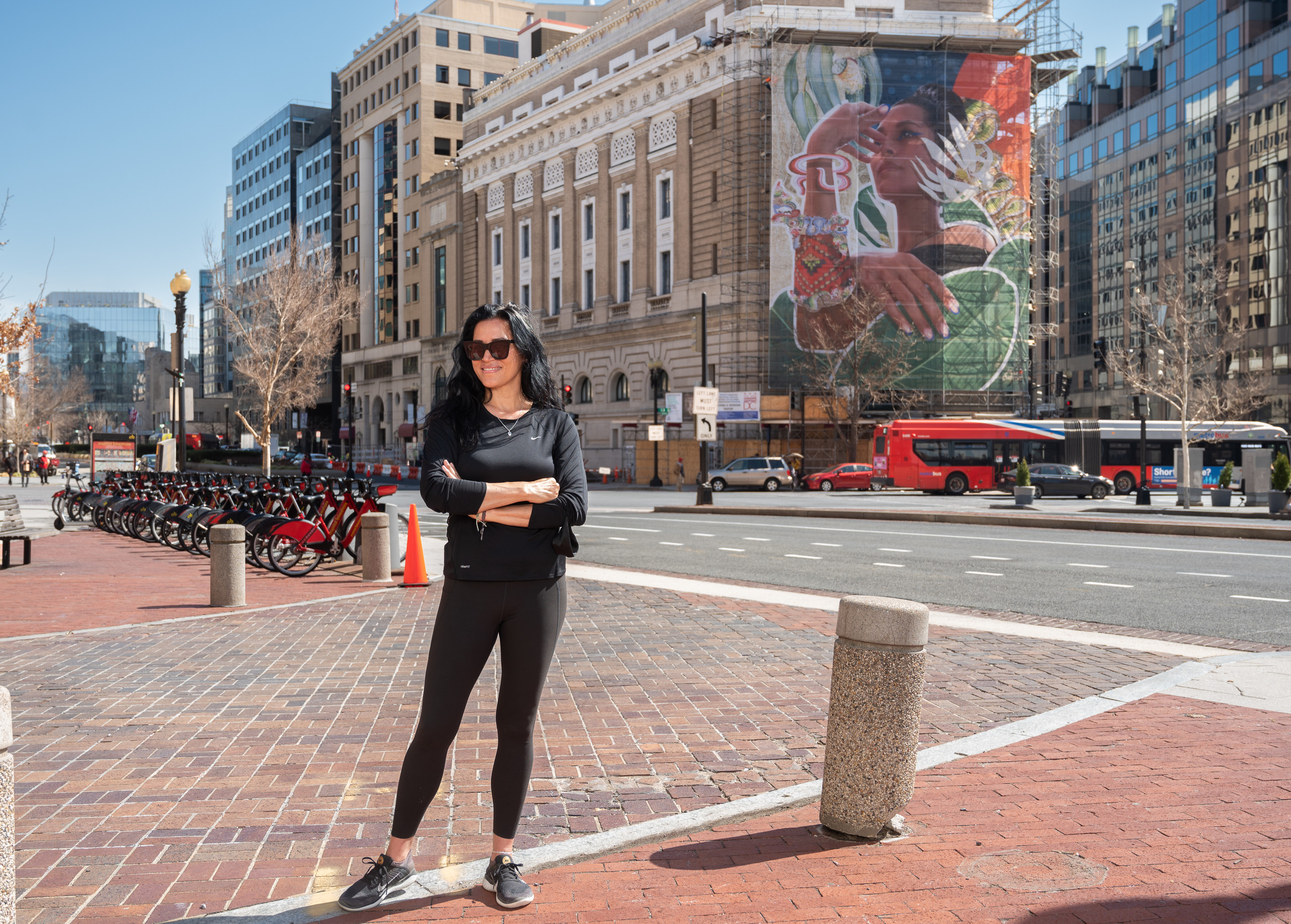 HS: What does working in large scale allow you to achieve that a different medium might not?
MC: I find working at large scale to be very forgiving and a lot more soulful. While applying paint, you begin to use your entire body to properly complete certain strokes—sometimes it feels more like a dance! Often, after completing a project, I feel a sense of having worked through personal healing. As a serious music and dance lover, I'm aware that movement is medicine.
Additionally, the multi-sensory experience of working outdoors within bustling communities builds a deeper connection to my murals. Distanced viewing also erases the strength of any errors, as one is caught up in the whole of the piece as opposed to the technical details.
HS: How is community important to your work and practice?
MC: Over the days or weeks on site, you become a thread woven into the fabric of that community. Seeing the regulars day after day, you begin to get to know folks and enjoy observing the deeper details of a community unfold. I've witnessed the community become deeply connected with myself and the work I'm creating—for them. Day after day I see a sense of ownership emerge as they watch the artwork come to life. Art is literally transformative in this way, and it's so beautiful to witness.
---
Want to see more of MISS CHELOVE's D.C. murals? Explore NMWA's self-guided mural tour, featuring a map and accompanying images, descriptions, and artist audio stops.