April 21, 2015
4/21/15
The upcoming exhibition Casting a Spell: Ceramics by Daisy Makeig-Jones brings the magic of the 20th-century ceramic designer to the National Museum of Women in the Arts, May 1–August 16. One of the best-known ceramic designers of her time, Makeig-Jones (1881–1945) was born in Yorkshire, England, and quickly rose from an apprentice to a lead designer within the esteemed Wedgwood pottery company. Combining her experimentation in ceramic production and design with her love of fairy tales, Makeig-Jones developed a dreamy decorative collection aptly called "Fairyland Lusterware."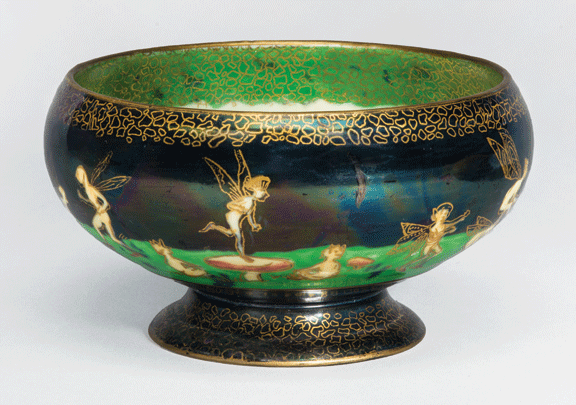 Casting a Spell features 38 pieces of Fairyland Lusterware whose fantastical influences created a new form of aesthetic escapism during World War I. First released in 1915, Makeig-Jones's ornamental ceramics were unlike the streamlined pieces being produced by Wedgwood and other firms at the time. Makeig-Jones synthesized the contemporary Arts and Crafts aesthetic with the Art Nouveau style raging in Paris to create innovative designs with iridescent glazes. Her popular creations also boosted Wedgwood sales at a time when it was desperately needed.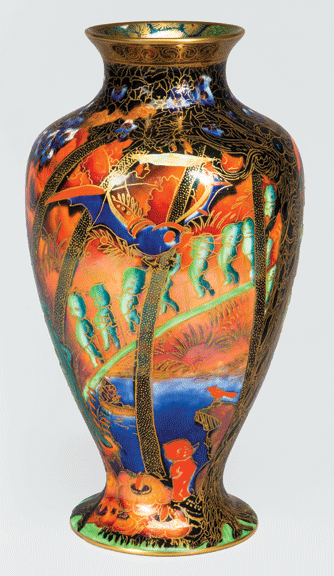 The jewel tones and fairy tale motifs—often inspired by contemporary fairy tale illustrations and featuring fairies, imps, goblins, and other fantastical creatures—of Makeig-Jones's Fairyland Lusterware create a distinct whimsical atmosphere for each bowl, vase, cup, and box. The popularity of Asian aesthetics and ceramic shapes was also a source of inspiration for Makeig-Jones's designs, which sometimes incorporated palaces and landscapes that evoke the Middle East. According to New York City antiques dealer Nicholas Dawes, the collection's wild motifs provided the fanciful escapism that "many Europeans were looking for . . . to escape from the horrors of war."
Makeig-Jones's designs transport the viewer to a world of fantasy and dreams. The most frequently produced motif within the collection is "Imps on a Bridge and Treehouse." This design, which features imps crossing a bridge while a bird swoops overhead, is replicated on multiple vases on view in Casting a Spell, in distinct color schemes. Makeig-Jones developed eight color schemes for Fairyland Lusterware production, four of which corresponded to types of natural light. One vase showing this motif is painted with a striking "Sunset Fairyland" theme of orange and scarlet, while the cooler "Moonlight Fairyland" coloration of another creates a more dreamlike atmosphere.
Casting a Spell examines Makeig-Jones's role within the decorative arts both as a pioneering designer and as a modern woman and artist. Be sure to check out her ceramics this summer at NMWA.