July 2, 2019
7/2/19
Ursula von Rydingsvard: The Contour of Feeling presents the artist's monumental cedar wood sculptures alongside newer works for the first time. The poetic and expressive works, which also use leather, linen, and other organic materials, reveal the process by which von Rydingsvard gives outward visual form to her innermost ideas and emotions.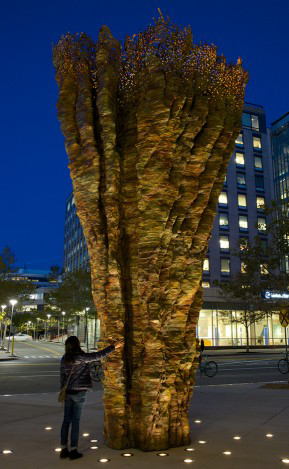 In addition to her works on view in museum galleries, Ursula von Rydingsvard has created large-scale sculptures that can be visited in public parks, plazas, and civic buildings across the country. Curious to discover more of her work? Here are five to see:
Ona (2013), Barclays Center, Brooklyn, New York:
Just outside of the Barclays Center, Ona is more than 19 feet high and weighs nearly 12,000 pounds. To create the bronze sculpture, as she does for all of her monumental cast works, von Rydingsvard first constructed a scale model in cedar to get the details exactly right. The artist recognizes that the finish of the bronze will change color from being touched and rubbed by passersby. She is glad to see its patina evolve over time, a result of the work's connection with the public.
Ocean Voices II (2013), San Francisco International Airport, California: 
The San Francisco Arts Commission emphasized public art in the airport's Terminal 3. Standing more than ten feet high, von Rydingvard's Ocean Voices II is made from  4-x-4 cedar beams, the artist's signature material.
URODA (2015), Princeton University, New Jersey:
On Princeton's campus, outside the Andlinger Center for Energy and the Environment, von Rydingsvard installed URODA. Its surface is made of more than 3,000 pieces of copper, hammered by hand to conform to the curves of her textural cedar model. While it may seem familiar to fans of her work—the towering funnel shape marks it as one of von Rydingsvard's "bowl" sculptures—its creation broke new ground as the artist's first large-scale piece made primarily of copper.
SCIENTIA (2016), Massachusetts Institute of Technology (MIT), Cambridge:
The 25-foot-high bronze SCIENTIA was commissioned for MIT's McGovern Institute for Brain Research. Its soaring bowl form features variegated coloring and a lace-like perforated segment at the top.
katul katul (2002), Queens Family Courthouse, Jamaica, New York:
In the Queens Family Courthouse, von Rydingvard's katul katul is made of molded plastic and aluminum, although it, too, was first created in cedar. It carries light downward through a skylight-illuminated atrium.
Still want to see more? Von Rydingsvard's sculptures can also be found in museums' sculpture gardens, with works on view at the New Orleans Museum of Art, Louisiana; the deCordova Sculpture Park and Museum, Massachusetts; and The Contemporary Austin, Texas, among others.