January 8, 2020
1/8/20
Xaviera Simmons (b. 1974) staged herself among a towering thicket of reeds in her photograph One Day and Back Then (Standing) (2007), currently on view in NMWA's exhibition Live Dangerously. Simmons wears a black trench coat, black tights and boots, black face makeup, and bright red lipstick—a presentation that starkly juxtaposes her form against the landscape.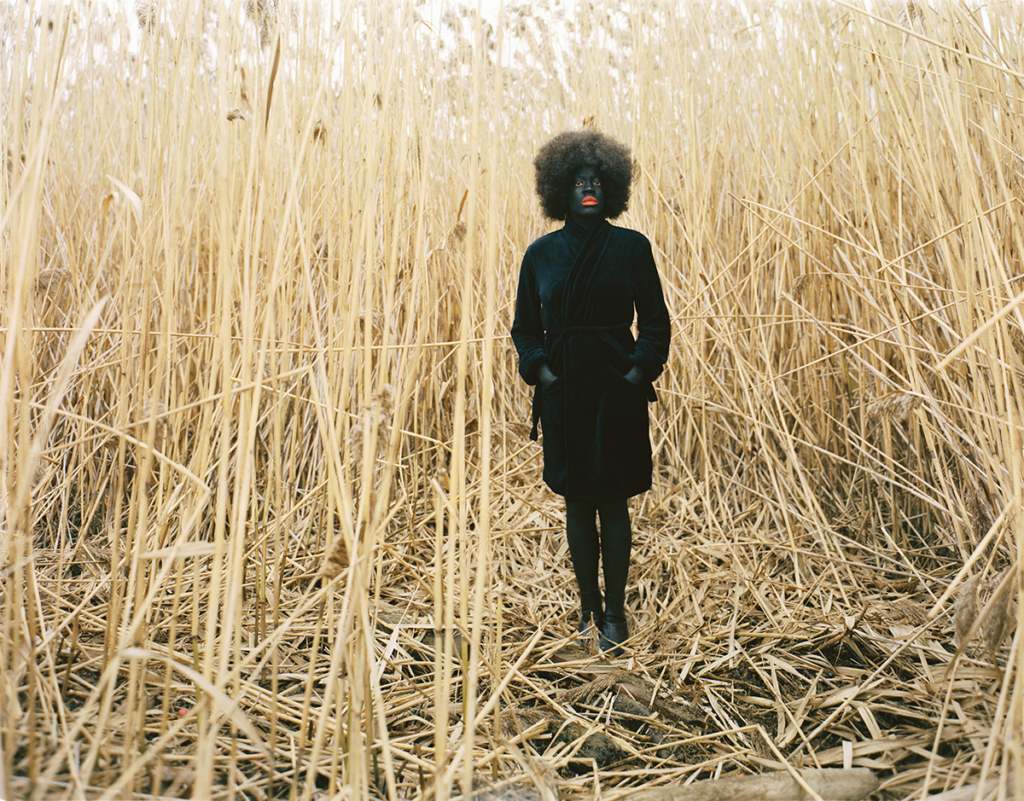 In her writing on racial and social justice for the Museum of Modern Art (MoMA) and the Art Newspaper, Simmons has expressed a desire to understand what it takes to shift political systems. Her art works to shift our notions of race, history, and collective narratives.
She says of One Day and Back Then (Standing), "The image asks complicated questions of the viewer: Who is this subject and what are her intentions? What is the meaning of blackface in this context and where might this subject be? Who, historically and traditionally, gets to exist in the sublime with regards to landscape photography and landscape painting? How might our entire history have been different had America fulfilled its emancipatory promises to its freed slaves and their descendants instead of commemorating its defeated Confederate planters?"
"Black American men and women, particularly those who descend from American slavery, have been in a constant state of migration, distress, and unsettle since the formation of the United States in and on the landscape of their centuries of forced toil," explained the artist. Simmons herself is the daughter of a sharecropper from Georgia and can trace her ancestors back nearly four centuries in the U.S. The artist states that her "entire lineage on all sides is all some kind of mixed 'race' group built by Southern American slavery."
After graduating from Bard College with her BFA in 2004, Simmons simultaneously trained as an actor at the Maggie Flanigan Studio and completed the Whitney Museum's Independent Study Program in Studio Art. She uses wide-ranging forms of art and writing in her work, including photography, performance, installation, and sound.
In her feature for MoMA, Simmons contemplates white supremacy and systemic racism in her social groups, her home town of New York City, and the country. "America doesn't know people as daughters of sharecroppers or as descendants of American slavery…if there are descendants of slavery then there are descendants of planters and plantation owners.…Our collective narrative doesn't really account for the white people, their children, and so on across the country who oppressed negros for centuries, like till right now." Simmons wants us to properly acknowledge and take responsibility for our national history of oppression. "It would be radical if we were once again abolitionists; these times demand the usage of that word…"