Grandma Moses (Anna Mary Robertson Moses)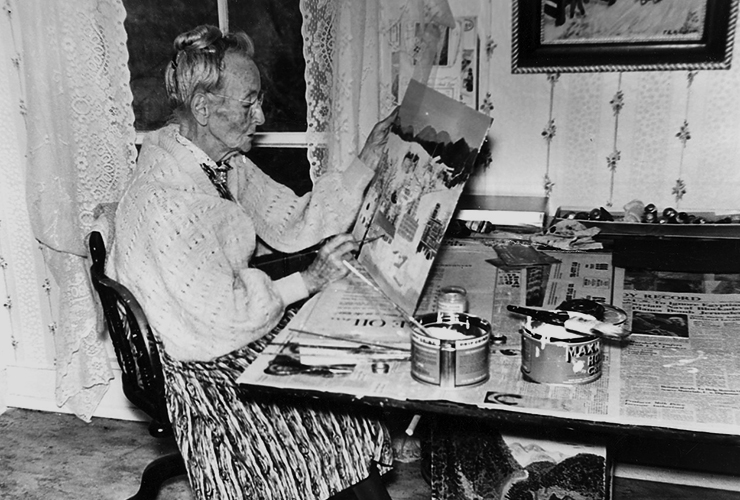 Born Anna Mary Robertson, the artist left home at a young age to work as a hired girl at a neighboring farm. Marrying in 1887, she eventually gave birth to 10 children (5 of whom survived past infancy). In addition to her work as a farm wife and mother, Moses helped support her family by selling various homemade foods.
Moses disliked spending time knitting and sewing, but she began entertaining herself and her friends by making needlework pictures and quilts portraying colorful scenes of farm life. At 78, when arthritis rendered her unable to embroider, friends suggested she try painting these scenes instead.
Moses worked with whatever materials were at hand, used house paint and leftover canvas or fireboard for her first paintings. As a self-taught artist, Moses had little concern for perspective or proportion.
Although familiar with the hardships and sorrow of farm life, she illustrated happy childhood memories of fields and storms, barn dances, and holidays in rural New York and Virginia. She deliberately omitted telephone poles, tractors, and other elements of the effects of industrialization.
New York collector Louis J. Caldor chanced upon Moses's work and helped her begin exhibiting professionally. She gained the nickname "Grandma Moses" from a reviewer at New York's Herald Tribune. Her paintings became immensely popular and were appreciated for their nostalgic charm.
She exhibited her work internationally into her 90s and painted until a few months before her death at age 101.