Louise Dahl-Wolfe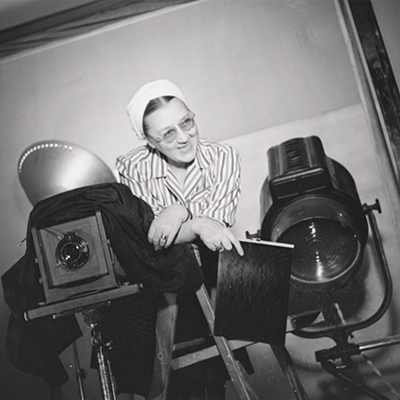 After studying painting, figure drawing, and design at the San Francisco Institute of Art, Dahl-Wolfe began experimenting with photography in 1921, inspired by Anne Brigman's photographs. In 1928, Dahl-Wolfe married American sculptor Meyer (Mike) Wolfe and soon established herself as a professional photographer.
The couple moved to New York City in 1933, where Dahl-Wolfe worked as a freelance photographer before accepting a position at Harper's Bazaar in 1936. At the magazine, she enjoyed considerable creative freedom as part of a formidable creative team including fashion editor Diana Vreeland.
Dahl-Wolfe often juxtaposed her models with famous works of art, resulting in surprising and irreverent compositions. Fashion assignments led her to locations around the world, where she posed her models outdoors, in natural light. Throughout this period, Dahl-Wolfe also created striking portrait photographs of society figures and art world celebrities, including authors Carson McCullers and Colette, designer Christian Dior, and sculptor Isamu Noguchi.
Following her departure from Harper's Bazaar in 1958 until her retirement in 1960, Dahl-Wolfe did freelance work for publications including Vogue and Sports Illustrated. Dahl-Wolfe's photographs are often cited as an influence on later photographers, notably Richard Avedon and Irving Penn.