August 26, 2014
8/26/14
Alex Prager (b. 1979, Los Angeles) is a self-taught photographer and filmmaker known for large-scale pictures of actresses in eccentrically costumed and choreographed crowds. La Petite Mort (2012), which is the most recent work of the 10 on view in Total Art: Contemporary Video, reflects an evolution in Prager's practice. For Prager, photography is integral to her work process, and every series is informed by a basic emotion the artist wants to evoke. This short film links the potentially sublime experiences of sex and death, advancing Prager's fascination with emotional experience.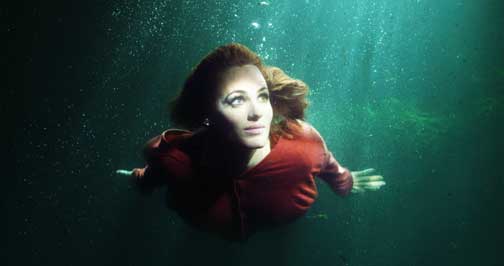 Prager began taking photographs as a teen, while traveling across Europe. After attending an exhibition of photography by William Eggleston at the Getty Museum in 1999, she decided to pursue professional photography. She purchased her first camera and darkroom equipment off of eBay, and learned photo development techniques from a "how-to" book. Influenced by Hollywood and her interest in acting, Prager started taking bird's-eye-view photos of friends, relatives, professional actors, and extras interacting on elaborate sets.
Since then, Prager's work has been featured in Vogue, W, the New York Times (winning an Emmy Award for the star-studded, commissioned short-film series Touch of Evil), and an ad campaign for IFC's hit comedy series Portlandia, based on the Face in the Crowd series. The cinematic style of Prager's saccharine photographs and videos is part Hitchcock, part Cindy Sherman, with a little bit of 1980s-era Saturday Night Live. It remains unclear whether her work should incite horror, revulsion, intrigue, or laughter. With every series, the kitschy theatrical settings, vintage costumes, and over-the-top acting clash with the hyper-real film quality, creating tension between artifice and authenticity.
La Petite Mort is a short, surreal portrayal of a woman's overwhelming bodily transcendence by way of death and love (the title of the video is also a French term for orgasm, "the little death"). Prager shot the video with a high-definition Red EPIC camera, and collaborated with a talented group including narrator Gary Oldman and French actress Judith Godrèche.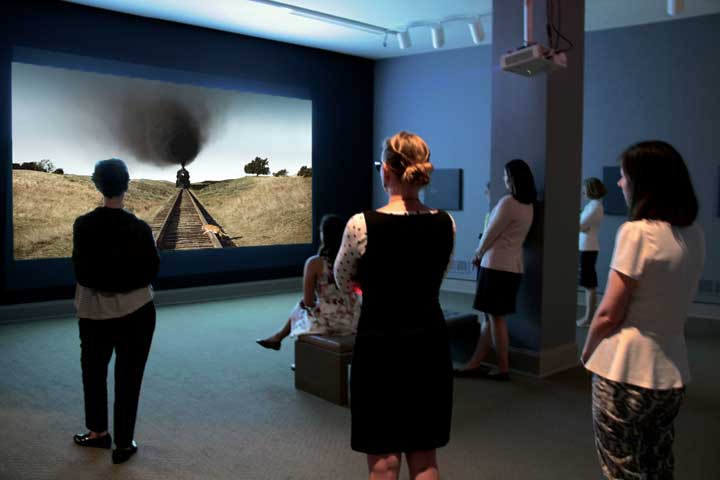 The lush video's narrative begins with narration describing a mother's ecstasy in labor, abruptly cutting to a speeding train headed straight toward a woman, her eyes fluttering in anticipation of the impact. The crash sends her flying backward into a pond, where she indulgently swims until surfacing to face a judgmental crowd. Lambasted by each character's glare, she eventually reaches her "love interest" standing behind the crowd alone. She collapses to the ground as the crowd disappears and the train conductor rushes to her limp body.
The video concludes with this narration:
It has been said that the act of dying and the act of transcendent love are two experiences cut from the same cloth—the former a grand exit, the latter a slow escape. Indeed, many of the world's greatest poets have long considered a passionate interlude as man's closest moment to seeing god.
Just like her Face in the Crowd photographs, La Petite Mort requires more than one viewing to fully take in every detail and metaphor. To learn more, visit NMWA for a short conversation with NMWA Curatorial Assistant Stephanie Midon on Wednesday, August 27, at noon!
Posted In
Artist Spotlight
Education
News and Updates
NMWA Exhibitions
Public Programs