May 1, 2013
5/1/13
In honor of A World Apart: Anna Ancher and the Skagen Art Colony, on view through May 12, 2013, we're researching other delightful, innovative, and interesting Danish women in the arts.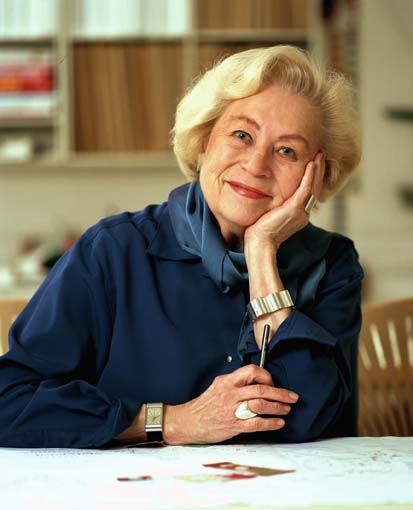 At the end of World War II, Denmark emerged as the standard-bearer for a revolutionary wave of furniture design hallmarked by a profound simplicity and practical functionality designed to fit the needs of small-scale European living spaces. Although Danish design was largely the realm of men, Nanna Ditzel (nee Hauberg, 1923–2005) emerged as one of the most successful and influential Danish designers, male or female, of the 20th century. A virtuoso designer of furniture, jewelry, and textiles, Ditzel produced a staggering oeuvre during her six-decade career. Her work—known for its sleek style, innovative mediums, and bold color choices—has had a lasting impact. Many of her designs are still in production by Danish firms, while other works continue to fetch high prices at auction.
Born in Copenhagen, Nanna enjoyed a family atmosphere that fostered passionate interest in the arts and design. One year after graduating high school in 1942, she studied carpentry at the Copenhagen School of Arts and Crafts; in 1944, she attended the prestigious Danish Royal Academy of Art, graduating with a degree in architecture while also studying philosophy and nurturing an interest in art history. At the Royal Academy, Nanna met her future husband, Jørgen Ditzel (1921–1961), with whom she shared a romantic, artistic, and professional partnership. Even before marrying, the couple jointly exhibited their work many times in various competitions, winning a silver medal for their furniture designs at the Copenhagen Cabinet Maker's Exhibition in 1945.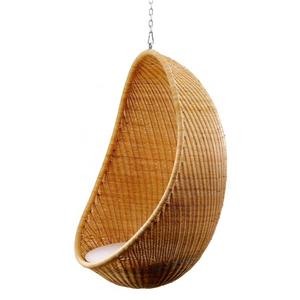 Beginning in the 1950s, Nanna and Jørgen began designing silver jewelry for the well-known Danish silversmith Georg Jensen; their pieces became very popular (some are still produced today), boasting sleek, modern forms, asymmetry, and curvature designed to complement and fuse with the human body. In 1956 the couple was awarded the prestigious Lunning Prize for their jewelry designs; with money from the prize, the couple traveled to Mexico to seek inspiration for further work. Through the rest of the 1950s, Nanna and Jørgen successfully designed furniture and textiles and went on to win three silver medals and one gold medal at the Milan Triennale furniture design competition.
One of the Nanna and Jørgen's most recognizable collaborations is their 1959 Hanging Chair, nicknamed "Egg Chair," a design notable for its organic, rounded shape, hanging construction, versatile indoor/outdoor use, and its primary medium of wicker. Still produced and sold today through Italian and Japanese companies, Hanging Chair has become an iconic image of modern Danish design. Tragically, Nanna and Jørgen's creative partnership ended abruptly when Jørgen died at age 40, leaving Nanna with a family to raise (the couple had three daughters together: Dennie, born 1950, and twins Lulu and Vita Vita, born 1954) as well as a studio to run. Resiliently, Nanna carried on and continued to enjoy an extraordinarily successful career marked by numerous international solo exhibitions.