March 9, 2017
3/9/17
Images that embody both precision and spontaneity are the focus of NMWA's new exhibition Chromatic Scale: Prints by Polly Apfelbaum, on view March 10 to July 2, 2017.
Born in 1955 in Philadelphia, Polly Apfelbaum is best known for her large-scale installations and "fallen paintings," compositions of dyed synthetic fabrics that she places directly on the floor. Apfelbaum studied painting and printmaking at the Tyler School of Art in Pennsylvania, receiving a BFA in 1978. She moved to New York City, where she was inspired by installation art and started experimenting with elements from two- and three-dimensional mediums. Despite studying printmaking as an art student, she didn't revisit the medium until 2002.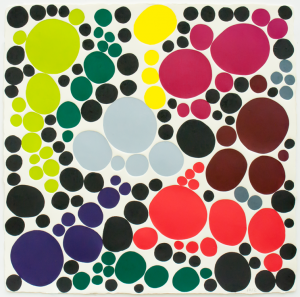 Working primarily in woodblock printing, Apfelbaum intuitively positions inked wood blocks on thick, handmade paper, which is then pressed, transferring the inked design from the blocks to the paper. The blocks are carved from plywood according to Apfelbaum's designs and are inked by hand in systematic spectrums of lush, saturated colors. Recently, she has experimented with more fluid coloring and shapes, using a "rainbow roll" technique, in which multiple colors are partially mixed to achieve continuous gradient tones.
Apfelbaum pursues a precise balance between color and shape to create sequences that elicit a particular feeling or sensation. She views color as both structural and emotional. In Little Dogwood 71 (2012) Apfelbaum achieves subtle variations among the circles by forming her blocks from slices of dogwood tree branches sourced from Bucks County, Pennsylvania, where she works with Durham Press. Apfelbaum's exuberantly colored prints are meticulously handmade and her compositions are often improvisational.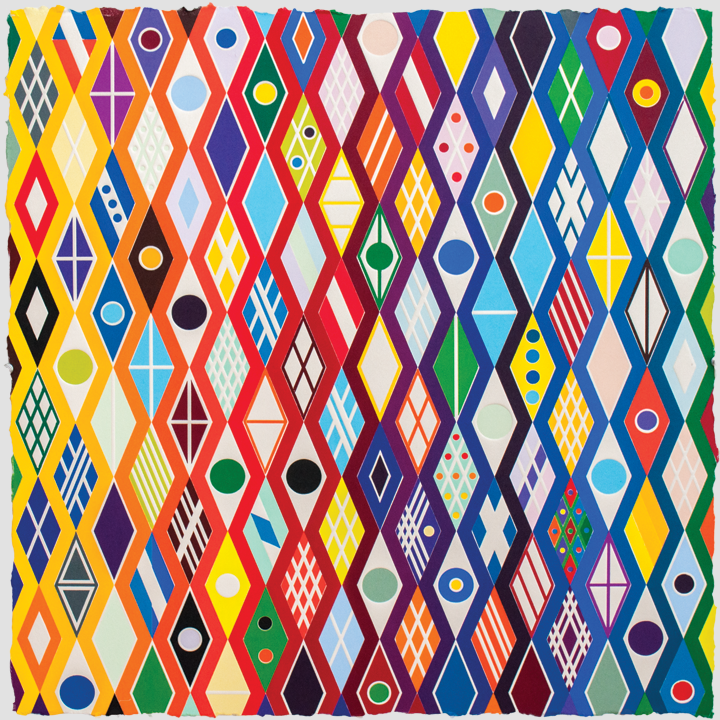 Apfelbaum's striking colors and bold abstract shapes reference Minimalist and Pop art. Her most recent prints, like Emperor Twist (2015), demonstrate her increasingly complex use of patterns and color. Inspired by medieval mosaic floors from Italy, she created this print using scores of small hand-inked blocks. The broad range of colors and alternating zigzag and diamond shapes create a dynamic visual rhythm.
This exhibition continues the museum's exploration of innovations in printmaking, a medium in which women have worked since the 16th century. Featuring prints in NMWA's collection along with complementary loans, Chromatic Scale takes a focused look at Apfelbaum's print work—a part of her oeuvre that has not been extensively studied—and examines how the artist extends the conventional boundaries of color and technique.
Visit the museum and celebrate spring with these bright prints on view in the Teresa Lozano Long Gallery.