June 7, 2016
6/7/16
In Arabic, the word rawiya means "she who tells a story." Each artist in NMWA's summer exhibition She Who Tells a Story: Women Photographers from Iran and the Arab World offers a vision of the world she has witnessed.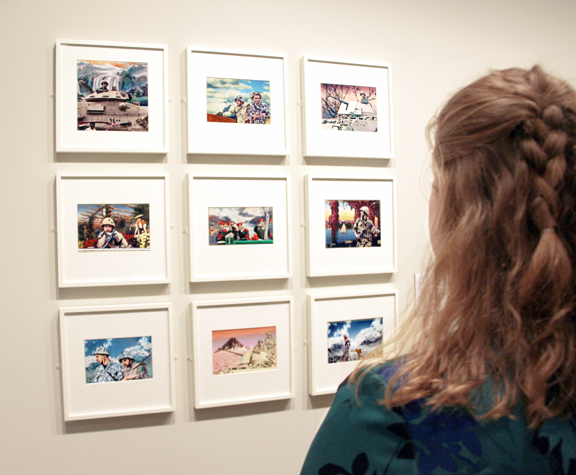 Nermine Hammam
(b. 1967, Cairo; lives Cairo and London)
Hammam attended school in England and studied filmmaking at New York University. Her layered, digitally manipulated works explore the subjective nature of reality. Hammam says, "The edge of the photograph can exclude as much as it includes. To me, this makes the photograph an inherently fictitious and unreliable record of both the past and the present."
In Her Own Words
"I entered this traditionally male-dominated space, camera in hand, inverting conventional power relationships to 'shoot' the soldiers. Their response to my presence, as a woman, in their midst, has become part of the 'facts' documented in these images."—Nermine Hammam
"….As the hatches opened, and doors of military vehicles were thrown wide, what emerged was not the angry stereotypes of power and masculinity we expected, but wide-eyed youths with tiny frames, squinting at the cacophony of Cairo. The soldiers' vulnerability and sheer youth baffled me. I had come to Tahrir to photograph images of military might. Instead, what emerged was its opposite: military tenderness, virile coquetry and masculine frailty."—Nermine Hammam, artist statement for "Cairo Year One: Upekkha"
What's On View?
Hammam's work addresses the 18-day uprising in Egypt in January 2011 and its aftermath. Ten photographs from the first part of the "Cairo Year One" series, "Upekkha" (2011), and two from later works in the series, "Unfolding" (2012), are on view in the exhibition. Hammam juxtaposes images of soldiers in Tahrir Square during the uprising with peaceful scenes from her personal collection of postcards.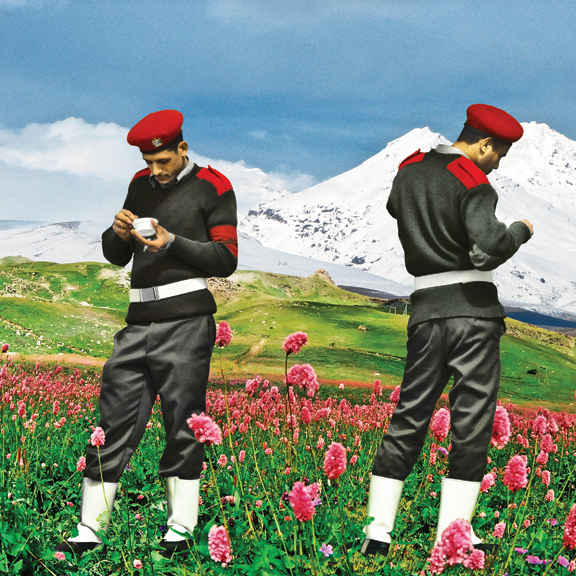 Expecting "military might," Hammam was surprised by the young, vulnerable soldiers and imagined transporting them to pleasant places. The Break features two soldiers eating a snack in front of a snow-covered mountain range. The combination of a bucolic mountain scene and the soldiers' relaxed poses contradict images of the social upheaval in Egypt. "This work is about youth, universal youth, and the harshness and inhumanity of sending our children to war," says Hammam. Inspired by propaganda posters from the 1940s and '50s depicting strong figures in idealized settings, Hammam says, "The backgrounds emphasize the discordant presence of armed men among civilians in Tahrir: men of war in Paradise."
Visit the museum and explore She Who Tells a Story, on view through July 31, 2016.