August 23, 2016
8/23/16
Alison Saar (b. 1956) is primarily recognized for her sculptural works although her woodcuts, lithographs, and etchings are also a remarkable part of her oeuvre. Saar says that one key advantage to printmaking is that it is "accessible to many people." NMWA's exhibition Alison Saar In Print reveals the artist's diverse use of media and techniques in her powerful exploration of race, gender, and identity.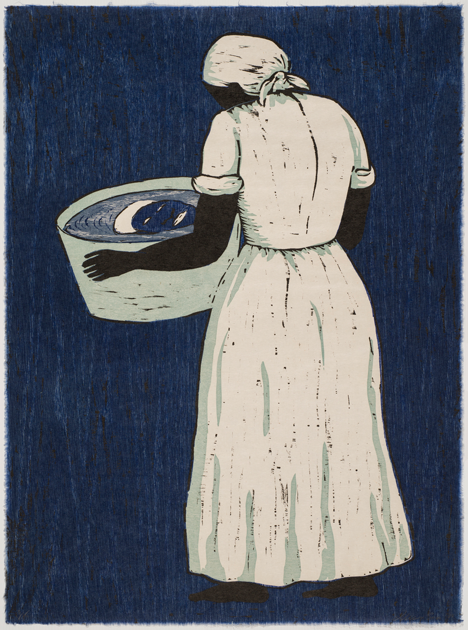 Saar was exposed to art through her mother, acclaimed assemblagist Betye Saar, and her father Richard, a painter and art conservator. "My mother was a printmaker before she became an assemblagist," Saar remembers, "so I was always around that process as a kid." Saar often employs symbolism and descriptive titles to reference the African diaspora and obscured African-American histories.
Themes of domesticity and womanhood are woven throughout Alison Saar In Print. The woodcut Washtub Blues (2000) depicts an African American woman holding a washtub. The viewer can only glimpse the woman's face through her reflection in the washtub. Washtub Blues emphasizes the household work that often goes underappreciated. "Housekeepers and nannies have a huge impact on people's lives and they are rarely recognized. Often they're invisible; you don't even notice them. That's why in this print of a laundress you see her from behind, with her face reflected in the tub of water," the artist elaborates. The figure reminds viewers that the economic survival of a family or community is sometimes predicated on the work of a woman.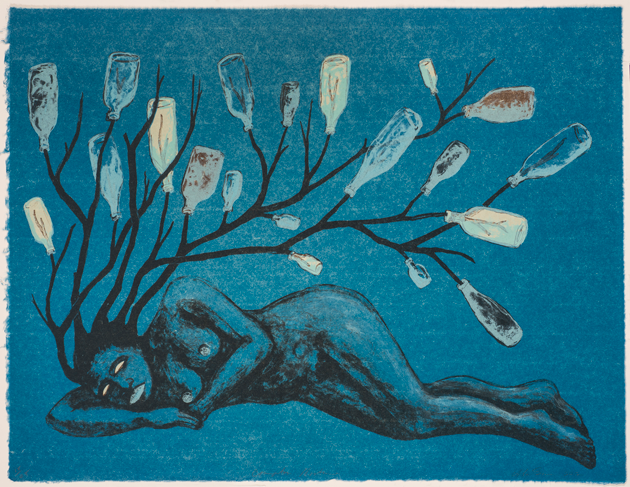 Though the artist prefers woodcuts, she also creates prints using lithography and etching. Saar's lithograph Compton Nocturne (2012) combines art historical references with an African spiritual tradition. The print portrays a nude woman laying horizontally across the length of the paper. In place of hair, a bottle tree appears to sprout from the figure's head. Constructed from tying bottles to trees, the bottle tree has been used in the Congo, the Caribbean, and the southeastern United States to ward off unwanted spirits or people.
The history of the Western female nude also informs Compton Nocturne. Saar replaces the traditional subject of an odalisque with an African-American woman. The artist repositions her subject as a culture-bearing woman, rather than an exoticized object of desire. A common motif in Saar's work, she depicts "powerful women who stare down those scrutinizing them."
Alison Saar In Print is on view through October 2, 2016 in the Teresa Lozano Long Gallery at the National Museum of Women in the Arts. Meet Alison Saar at the museum on September 6, 2016 for a special artist talk.