May 1, 2019
5/1/19
Ursula von Rydingsvard: The Contour of Feeling presents the artist's monumental cedar wood sculptures alongside newer works for the first time. The poetic and expressive sculptures, which also use leather, linen, and other organic materials, reveal the process by which von Rydingsvard gives outward visual form to her innermost ideas and emotions.
Ursula von Rydingsvard was born in 1942 in Deensen, Germany, to a Polish mother and a Ukrainian father—peasant farmers who worked in forced labor under the Nazis during World War II. After the war, the family spent five years in eight different refugee camps before immigrating to the United States in 1950, where they settled in Connecticut. While von Rydingsvard resists autobiographical readings of her sculptures, their ambiguous subjects are often imbued with her life experiences.
In the 1970s, von Rydingsvard turned to art as a vehicle for expression. She attained a master's degree in studio art from Columbia University and began working with cedar wood. Why cedar? One reason was that von Rydingsvard's father was a woodcutter, so working with cedar felt like an extension of her ancestry and a connection to the past. Another was that as she came into her practice at the height of the Minimalist movement, von Rydingsvard disliked the genre's machismo and detachment. The artist gravitated to cedar because she appreciated the wood's softness, which enabled her to manipulate it into expressive forms.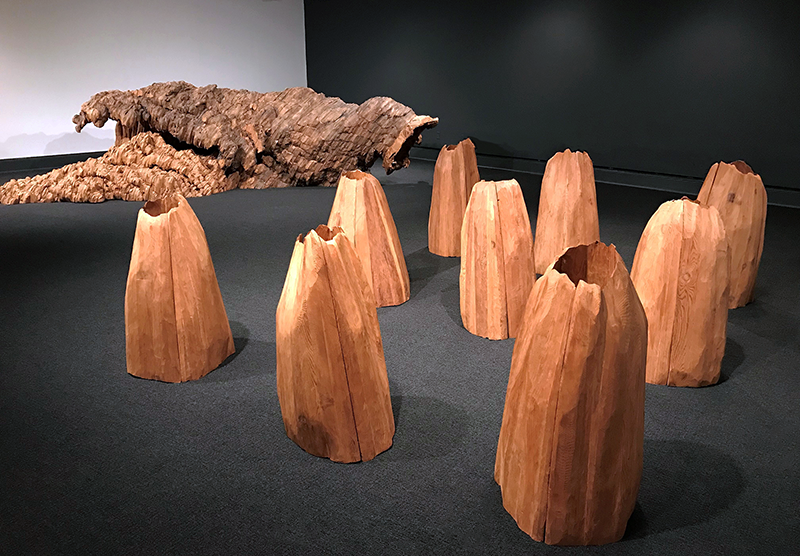 Although she eschewed Minimalist characteristics, subtle influences are evident in at least one of her works. The nine wooden cones that comprise von Rydingsvard's 1976 piece Untitled (nine cones), are arranged in a grid-like pattern and integrate "the industrial idealism" of Donald Judd into her own practice. Despite this influence, the artist's sculptures are not polished or structured, but organic and distressed. Working in a male-dominated art world, von Rydingsvard created works that stood apart.
"I don't care about precision. I just care about things that make you feel something," the artist has said. What feelings does her work Ocean Floor (1996) evoke? The large-scale, bowl-shaped sculpture is reminiscent of the wooden bowls von Rydingsvard and her family ate from in refugee camps. Attached to the bowl are 50 pairs of dried and stuffed cow intestines, which, for many, evoke feelings of disgust and discomfort. Viewers, searching for meaning, may think about the hardships of people removed from their homes and living in the harsh conditions in refugee camps.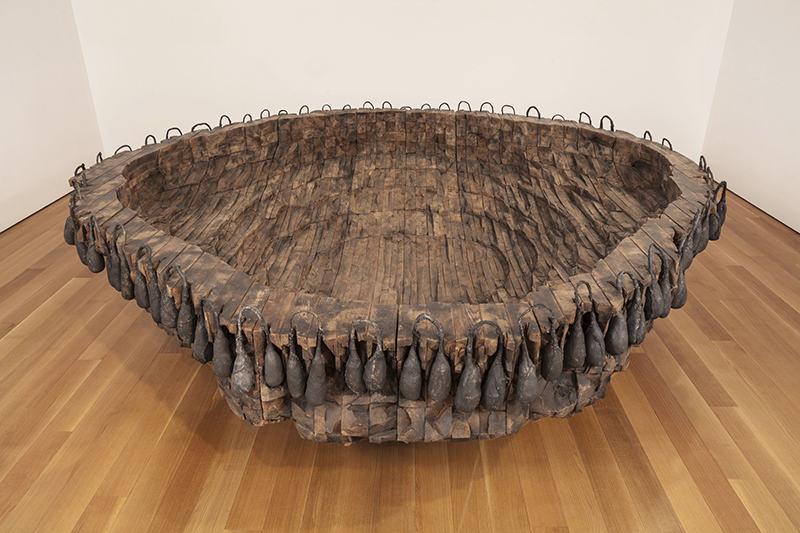 In her artistic manifesto, von Rydingsvard writes: "Why do I make Art? Mostly, to survive. To survive living and all of its implied layers. Because it's a place to put my pain, my sadness. Because there's a constant hope inside of me that this process will heal me, my family, and the world." For Ursula von Rydingsvard, sculpture is personal—a way to heal and process her innermost feelings. But it is also a way to connect to the outside world, to engage people and to help them find meaning through her art.