March 12, 2015
3/12/15
Nearly 300 years apart, Italian artist Artemisia Gentileschi (1593–1656) and French artist Suzanne Valadon (1865–1938) both used their perspectives as women to capture the power and complexity of the female form in their art. Although they had extremely different artistic educations—Gentileschi was educated in her father's Caravaggisti studio while Valadon was a model and student to Parisian avant-garde greats—the two progressively explored the physical and emotional worlds of women in their art.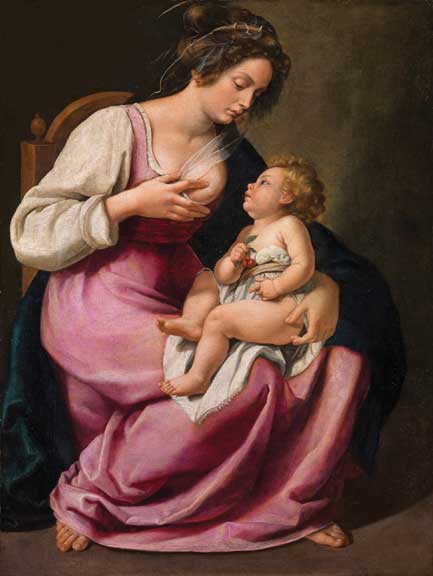 Gentileschi and Valadon use drastically different approaches to portray the female state. Gentileschi's Madonna and Child (1609–10), currently on view in Picturing Mary: Woman, Mother, Idea presents an intimate portrait of Mary preparing to breastfeed her infant son. Madonna and Child captures the signature power of Gentileschi's women through Baroque color and detail. The rich turquoise and pink of Mary's clothes, as well as the intense use of shadow in the background, create a sense of dynamic realism and naturalism. Rather than overtly sexualizing Mary and constructing her as an object for masculine desire, Gentileschi uses Mary's partial nudity to emphasize the maternal intimacy of the scene.
Her depiction of the female body's strength, enhanced by Mary's large size and dominance of the composition, reveals the reality—and necessity—of women in giving and sustaining life. The use of chiaroscuro also highlights the naturalism of the moment between mother and child, revealing the nurturing and maternal sides of Mary.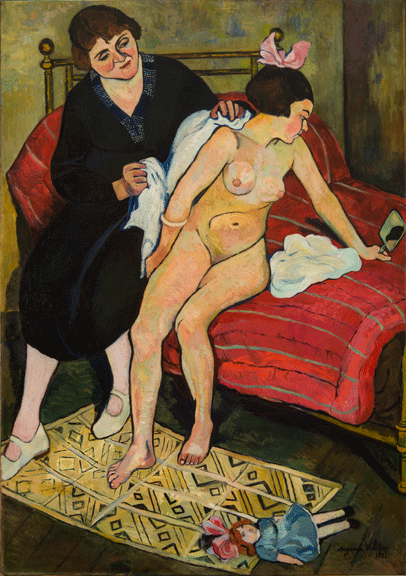 Valadon also explores the physical and psychological depth of women in The Abandoned Doll (1921) part of NMWA's collection. In this secular scene, a mother dries off her naked adolescent daughter as the girl turns toward her handheld mirror, musing over her own reflection. Through the use of thick contours, intense color, and flattened planes characteristic of Post-Impressionism and Fauvism, Valadon constructs a modern representation of female identity. The unidealized figures of the mother, child, and the doll tossed on the floor represent three distinct stages of life: childhood, adolescence, and adulthood. Reaching puberty, the girl disregards her doll and instead focuses on her reflection.
Although the viewer's eye is drawn to the girl's exposed breasts, she is not objectified. Instead, other elements, such as her hair bow and the bow of the doll, play off of each other to create an atmosphere that is more about the loss of youth than sexualizing the female body. Valadon's perspective as a woman aided in this poignant physical and psychological depiction. By having the girl stare into the mirror, Valadon hints at both the vanity of youth and the psychological interiority of women, an idea that is even more striking given the figure's nudity. Like Gentileschi before her, Valadon transformed the female body into a tool for providing insight into women's experiences and perspectives.
Don't miss your chance to visit NMWA and see Picturing Mary, on view through April 12!