November 23, 2020
11/23/20
As the weather turns cool and the holiday season approaches, at NMWA we've been thinking about what sustains, comforts, and heals us. This year, we're exploring how our diverse food traditions nourish us and carry on our family histories and cultural identities. The upcoming online exhibition RECLAMATION: Recipes, Remedies, and Rituals, opening January 18, 2021, explores these ideas, re-contextualizing the traditional role of women as providers of sustenance and healing.
RECLAMATION will present a cornucopia of new food-centric creations by nine contemporary artists: Sharayna Ashanti Christmas, Djassi DaCosta Johnson, Jenny Dorsey, Aletheia Hyun-Jin Shin, Tsedaye Makonnen, Maggie Pate, Wanda Raimundi-Ortiz, Lauren Von Der Pool, and the exhibition's curator and NMWA's Director of Public Programs Melani N. Douglass. The artists will activate their own kitchen tables, sharing photographs, videos, and stories about how they use this central domestic object. Glimpses into their intimate spaces will simultaneously reveal a work of art and the process by which it is made.
A key component of RECLAMATION will be an archive of recipes from you, our members, visitors, supporters, and friends. We invite you to submit your favorite family recipes that have been handed down through the generations here. With your help, RECLAMATION will evolve beyond the traditional definition of an exhibition, blurring lines between curators, viewers, and artists, focusing on the nourishment and care that bind us. Recipe submissions will be layered with the work of our nine artists, creating a dynamic portal for exploring the interconnections between food and community. Women's roles in traditions surrounding food will be revealed and honored.
As Melani N. Douglass, NWMA director of public programs, says, "Now more than ever, people are looking to interact with one another in meaningful ways. We are connecting artists and visitors at one of the most intimate spaces in the home, the kitchen table, to tell a story of memories, assimilation, heritage, and tradition, a shared and uniquely American story, one that connects us all."
This holiday season, when many families will not gather in person during the ongoing COVID-19 pandemic, RECLAMATION offers us a way to honor and share our food traditions from afar. Through that process, we may also reconnect with ourselves and our ancestors. My grandmother made the best cranberry applesauce, a fall harvest recipe, especially tasty at Thanksgiving in place of traditional cooked cranberries. It is an easy recipe to make and one I am thrilled to share with you. And, of course, it is now in the exhibition archive.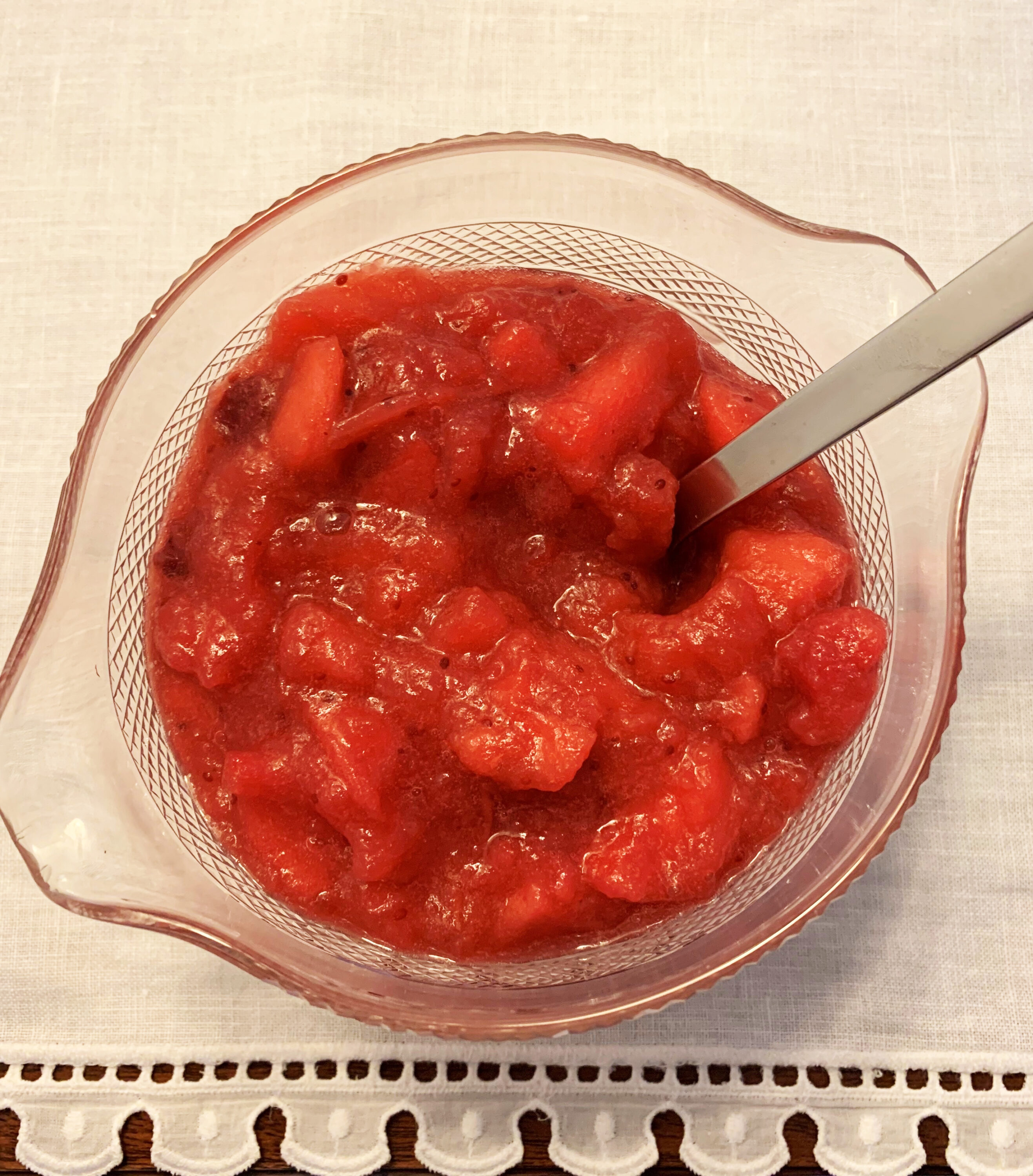 ---
Grammy Rose's Cranberry Applesauce
Ingredients
3–4 lbs. assorted apples—Cortland, Stayman, Winesap, or McIntosh, with 1–2 lbs. of Honeycrisp for chunkiness
2 cups cranberries
1 cup sugar (or less to taste)
Juice of ½ or 1 lemon (to taste)
Directions
Peel each apple, core, and cut into 1/16ths. Put apples in a large pot and cook 5–15 minutes on medium/medium low heat until they soften. If needed, add 2 tablespoons of water to help start cooking.
Add cranberries and cook until apples are saucy but still a bit chunky and most of the cranberries have popped (about 15 minutes). Use a potato masher to break up the apple chunks, if needed. Remove from heat. Add sugar to taste.
Allow mixture to cool and then add lemon juice to taste. Let sit overnight for flavors to meld. Should be a lovely dark reddish-pink color with apple chunks and a few wisps of cranberry skins.
Makes 5–6 cups. Serves 8 people as a side dish.