December 3, 2016
12/3/16
How can NMWA offer a distinctive type of artist talk program, one that engages attendees, activates artwork, and highlights the personalities of the guest speakers? The new "Artists in Conversation" program engages small audiences in the galleries during intimate group happy hour events.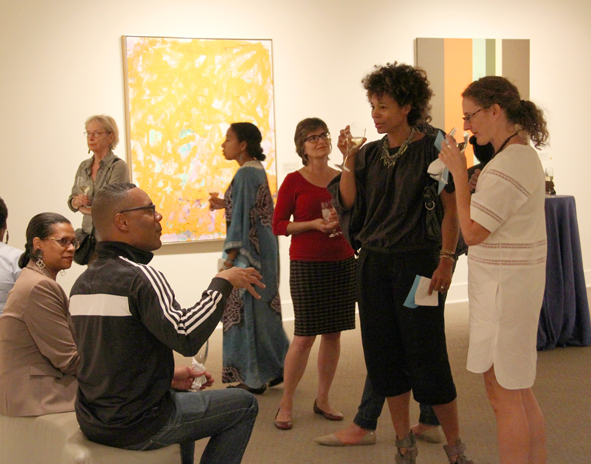 The museum invited artists Rozeal, Analia Saban, Mira Dancy, and Suzanne McClelland for a series of three "Artists in Conversation" programs highlighting their respective works featured in the contemporary exhibition NO MAN'S LAND: Women Artists from the Rubell Family Collection. In this new format, participants have time to explore the galleries, look closely at the artists' works, enjoy food and drink, and engage in conversations with the artists and fellow attendees.
On October 18, 2016, Rozeal captivated participants in a discussion of her work Sacrifice #2: it has to last (after Yoshitoshi's "Drowsy: the appearance of a harlot of the Meiji era). Rozeal explored the influence of American hip-hop culture clichés on Japanese culture, namely ganguro, a sub-culture fascinated with dark tans and thickly applied contrasting makeup.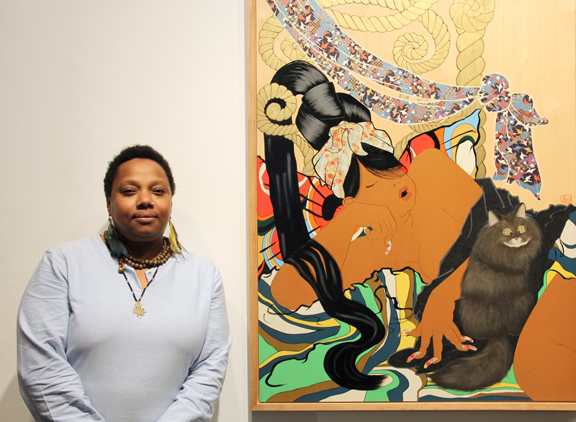 Rozeal portrays her protagonists with natural hairstyles such as dreadlocks, knots, or Afros, whereas her villains appear more sexualized, with intricate weaves and extravagant embellishments. Brown's sources span the gamut—from 19th century Japanese woodblock print techniques and masters to popular culture. She cited J. R. R. Tolkien's Lord of the Rings as an inspiration for her own use of elaborate details in her work. Influenced by comedians like Bernie Mac and Rob Schneider's Deuce Bigalow character, Rozeal often incorporates Easter Eggs in the form of hidden, humorous references. She revealed, "I usually end up laughing quite a bit when I make these paintings."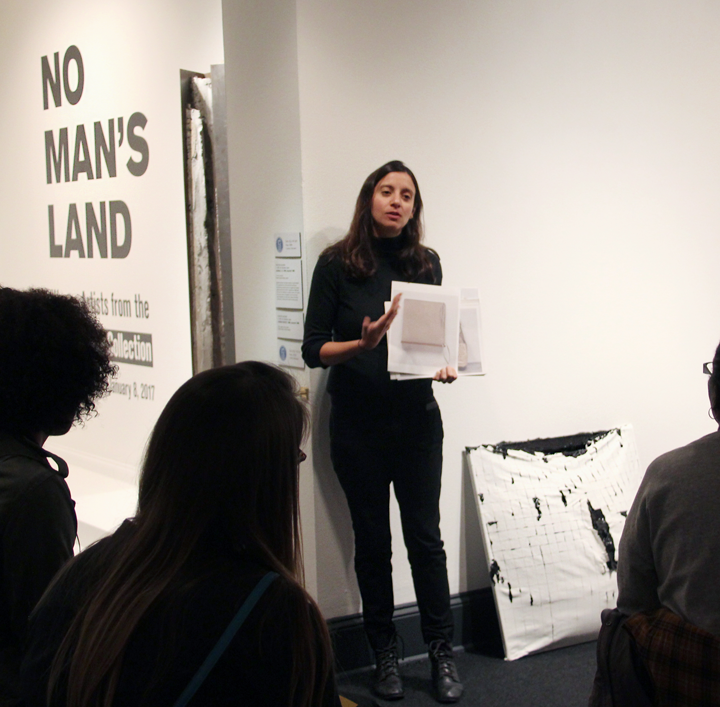 On November 11, 2016, Analia Saban introduced her works Acrylic in Canvas and Acrylic in Canvas with Ruptures: Grids. "While working on my MFA at the University of California in Los Angeles, I was curious why painting received more attention than sculpture," explained Saban. By using acrylic and canvas in unexpected ways, she said, "My artwork opens up dialog about the boundaries between these two mediums." Saban amused attendees with anecdotes about her trial-and-error artistic process. She recounted one night when a sculpture "exploded" and flooded her apartment with acrylic paint.
Join us for the delightful opportunity to talk with not just one—but two—NO MAN'S LAND artists in the same evening. On Tuesday, December 13, 2016, Mira Dancy and Suzanne McClelland will converse with small groups about their respective backgrounds, artistic process, and works. Find out what inspires McClelland's large abstracted canvases and Dancy's neon nudes. Reserve your spot today for the upcoming "Artists in Conversation" happy hour at the National Museum of Women in the Arts.