November 5, 2014
11/5/14
Alongside the Betty Boyd Dettre Library and Research Center's current exhibition, The First Woman Graphic Novelist: Helena Bochořáková-Dittrichová, the library's display shelves currently feature fantastic contemporary graphic novels by women. Last month on NMWA's blog, we recommended Fun Home by Alison Bechdel and now we're back to highlight another great graphic novel and the woman author responsible for its creation.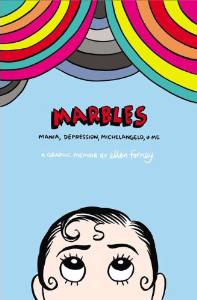 Marbles, by cartoonist Ellen Forney, is a memoir of her diagnosis with bipolar disorder right before her 30th birthday. Forney depicts the years that follow, highlighting her struggle to find a balance between mental stability and her creativity. Throughout the novel Forney explores the concept of "the crazy artist" and finds inspiration from the lives of other artists such as Georgia O'Keeffe and Vincent van Gogh, who also suffered from mood disorders. The questions Forney ultimately wants to answer are: is there is a correlation between an artist's creativity and mood disorder, and what are the strengths and limitations of medication on her passion and work?
In addition to being New York Times Bestseller, Marbles was named Best Graphic Novel of 2012 by the Washington Post, Time Magazine, and Entertainment Weekly. Forney was also the recipient of the National Association for the Advancement of Psychoanalysis 2013 Gradiva Award.
Forney uses the graphic form to create a deeply personal and dynamic memoir. The combination of the panel-style comics, realistic drawings of photographs, and scans from her personal sketchbook lend an insight into how Forney's mood disorder affects her creative process as well as the differing artistic styles produced during her periods of mental stability on and off medication. Marbles is an intimate exploration of the effects of a mood disorder and the personal struggle of therapy and medication. Forney is able to make the reader feel in the moment when reading her recounts of manic episodes as they follow her journey of ultimately coming to terms with her own identity of the "crazy artist."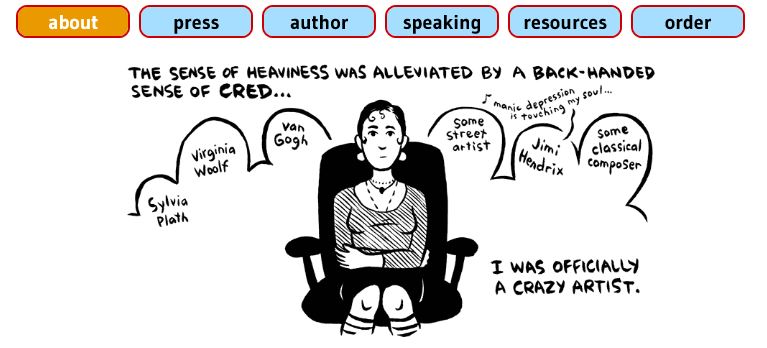 Ellen Forney's Marbles and many other excellent graphic novels are waiting on the shelves for visitors' viewing and reading pleasure in the library! Visit the museum, view the works on display, and stop by the library to learn more about Helena Bochořáková-Dittrichová and the work of female graphic novelists.