August 18, 2016
8/18/16
While the 2016 Rio Olympic Games encourage development in Brazil and bolster the country's worldwide reputation, NMWA's Betty Boyd Dettre Library and Research Center (LRC) is showing a work that also revels in Brazilian pride. Priya Pereira's artist book Puzzle de Brasil, originally published in 2001, is on view in Priya Pereira: Contemporary Artists' Books from India. This moveable puzzle book celebrating Brazilian culture is on display in the LRC until November 18, 2016.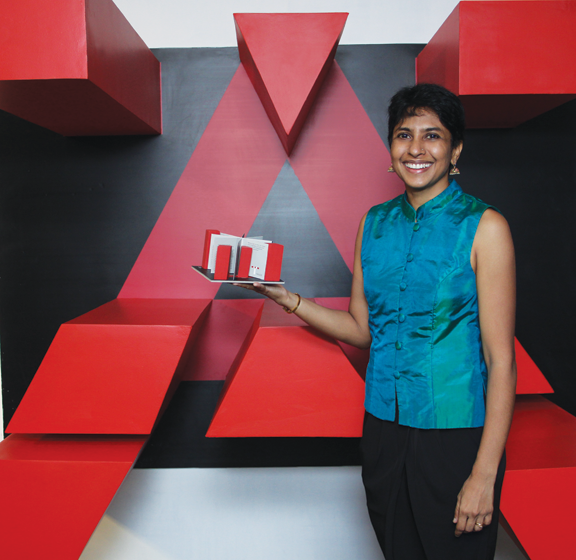 Pereira's Puzzle de Brasil explores the country's most notable cultural, political, and ecological wonders through interactive screen-printed and hand-sewn cardboard flaps. Printed on each flap is a boldfaced word or icon illuminating aspects of the Brazilian experience. In particular, Pereira references Brazil's love of football (soccer) by including the Brazilian Football Confederation (CBF) logo. Viewers can detect mentions of Ipanema and the Metropolitan Cathedral, as well as illustrations of the samba and anacondas.
When handling the book, readers often devise their own methods of unfolding the complex, layered flaps. When lifted and manipulated in certain ways, Puzzle de Brasil's moveable components can create a flat or three-dimensional artist's book. With its cardboard base adorned with long strands of colored text and raised flaps, the book serves as a topographical tourist map—representative of Brazil's complex geography. In this way, the work's structure portrays the country as a mix of flatlands, jungles, mountains, and rivers.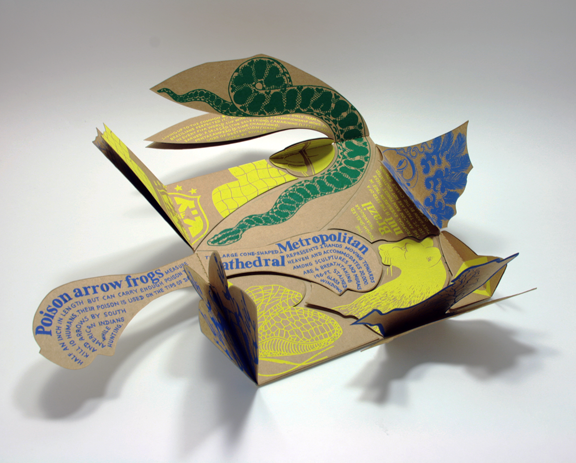 Pereira's choice to embellish her work with blue, yellow, and green mirrors the colors of the Brazilian flag. Three overarching "tiers" each correspond with one of the flag's three colors. The interactive book encourages readers to unfold the flaps in a blue-yellow-green order. Pereira says, "Open left to right, right to left, north to south, or vice-versa. One clue: follow the colors of Brazil—blue, yellow, and green to make it easy for you." Pereira's vibrant and complex book reveals some of Brazil's cultural treasures and allows viewers to develop a deeper appreciation for the country.
Visit NMWA's Betty Boyd Dettre Library and Research Center to see a selection of Priya Pereira's books. Located on the museum's the fourth floor, the LRC is open Monday–Friday, 10 a.m.–12 p.m. and 1–5 p.m.