April 27, 2021
4/27/21
Sonya Clark: Tatter, Bristle, and Mend, currently on view at NMWA, is the first survey of the textile artist's 25-year career. In 100 mixed-media sculptures, Clark engages ideas on African diasporic identity, American history, the history of language, visions of the future, and more.
Curious about the context that informs Clark's art? NMWA's Betty Boyd Dettre Library and Research Center (LRC) has selected works of poetry, fiction, and nonfiction for further reading, drawing on Clark's own book collection.
Read on for a snapshot of a few of those works, visit the LRC to browse these titles in person on the red Tatter, Bristle, and Mend cart, and check out the Museum Shop to purchase select titles for yourself!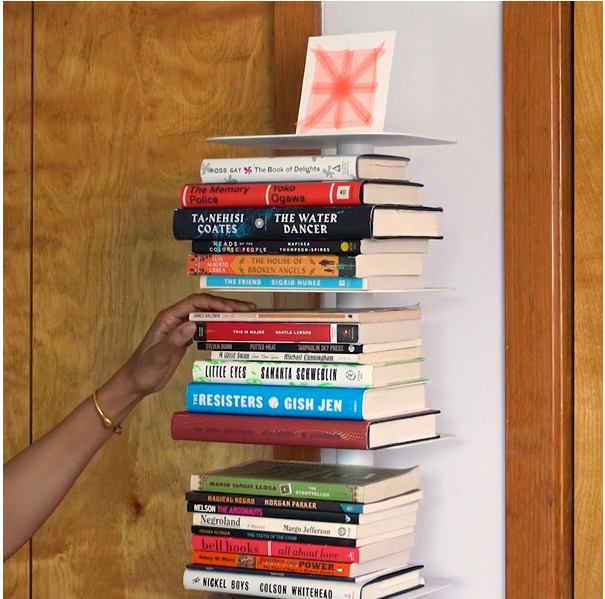 In this poem, the former U.S. Poet Laureate captures the overwhelming set of wig choices one might find in a beauty parlor in a light-hearted way. This sonnet resonated with Clark and spurred a collaborative project between the artist and poet that involved the creation of a special font inspired by clippings of Clark's hair called "Twist."
Galeano, the venerated Uruguayan chronicler of Latin American histories and author of Open Veins of Latin America (1971), offers 600 tiny tales of world history that challenge mainstream narratives.
This volume by Painter, a historian and artist, focuses on the history of the social construct of race. NMWA's Tatter, Bristle, and Mend exhibition catalogue includes an interview between Painter and Clark.
A Black feminist theoretical physicist takes on race, gender, class, nationality and disability, and the manifestations of oppressive ideologies in science.
Other Key Works:
The Teeth of the Comb (2016) by Osama Alomar
James Baldwin: The Last Interview and Other Conversations (2014) Edited by Quincy Troupe
The Water Dancer (2019) by Ta-Nehisi Coates
How We Became Human: New and Selected Poems 1975–2001 (2004) by Joy Harjo
All About Love (2018) by bell hooks
negroland (2016) by Margo Jefferson
The Resisters (2020) by Gish Jen
This is Major: Notes on Diana Ross, Dark Girls, and Being Dope (2020) by Shayla Lawson
The Selected Works of Audre Lorde (2020) by Audre Lorde
Sweetness and Power: The Place of Sugar in Modern History (1986) by Sidney W. Mintz
The Bluest Eye (2007) by Toni Morrison
Magical Negro (2019) by Morgan Parker
Breathe: A Letter to My Sons (2019) by Imani Perry
Citizen: An American Lyric (2014) by Claudia Rankine
Heads of Colored People (2018) by Nafissa Thompson-Spires
Decolonising the Mind: The Politics of Language in African Literature (1986) by Ngũgĩ wa Thiong'o
The Nickel Boys (2019) by Colson Whitehead
Black Futures (2020) edited by Jenna Wortham and Kimberly Drew
Solidarity Book Project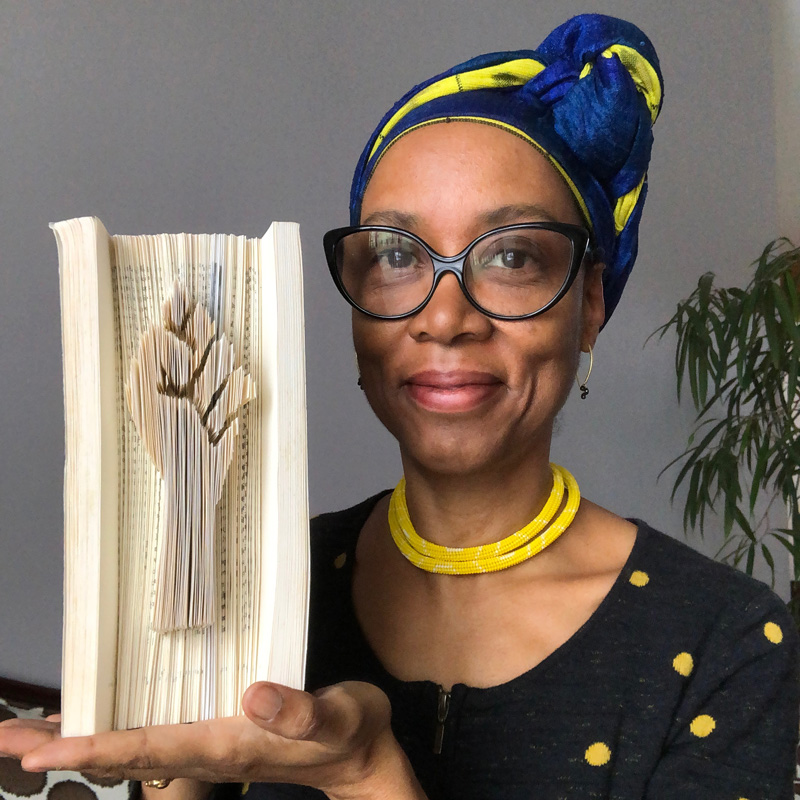 An outgrowth of Clark's love of books, her Solidarity Book Project invites the public to share influential books that have shaped their understanding of oppression and resistance. Also a community art project, Clark encourages participants to sculpt the solidarity fist into the pages of books that have shaped their understanding of solidarity. Learn more and participate!