March 22, 2021
3/22/21
The exhibition Sonya Clark: Tatter, Bristle, and Mend —the first survey of Clark's 25-year career—includes the artist's well-known sculptures made from black pocket combs, human hair, thread, and an array of found objects. Through her art, Clark manifests ancestral bonds and reasserts the Black presence in histories from which it has been omitted.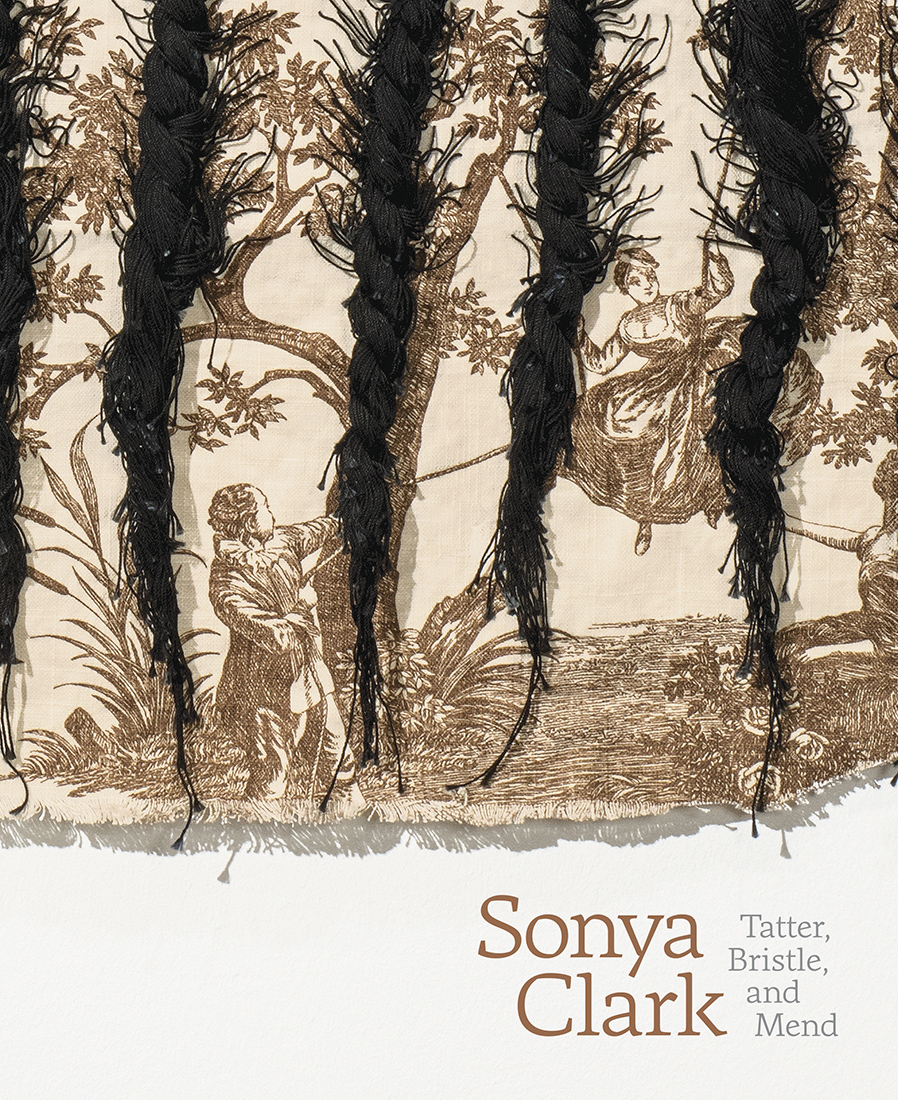 Published by NMWA, the catalogue Sonya Clark: Tatter, Bristle, and Mend is fully illustrated with the nearly 100 works featured in the exhibition. This 176-page publication demonstrates Clark's astute ability to revisit concepts and materials over time, pulling apart threads of ideas and mending them back together to create new layers of meaning.
The catalogue features new texts on Clark's art by esteemed guest scholars and artists:
A conversation between Clark and distinguished historian, writer, and visual artist Nell Painter ranges from literary inspiration to their art studios. Painter, who upended common notions of race in the best-selling book The History of White People (W. W. Norton, 2010), returned to school later in life to pursue a long-held dream of becoming an artist, and she reflected on these experiences in her memoir, Old in Art School (Counterpoint, 2018). In their discussion, she asks Clark, "How did you move from personal objects and making larger narrative meaning to making historical meaning?"
Poet Nikky Finney shares "Muniment of Hair," a lyrical celebration of Clark's creative inspirations. She begins, "Trapeze into this archive of unruly melanin," touring the reader through images in Clark's work: sugar, the weave of textiles, the "missing teeth" of combs, and an abundance of hairstyles. Finney, winner of a National Book Award for Poetry, used the word "muniment"—whose sound evokes "monument" and refers to a deed of ownership—in reference to Clark's art as a monument to be embraced.
Essayists Bridget R. Cooks, Tiya Miles, and Salamishah Tillet each illuminate ways in which Clark blends material, meaning, and process. Cooks, associate professor in the Department of Art History and the Department of African American Studies at the University of California, Irvine, reflects on Clark's works "in defiance of anti-Black antagonisms and within the tradition of Black creativity and critical disruption, a pairing that often goes hand in hand."
Miles, Radcliffe Alumnae Professor in the Department of History at Harvard University, describes the power of Clark's participatory art in redressing history, focusing on her body of work on the Confederate truce flag. Tillet, Henry Rutgers Professor of African American and African Studies and Creative Writing at Rutgers University and contributing critic-at-large for the New York Times, offers a personal reflection on Clark's work: "hair as individual expression and hair as collective resistance."
The book features detail imagery that highlights Clark's meticulous level of craft, along with additional quotes from the artist that illuminate the nuanced meanings behind her work.
---
Visit the Museum Shop to order your copy!