June 16, 2021
6/16/21
Get to know National Book Award-winning poet Nikky Finney (b. 1957), who wrote a lyrical imagining of Sonya Clark's creative inspirations for the Tatter, Bristle, and Mend exhibition catalogue.
Finney is the author of five poetry collections, including Love Child's Hotbed of Occasional Poetry: Poems and Artifacts (2020) and Head Off & Split (2011), winner of the 2011 National Book Award. In 2020, she received the Wallace Stevens Award from the Academy of American Poets, which recognizes outstanding mastery in poetry. In his citation for the award, poet Kwame Dawes wrote, "Nikky Finney…reinstate[s] the concept of the poet as a griot, as priest, not void of subjectivity and a private self but able to contain the voices of the community…empowered with the gift to develop a soul for the people."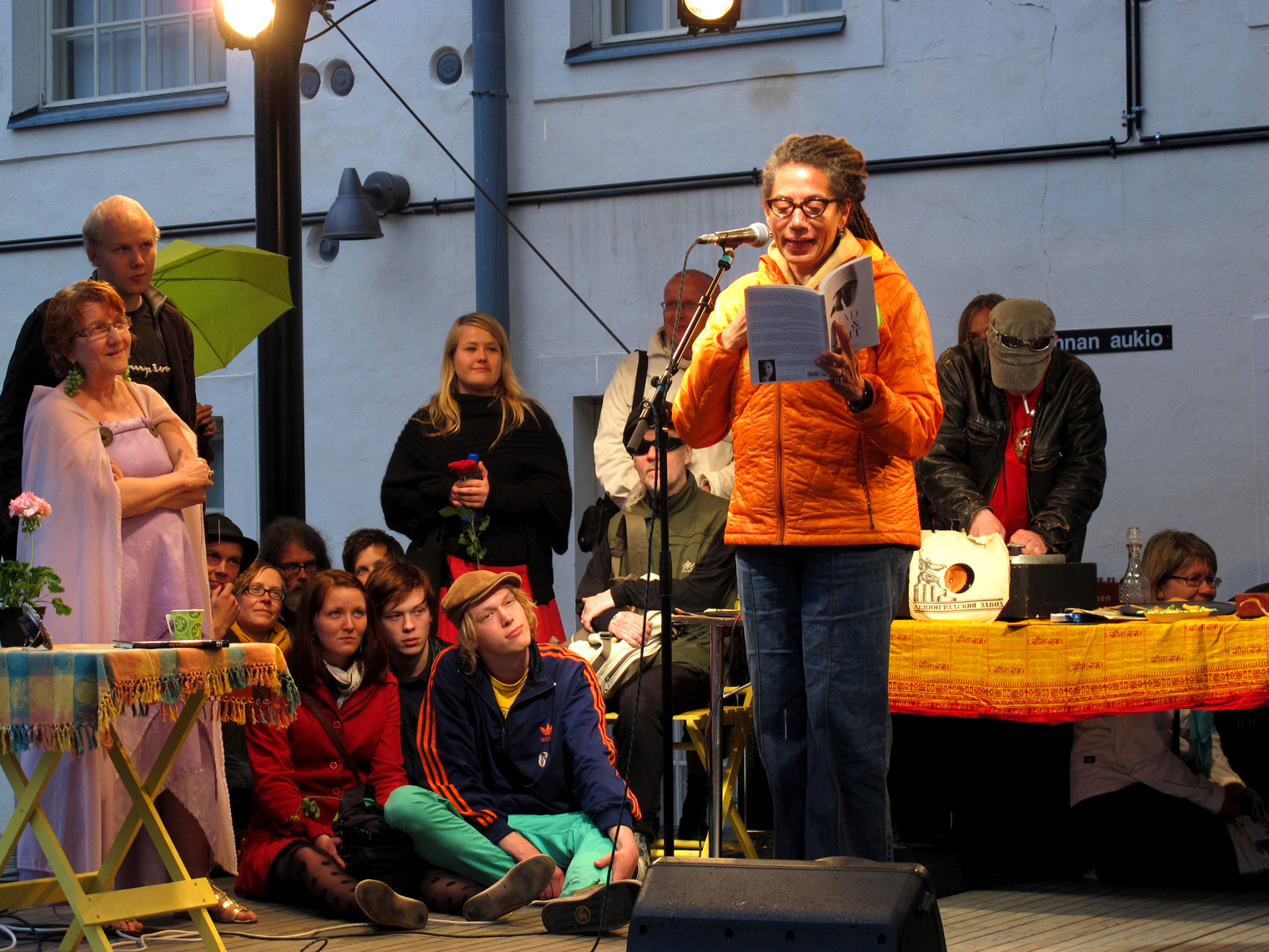 "What else can your words do besides adorn?"
This question was posed to Finney in the early 1980s by writing mentor Toni Cade Bambara. It set her on a path of service as she dedicated her career to teaching and uplifting other writers, all while creating a body of work that centers African American history and experience. She describes her subjects as "Black girl genius unrecognized, Black history misplaced and forgotten, and the stories of women who prefer to jump instead of ride the traditional tracks of polite and acceptable society."
In 1991, with poet Frank X. Walker, Finney founded the Affrilachian Poets, a writing collective for poets of color living in the Appalachian region. Now celebrating its 30th year, the group has been instrumental in telling the multicultural stories of Appalachia, defying stereotypes of the region as white and rural. "Being an Affrilachian poet means that these Black poets have founded a country where we might stand, stake a flag, and hear each other," Finney said.
Standing Ovation
In the lauded Head Off & Split, Finney's poems intimately converse with figures in African American life, including Rosa Parks, Condoleezza Rice, and a woman abandoned on a rooftop during Hurricane Katrina. Her powerful 2011 National Book Award acceptance speech, a poem itself, traced the history of literacy in her life and the lives of African Americans, who, under slavery, were forbidden to read and write. Video of the now-legendary speech, along with Finney's books, is on display at the National Museum of African American History and Culture.
The Poet and the Artist
There are many kindred elements in the works of Finney and Sonya Clark. Both artists focus on Black family and ancestral bonds, civil rights, the truth of history, and the freedom and joy of language. Finney's poem "A New Dawn," written after the Confederate flag was taken down at the South Carolina statehouse in 2015 and recently published in the New York Times, considers what it means to do away with the symbol. Clark's own Confederate flag works do the same. Finney writes, "Let us put the / Cannons of our eyes away forever. / Our one and only Civil War is done. / Let us tilt, rotate, strut on."