October 7, 2017
10/7/17
Upon first glance, paintings by Fanny Sanín (b. 1938) look impeccably neat. Whether on paper or canvas, the decisive lines and solid colors of her geometric abstractions almost conceal evidence of the artist's hand. The smooth, precise quality of her work may even evoke associations of computer-generated graphics. The works on view in the special exhibition Equilibrium: Fanny Sanín, however, reveal a different story. Sanín's refined, finished works are accompanied by preparatory sketches. Through these studies, the viewer can glean insight into Sanín's artistic process as one of the pioneers of Latin American geometric abstraction.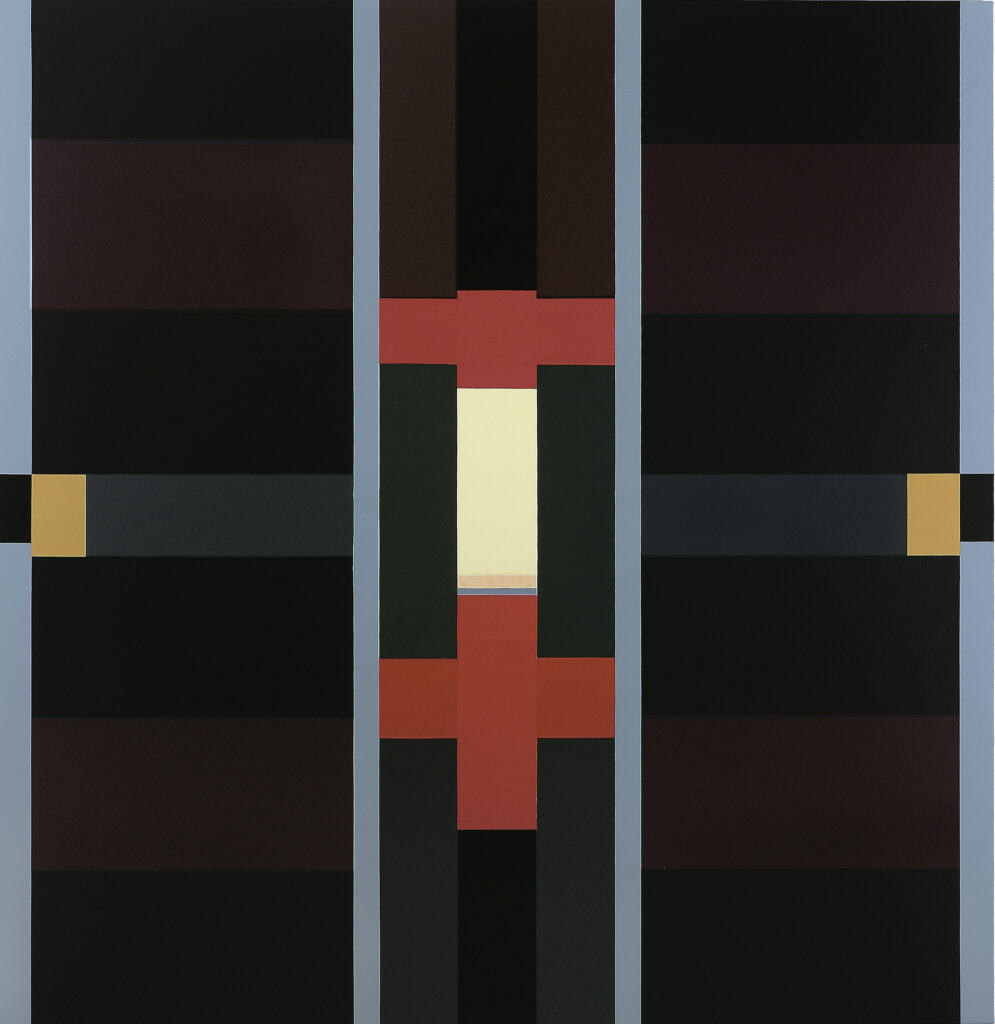 Sanín places great emphasis on the role of drawing as a natural extension of developing a painting. "Drawings are the first and most important part of my creation…I used them to plan and reach the image that I would finally love to paint on canvas," she says. "Color and structure go hand-in-hand in my work. It isn't until they are both worked out in detail in my drawings that they can have meaning."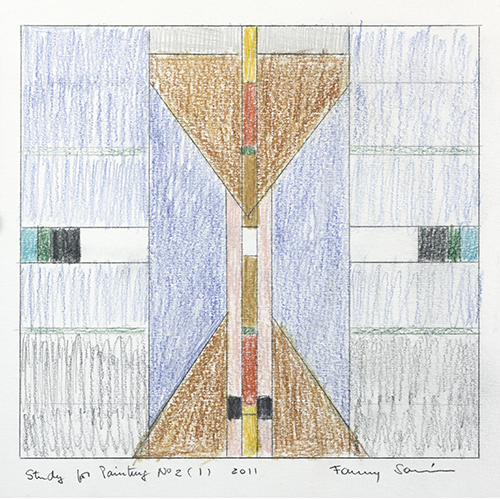 Through her drawings, Sanín closes the gap between a rough conceptualization and the polished, finished product. An initial work in her series of 11 drawings for Study for Painting No. 2, 2011, scarcely resembles the finished painting. Study for Painting No. 2 (1), 2011 contains a much lighter color scheme and is grounded by an hourglass shape in the center of the composition. Throughout these studies, visitors gain an understanding about how Sanín plays with recurring visual components, including her use of horizontal bands and eye-catching red shapes. It is through experimenting with variations on these motifs that she achieves optimal visual balance in both color and form.
Other works in the exhibition are accompanied by preparatory studies, though not as many. Five studies are shown alongside Study for Composition No. 1, each of them with much more similar visuals. The deep blues and bright orange remain consistent, while Sanín focuses on playing with distinct combinations of shape and form instead.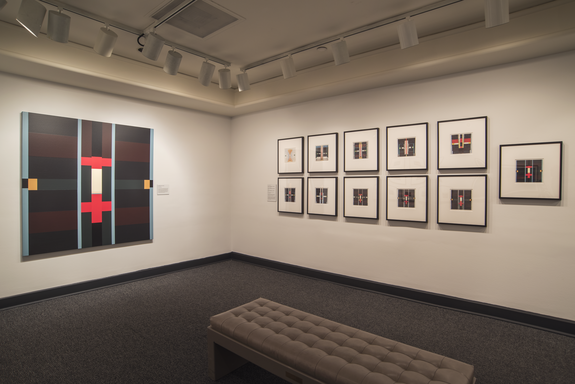 Above all, Sanín seeks to realize her own vision of harmony. Rather than embody or evoke representational subject matter, her forms exist on a plane of pure abstraction, an oasis from any social or political turmoil that may seem to define a generation. Sanín's art-making methods result in timeless visuals that do not need to reference a particular time or place. Her bold experimentation with abstracted forms and colors shows her commitment to resolving chaos into harmony, finding a point of equilibrium that captures the ideal.
Equilibrium: Fanny Sanín is on view in the Teresa Lozano Long Gallery through October 29, 2017.