April 29, 2018
4/29/18
Questions about a woman's "place" resonate in our culture, and conventional ideas about the house as a feminine space persist. Global artists in Women House recast conventional ideas about the home through provocative photographs, videos, sculptures, and room-like installations. Lucy Orta, Nil Yalter, and Sue Williamson re-frame the notion of home and community in the context of nomadism and exile.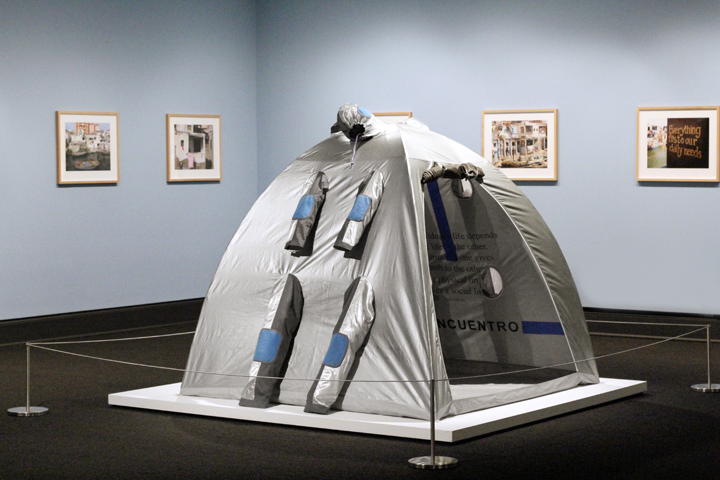 Lucy Orta, Body Architecture—Collective Wear 4 Persons, 1996
In 1992, Lucy Orta's (b. 1966, Sutton Coldfield, England) "Body Architecture" series (1992–98) examines individual and communal space. Body Architecture—Collective Wear 4 Persons is simultaneously a sculpture with a pointed social statement, four individual wearable garments, and a movable home.
The lightweight tent consists of four body suits zipped together and can easily be assembled and disassembled at will. Individuals could wear the garments and move around independently, but they can also come together to combine their suits to create a shared living space. The union of individual garments into a shelter emphasizes the importance of community to survival. Orta's prototype dwelling brings awareness to social issues such as poverty, homelessness, and immigration.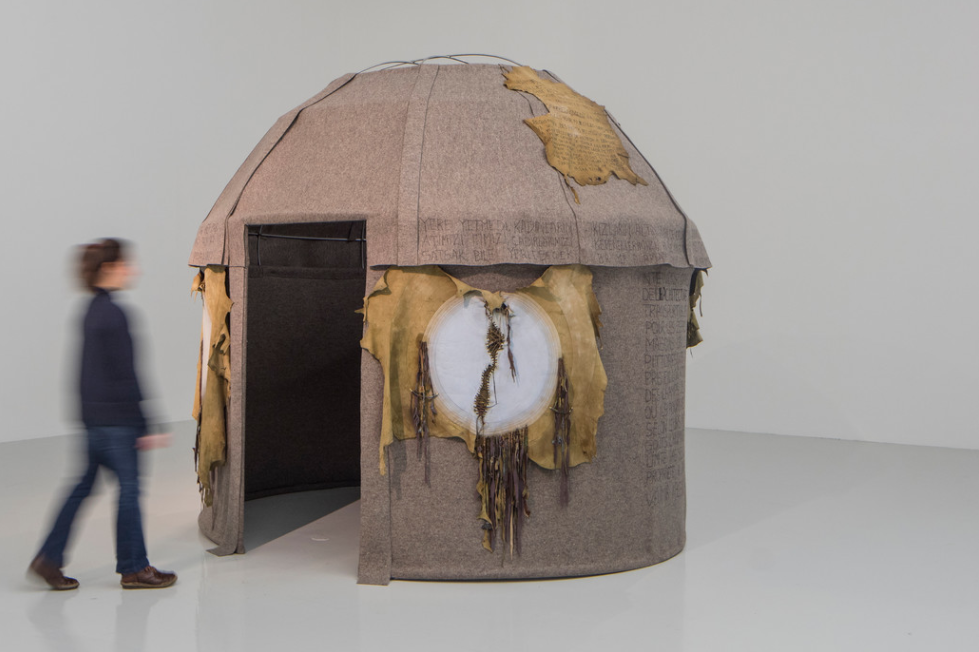 Nil Yalter, Topak EV, 1973
"Through didactic use of craft skills, using felt, goat hair and sheep skins brought back from Turkey, I developed a physical climate based on a deep awareness of ethnology, the sociology of customs and beliefs," says Nil Yalter (b. 1938 Cairo, Egypt). Voluntarily exiled in France since the 1960s, Yalter began to incorporate anthropological themes into her work in the early 1970s.
Yalter explores physical and metaphorical female space in her work. Topak EV is modeled after an Anatolian yurt, a portable abode used by nomadic cultures. Decorated by women for a future bride, the yurt symbolizes socially constructed female traits such as fertility and domesticity. Yalter notes, "the women who build these round tents in the shape of a womb practically spend their whole lives inside of them, sheltered from the real world outside."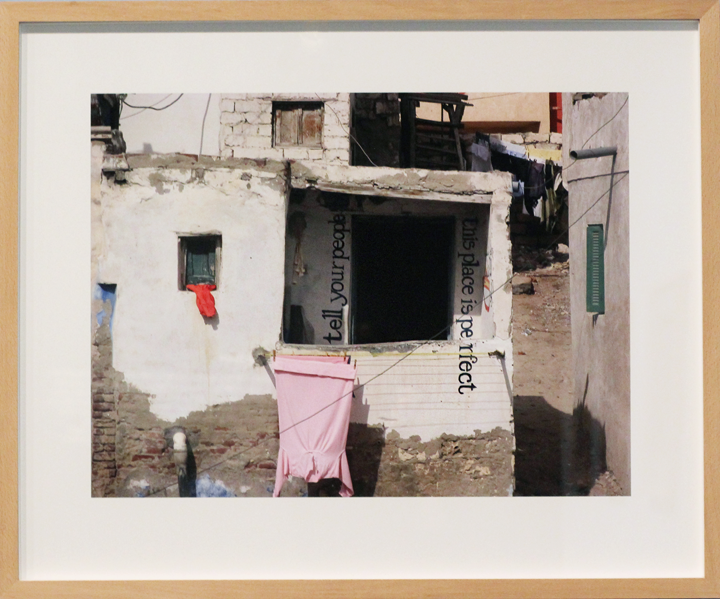 Sue Williamson, What About El Max? V (Tell Your People—Close Up), 2005
Cape Town-based artist Sue Williamson (b. 1941, Lichfield, England) uses politically charged photographs as a conduit for cultural resistance, highlighting the issues marginalized communities face.
What About El Max? V (Tell Your People—Close Up) is one of 11 photographs from a series that documents a mural program Williamson initiated in El Max, a small fishing village in Alexandria, Egypt. She collaborated with residents, who have been threatened with eviction by the military stationed near the harbor. The texts painted on the town's walls express the community's shared connection to their homes and their desire to remain. The painted phrase "Tell your people this place is perfect" expresses devotion to the community and resistance to expulsion.
Visit the museum and explore Women House, on view through May 28, 2018.