April 27, 2020
4/27/20
Online exhibitions, artist profiles highlight broad definitions of motherhood and family
WASHINGTON—This spring, the National Museum of Women in the Arts (NMWA) explores Mother's Day from the perspectives of women artists, with thought-provoking artist profiles and artworks available to peruse online.
Unknown by many celebrating Mother's Day in the U.S., Anna Maria Jarvis, the advocate who founded this holiday, was herself never—conventionally speaking—a mother. The ninth of 11 children, yet one of only four to survive past early childhood, Jarvis was close to her own mother throughout her life. She founded the holiday in 1908, three years after her mother died; Mother's Day was recognized as an official U.S. holiday in 1914.
"As we pause to reflect on and appreciate the mothers in our lives or in our memories, I find their depictions in art a perfect accompaniment," said NMWA director Susan Fisher Sterling. "Whether we celebrate mothers, grandmothers, aunts, great aunts, godmothers, mentors, or friends, we invite all to join us online to explore the ways that art can encompass a broader definition of motherhood."
Widely known for her tender and intimate depictions of mothers and children, Mary Cassatt (1844–1926) never had children herself. A committed suffragist and lifelong advocate of equal rights for women, Cassatt decided early in life that marriage would be incompatible with her career. Many of her sensitive portrayals of children and adolescents, either with their guardians or on their own, stem from her deep affection as a loving aunt toward her nieces and nephews.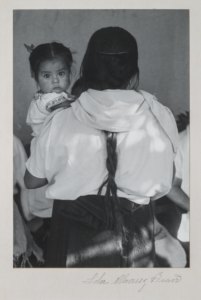 Photographer Lola Álvarez Bravo (1907–1993) was one of Mexico's first professional women photographers, documenting daily life in Mexico and depicting international leaders. In De generación en generación, a child looks over the shoulder of her mother, who faces away from the viewer. Part of the impact of this image stems from our awareness that we are outside of this touching familial relationship.
The French painter and artist's model Suzanne Valadon (1865–1938) was a single mother by age 18; her own mother helped raise her son. In The Abandoned Doll, Suzanne Valadon portrays an intimate scene between an older woman and a young girl. The image tells a universal story of a girl's journey from childhood to adolescence.
Elizabeth Catlett (1915–2012) drew on her experience as an African American woman raised in an era of widespread segregation. Her images of black mothers as strong maternal figures are particularly poignant and powerful. Her work is represented in our collection by several prints, includingTwo Generations (1987), a lithograph that celebrates the important role that grandmothers often play in their families. An expert draftswoman, Catlett used dramatic light and shadow to reveal the psychological connection between the woman and her grandchild.
French-American artist Louise Bourgeois (1911–2010) challenged traditional patriarchal notions of motherhood. Her own mother died in 1932, an event that inspired her to study art. Bourgeois has said that her well-known sculptures of spiders, including one in NMWA's collection, depicted the protective relationship she had with her mother.
Also available online is an exhibition of letters between Frida Kahlo and her mother, which are part of NMWA's collection. Kahlo's connection with her father, Guillermo Kahlo, has been thoroughly documented; however, Kahlo's relationship with her mother, Matilde Calderón de Kahlo, is rarely mentioned. These letters, written between mother and daughter in the last years of Matilde's life, illustrate a warm bond largely unexplored in previous scholarship on the artist.
National Museum of Women in the Arts
The National Museum of Women in the Arts (NMWA) is the only major museum in the world solely dedicated to championing women through the arts. With its collections, exhibitions, programs and online content, the museum inspires dynamic exchanges about art and ideas. NMWA advocates for better representation of women artists and serves as a vital center for thought leadership, community engagement and social change. NMWA addresses the gender imbalance in the presentation of art by bringing to light important women artists of the past while promoting great women artists working today. The collections highlight painting, sculpture, photography, and video by artists including Louise Bourgeois, Mary Cassatt, Judy Chicago, Frida Kahlo, Shirin Neshat, Faith Ringgold, Pipilotti Rist, Amy Sherald and Élisabeth Louise Vigée-LeBrun.
During the current closure, the museum welcomes members of the public to explore its social media accounts and online resources. NMWA is located at 1250 New York Avenue, NW, Washington, D.C. For information, call 202-783-5000, visit nmwa.org, Broad Strokes blog, Facebook, Twitter or Instagram.