Camille Claudel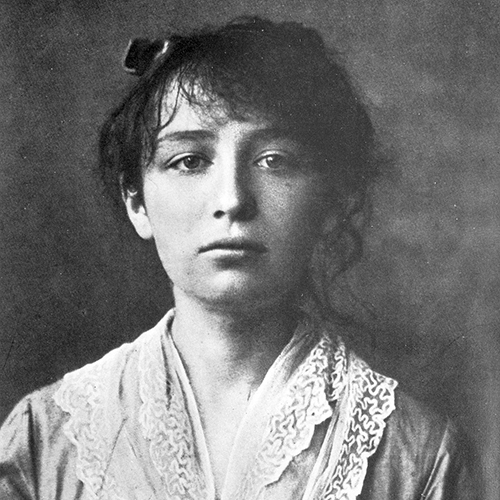 Born in northern France, Claudel moved with her family to Paris around 1881. Early on, she was recognized for both her artistic talent and her physical beauty. After studying sculpture at the Académie Colarossi, she shared an independent studio where Alfred Boucher taught. In 1885, Auguste Rodin asked Claudel to become a studio assistant.
Much attention has been focused on Claudel's relationship with Rodin—her teacher, mentor, and lover. By working as Rodin's apprentice, she had the chance to study the nude figure and anatomy, an unusual opportunity for a woman in the 19th century. She modeled hands and feet for Rodin's Burghers of Calais and posed for figures in his Gates of Hell. By 1893, because of Rodin's prominence in French culture, Claudel secluded herself in her studio to focus on creating work that would establish her own reputation.
Claudel's nuanced portrayals of the human form resulted in certain sculptures that the state and press censored as overly sensual and inappropriate. These circumstances may have contributed to her declining career and mental state. In 1913, Claudel was committed to a mental asylum, where she remained until her death 30 years later. Her complex personal drama has brought her scholarly and popular attention, yet her critical acclaim came foremost from her unrivaled ability to convey narrative in marble and bronze sculptures.