Jiha Moon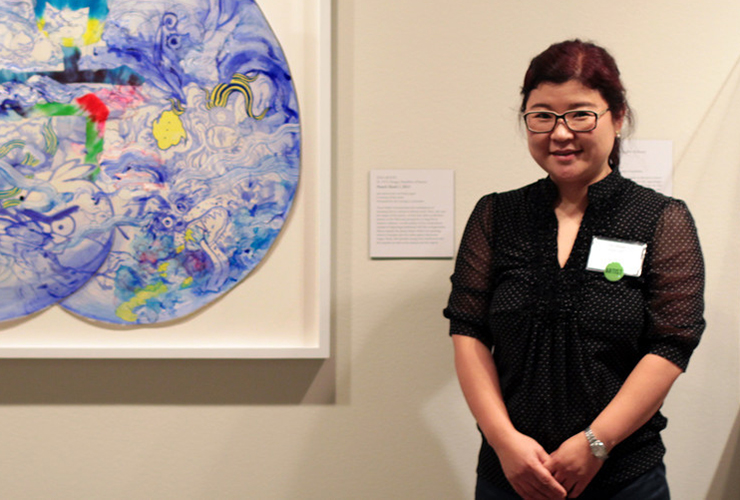 Moon, based in Atlanta, Georgia, typically renders her works using ink and paint on hanji paper (traditional Korean mulberry paper). Often, she places the paper on the floor and stands or kneels to apply her calligraphic brushstrokes. Moon practiced traditional calligraphic painting as a child, training both hand and eye.
After completing the abstract composition in this way, Moon reconfigures some of the markings to suggest recognizable images, such as cartoon characters. She may also incorporate mass-produced items like textiles, embroidered patches, and small trinkets with her hand-rendered elements.
Moon earned a BFA at Korea University and an MFA at EWHA University, both in Seoul. After moving to the U.S., she completed two additional master's degrees at the University of Iowa. She has participated in artist residencies at The MacDowell Colony, the Fabric Workshop and Museum, and the Singapore Tyler Print Institute through the Asia Society.
Moon was the subject of a one-person exhibition at the Mint Museum in Charlotte, North Carolina, in 2008. She is also a recipient of the Joan Mitchell Foundation Painters and Sculptors Grant and the Museum of Contemporary Art of Georgia's Working Artist Project grant.