Loïs Mailou Jones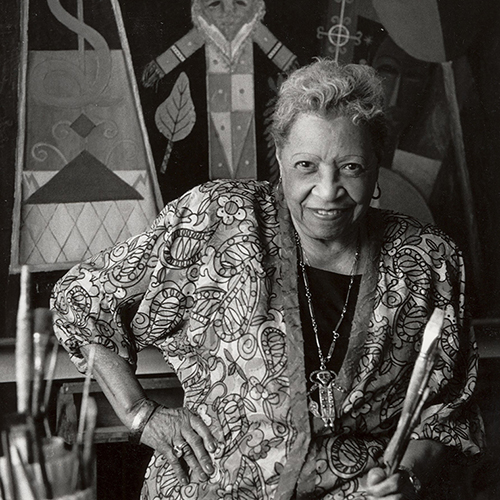 Jones was raised in Boston by working-class parents who emphasized the importance of education and hard work. After graduating from Boston's School of the Museum of Fine Arts, Jones began designing textiles for several New York firms. She left in 1928 to take a teaching position at Palmer Memorial Institute in North Carolina.
At Palmer, Jones founded the art department, coached basketball, taught folk dancing, and played the piano for Sunday services. Two years later, she was recruited by Howard University in Washington, D.C., to join its art department. From 1930–77, Jones trained several generations of African American artists, including David Driskell, Elizabeth Catlett, and Sylvia Snowden.
She began earning recognition for the content and technique of her own art. After a sabbatical year in Paris, Jones introduced African tribal art, a motif enormously popular in Parisian galleries, into her canvases. She was profoundly impacted by Paris, exhilarated by a country where her race seemed irrelevant. Her 1953 marriage to the Haitian graphic designer Louis Vergniaud Pierre-Noël influenced her further as she saw the bright colors and bold patterns of Haitian art on annual trips to her husband's home.
In 1970, Jones was commissioned by the United States Information Agency to serve as a cultural ambassador to Africa. She gave lectures, interviewed local artists, and visited museums in 11 countries. This experience led her to further explore African subjects in her work, especially her 1971–1989 paintings.