Rosa Bonheur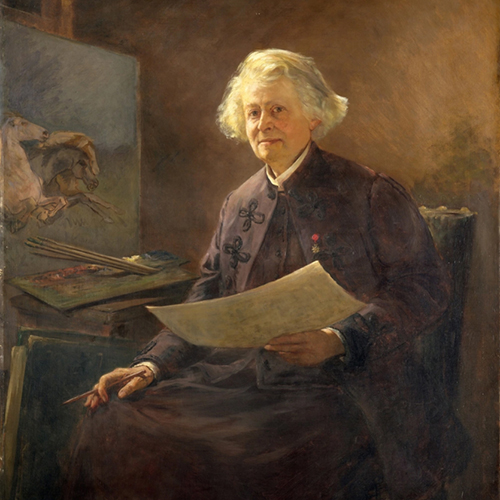 Rosa Bonheur, a 19th-century woman who achieved a successful career, served as a role model for future generations of women artists.
Born in Bordeaux, Bonheur moved to Paris with her family in 1829. She was trained by her father, a minor landscape painter. While unconventional in her ambitions and personal conduct, Bonheur was traditional in her working method. She studied her subjects carefully and produced many preparatory sketches before she applied paint to canvas.
Bonheur's reputation grew steadily in the 1840s, and she regularly exhibited her animal paintings and sculptures at the Paris Salon, which favored traditional work, from 1841 to 1853. In 1845, Bonheur won a third prize, and in 1848, a gold medal.
Bonheur's career was firmly established when she exhibited a painting at the 1849 Salon, Plowing in Nivernais (Musée Nationale du Château de Fontainebleau), which she had been commissioned to create by the government of the Second Republic. In 1853, she won international acclaim with her monumental painting The Horse Fair (Metropolitan Museum of Art, New York), which was exhibited in England and which Queen Victoria greatly admired. In 1865, the French Empress Eugénie visited Bonheur at her studio in the forest of Fontainebleau to award her the cross of the Legion of Honor.