April 24, 2017
4/24/17
In honor of Women's History Month, the museum launched the second year of its award-winning #5WomenArtists social media campaign, which asks, "Can you name five women artists?" The museum invited cultural organizations and individuals to share stories about women artists on social media throughout the month. The campaign inspired a discussion about gender imbalance in the art world in the U.S. and internationally—to great success! Check out a few highlights of the campaign:
One staff member dressed as Frida Kahlo brought the challenge to Washington, D.C. streets.

Overall, the month was filled with consciousness-raising digital initiatives. Forty-four participants edited 83 Wikipedia articles about women artists in the fifth annual Wikipedia edit-a-thon hosted at the museum. Part of the Art+Feminism initiative, edit-a-thon participants used the museum's resources to improve entries about women artists. NMWA offered a daily scavenger hunt in the museum and hosted a before-hours InstaMeet for local photographers to explore and snap photos of the museum's newly reinstalled collection galleries. NMWA staff shared their favorite works by women for International Women's Day.
The museum also "took over" other institutions' social media accounts to share the stories of women artists with a broader digital community, including sharing nature-themed works from @BalboaPark's Instagram, collection highlights from the Brightest Young Things accounts, and the museum's mission and history from the @52museums handle. NMWA's collection works also anchored the all-women #ArtMadness "bracket," the Albright-Knox Gallery's NCAA March Madness-themed competition.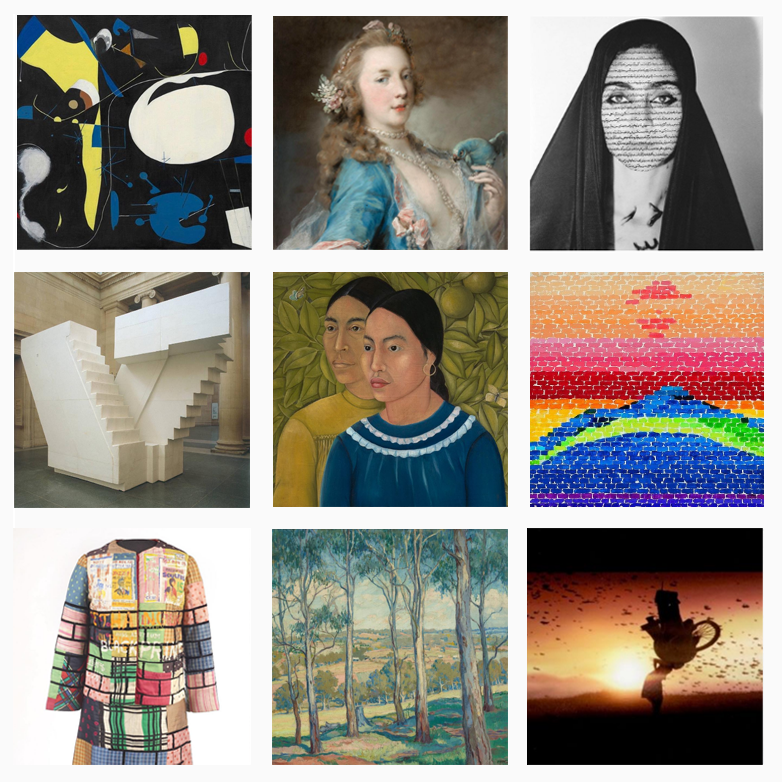 Many organizations included #5WomenArtists in their own Women's History Month programming. The Halsey Institute of Contemporary Art invited five women artists to speak about their experiences and the Royal British Columbia Museum hosted a museum happy hour event highlighting contemporary First Nations artists. Manor View Elementary School even created a bulletin board dedicated to the campaign. Individual participants reflected on the campaign, including one tweet stating, "#5WomenArtists has been one of the more influential hashtags for me. I knew at least five when I first saw it, but can name many more now!" Another Twitter user said, "The #5WomenArtists challenge is one of my favorite times of the #MuseSocial year! Thanks, @WomenInTheArts." The challenge also inspired other hashtags, including #5WomenScientists and #5ArtistasMujeres.
Explore campaign highlights on the museum's Women's History Month web page. Continue to advocate on behalf of women artists and celebrate their accomplishments all year. Every month is Women's History Month at the museum!