June 10, 2019
6/10/19
The rubber tire, a globally omnipresent object that is mass-produced more than a billion times each year, is used as a medium by two artists whose work is on view at NMWA. Signals of a Long Road Together by Betsabée Romero (b. 1963) is the newest installation in the museum's New York Avenue Sculpture Project. Inside the building, the monumental wall sculpture Acid Rain (2001) by Chakaia Booker (b. 1953) comprises more than 2,000 pounds of tires and rubber tubing. These two works both address culture, heritage, and environmental concerns in extraordinary ways.
Romero and Booker live and work in the two largest metropolises in North America—Mexico City and New York City—where pollution and waste are abundant. The sprawling roads of her bustling hometown have provided Romero with no shortage of used tires, which she describes as "one of the worst waste products of the automobile industry" given their bulk and durability. By carving the tires with patterns and imagery—snakes from Aztec artwork, a fleeing family to signify migration—Romero is able to transform this generic waste into meaningful artwork. Similarly, Booker, who moved to Manhattan in the 1980s when the city was notoriously dangerous and dirty, has made a practice of gathering shredded tires from the roadside and alleys, turning the material into art. Her work serves as an aesthetic response to the urban landscape she has known her whole life. "My palette is the textures of the treads, the fibers from discarded materials, and tires that I use to create varied effects," Booker once explained.
Works by Romero and Booker also share a deep compassion for culture and heritage. Romero manipulates tires as a material that has been central to Mexican culture—from Mesoamerican ball games to the modern trade economy—while also "evoking traditional Mexican motifs" through her carved patterns and design. Tires are also a metaphor for human migration, always a pertinent topic within Mexico and across humanity at large. Booker's artistic practice is a way for her to navigate the African American diaspora. Black is the primary color in all of her work, acting as an affirmation of strength. By fashioning art out of discarded tires, she evokes the beauty of African American people, despite the hardships they have faced. Her patterns and geographic shapes, sometimes based on traditional African textiles, carry this metaphor further.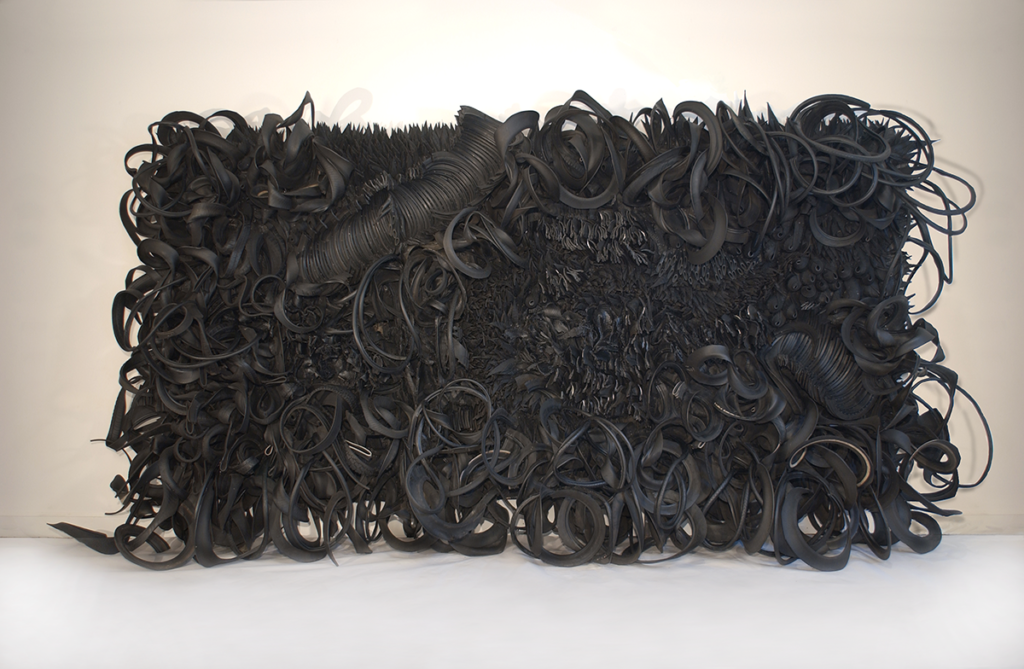 These disparate works demonstrate how two artists living thousands of miles apart are both able to make versatile artistic use of the same—unexpected—material. Rubber tires are a tough material, often associated with masculine or industrial purposes rather than aesthetic, and yet these sculptors have made the medium their own, making powerful art as well as exploring the contemporary issues that reflect their values.