April 19, 2016
4/19/16
In Arabic, the word rawiya means "she who tells a story." Each artist in in NMWA's summer exhibition She Who Tells a Story: Women Photographers from Iran and the Arab World offers a vision of the world she has witnessed.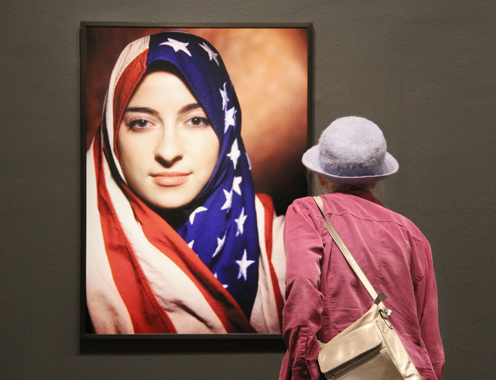 Boushra Almutawakel
(b. 1969, Sana'a, Yemen; lives Sana'a and Paris)
Yemen's first professional female photographer, Boushra Almutawakel, gained international recognition for using the veil to challenge social trends and explore the complexities of public appearance. Almutawakel says, "I want to be careful not to fuel the stereotypical, widespread negative images most commonly portrayed about the hijab/veil in the Western media."
In Her Own Words
"I wanted to explore the many faces and facets of the veil based on my own personal experiences and observations: the convenience, freedom, strength, the power, liberation, limitations, danger, humor, irony, the variety, cultural, social, and religious aspects, the beauty, mystery…"—Boushra Almutawakel
"A lot of people think that covered women are oppressed, backwards and uneducated. That is far from the truth. But at the same time I can't hear very well if I am veiled and I can't see the lips of women wearing the niqab. The biggest problem I have is with children being covered—there is nothing Islamic about that. I prefer our traditional veils which are colourful and more open."—Boushra Almutawakel, interview in The Economist
What's On View?
Ten photographs by Almutawakel are on view in She Who Tells a Story, including nine that comprise her "Mother, Daughter, Doll" series (2010). These staged portraits portray a young girl holding a doll and sitting on her mother's lap. In each successive photograph, the figures' smiles fade and their clothing darkens, covering more and more skin. The final photograph shows a black backdrop and an empty pedestal––the mother, daughter, and doll have vanished.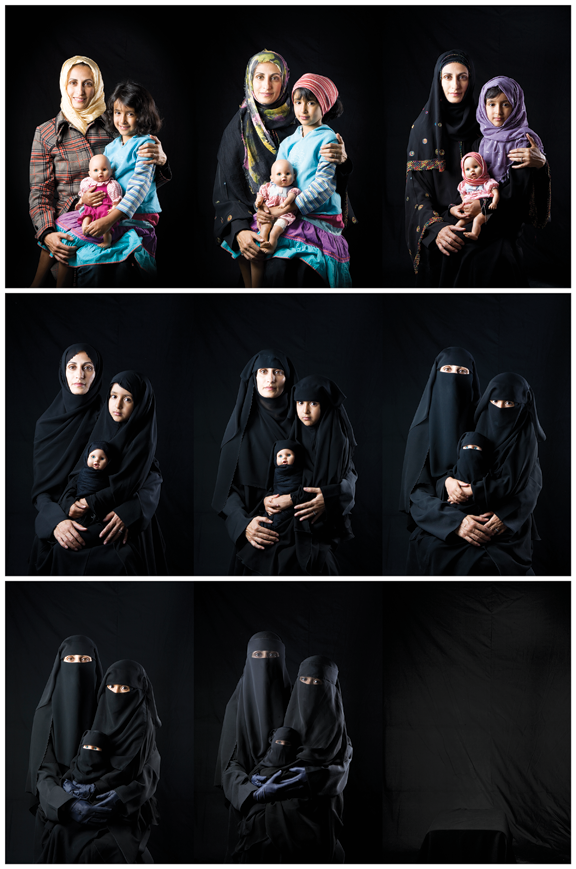 Almutawakel and her eldest daughter posed for the portraits after the Yemeni women who agreed to be photographed realized the work would be exhibited and declined. The artist said, "I thought, you know, if I'm asking them to take a risk and to be photographed, I said why don't I put myself to the test and put myself in front of the camera." The outfits in the first three images are clothes worn and owned by the artist herself, while the others belonged to family members and friends.
Almutawakel says, "I'm not against the hijab—I'm not even against the veil—but it has become a bit excessive in the covering." Rather than denounce the headscarf (hijab), these portraits protest the more extensive, all-black niqab. Almutawakel's visual commentary challenges the spread in Yemen of religious extremism, which calls for public concealment of women's and girls' bodies.
Listen to an audio recording of the artist discussing her work here. Visit the museum and explore She Who Tells a Story, on view through July 31, 2016.