May 17, 2016
5/17/16
In Arabic, the word rawiya means "she who tells a story." Each artist in in NMWA's summer exhibition She Who Tells a Story: Women Photographers from Iran and the Arab World offers a vision of the world she has witnessed.
Shadi Ghadirian
(b. 1974, Tehran, Iran; lives Tehran)
Shadi Ghadirian, one of Iran's leading contemporary photographers, addresses controversial issues concerning Iranian women of her generation. Ghadirian was among the first to graduate from Tehran's Azad University with a BA in photography. Her works explore female identity, censorship, and gender roles.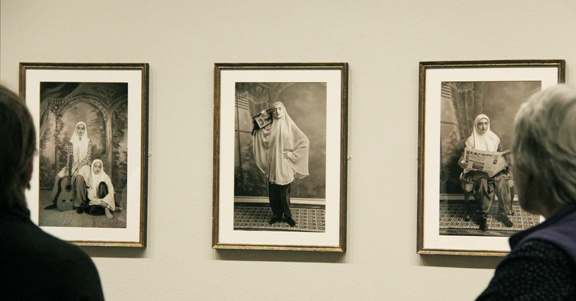 Because Ghadirian works, lives, and exhibits in Iran, she tackles controversial issues through creative means. She cannot photograph a women's hair or any physical contact between men and women. Instead she uses humor and parody to investigate the paradoxes of Iranian women's lives and the tensions between tradition and modernity. 
In Her Own Words
"The photographs depict conscious choices made by these women; an act of rebellion, of subtlety, of changes foreseen."—Shadi Ghadirian
"I try to tell the different stories of Iranian women, which is somehow my own story too. I want to show a woman from different points of view."—Shadi Ghadirian, interview in ArtInfo
"Each image shows a woman posing with a symbol of modern life while wearing traditional Iranian dress. This conflict between old and new is how the younger generation are currently living in Iran: we may embrace modernity, but we're still in love with our country's traditions."—Shadi Ghadirian, interview in the Guardian
What's On View?
She Who Tells a Story includes eight photographs from Ghadirian's "Qajar" (1998–99) series and five images from "Nil, Nil" (2008). While working at Tehran's National Museum of Photography, Ghadirian archived photographs from the Qajar dynasty (1786–1925). Inspired by this rich period of Persian culture, she decided to re-create the style of 19th-century portraits for her thesis, which evolved into a series of 33 photographs.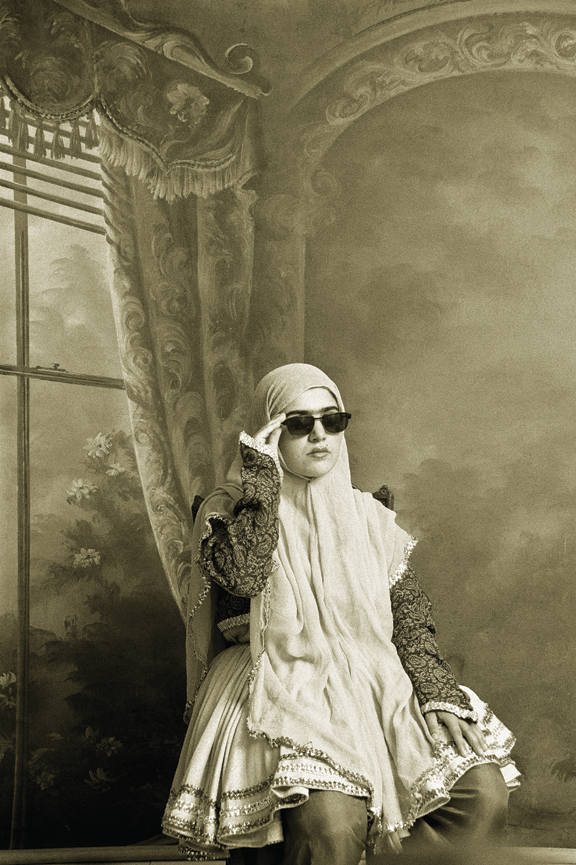 Ironically, the clothes worn by the sitters in the archival portraits are more revealing than what is acceptable for Iranian women to wear in public today. The artist says, "I'm not a sociologist, but I hope that when people see my photographs, they'll understand the reality for women in Iran, then and now."
Instead of using professional models, Ghadirian had her family and friends pose in vintage Iranian costumes. Set against luxurious 19th-century backdrops and photographed in sepia, her subjects seem stately—with the exception of anachronistic paraphernalia. Each photograph includes a subversive, often Western prop, like Pepsi cans, sunglasses, boom boxes, or banned reading material. Ghadirian's pastiches juxtapose tradition and modernity and suggest tensions between restriction and freedom.
Visit the museum and explore She Who Tells a Story, on view through July 31, 2016.